Evaluating Wine – a tasting primer

By Mary Baker (aka Rebel Rose)
Wine is meant to be enjoyed, but for many, approaching a glass of wine is still an intimidating experience. By using the following ten simple steps, you will be able to determine your own flavor preferences, learn how to judge the overall quality of a wine, and feel confident about voicing your opinion.
During this course I'll be asking you taste and evaluate certain types of wines. The availability of wines in various markets makes it difficult if not impossible to choose specific wines that would be available to everyone, but we've tried to assemble a list with some widely available, affordable suggestions (click
here
and scroll down). You might have a preference for whites or reds, Austrian or American, and you should begin with wines that are familiar to you -- keeping in mind the varietal guidelines that the suggested list implies -- although I hope you will explore other varieties and regions during your exploration of wine. I encourage you to submit your own choices for future exercises.
Figuring out what you like is the point of this class. But when you exercise your newfound confidence and knowledge with your friends, remember that everyone will have different flavor preferences—some like white wines, some lean toward reds. Some people prefer bright, fruity wines, while others prefer tannic, or slightly spicy wines. Variety is part of the mystique of wine.
Wine-tasting protocol
Wine tasting is often more educational, not to mention fun, when enjoyed as a group. Ask each guest to bring a bottle of wine and six wine glasses. Provide fresh bread cubes or baguettes and filtered water for your guests. If you plan on serving appetizers or cheese, ask your guests to evaluate the wines first, then try them again later with food.
For assignments 1 and 2, use the following procedure.
Trace six circles on the placemats and place a glass on each circle. Pour a 3- to 4-ounce sample of each wine. Mark the circles with the name of the wine. Study each wine carefully, using the following criteria. (If you want to use our evaluation form, click
here
to download it). Then go back and re-taste the wines again to see if your perceptions have changed. Compare notes, and have fun!

1. Color of the wine
First, examine the color of the wine. Hold the glass against a white background and tilt it sideways—a white wine should be pale straw to deep gold, and a red wine can be anywhere from brick red to deep, plummy purple. Older wines may have a brownish tinge around the edge, which is perfectly normal in an aging wine, but it may also indicate that the wine has peaked in flavor. A tinge of brown will prepare you for the flavors of an aging wine, which can range from dusky cinnamon to a rich caramel effect. In a white wine, any tinge of brown is a clear warning that the wine may be too old; the lighter, more tropical flavors of a white wine don't normally hold up well to the caramelized flavors that develop with age.
2. Swirling
Next, swirl the wine gently. This has two purposes. The first is to prove to everyone in the room that you are a wine geek (try not to splash wine on the person next to you). The second purpose is to gently aerate the wine. When you smell the wine after swirling, your nasal receptors will pick up more bouncing esters and molecules than if you sniff a resting wine. It is not necessary to give wine the washing-machine treatment. Swirling your wine for ten minutes will only exhaust the wine and make the wine room attendants dizzy.
3. Nice legs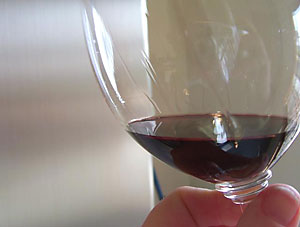 After swirling, lift your glass up above eye level and watch the wine drip down the glass. (There is no real purpose to this exercise other than demonstrating that you know how to do it.) You'll see a thin film of wine cling to the glass, then gently release in long drips, called "legs." Wines with a higher alcohol content have a stronger surface tension and will cling to the glass more, having thicker "legs." Swirled water, for instance, has no legs, compared to swirled brandy, which has drips like cake frosting. Alcohol content is relative to taste. At thirteen percent alcohol, a delicate white wine like sauvignon blanc may not have the necessary flavor to survive the hot mouthfeel of a strong alcohol content, but a heavier chardonnay or red wine may balance the alcohol perfectly.
4. Aroma
Now it's time to smell the wine. Take your time and use your imagination. If it were not wine, but perfume in your glass, how would you describe it?
A well-crafted wine should give hints of the fruit flavors to come, ranging from melons, peaches, and pineapple in white wines, to plum, cherry and cassis in red wine. Oak is often more evident in a wine's aroma than in its taste, and depending on the type of barrels used, you may also find esters of cedar, vanilla or cinnamon from oak aging.
Although aromas of mint and herb are often attractive, wines should never have unusually "green" aromas like asparagus, fermented grass, or pureed baby food.
5. Fruits and vegetables
Next, taste the wine. Savor the wine and roll it around in your mouth before swallowing. Most people have habitual methods of chewing and swallowing that probably do not include all the tasting receptors. Make sure the wine hits the middle, sides and back of your tongue, as well as the top of your palate.
What is your initial impression? Is the wine tart? Soft? Caramelized? Spicy? Take another sip, and close your eyes. If it were not wine, but food in your mouth, what would you be tasting? Just as a Bing cherry is very different from the vanilla-like Queen Anne cherry, every wine varietal is different and distinctive. White wines are often described as tasting like pear, apple, or pineapple. Red wines are compared to cherries, plums and berries. Cool growing seasons and some vineyards impart slightly vegetal characteristics that may remind you of herbs or asparagus.
(Taster's Tip: If you like, you can also aerate wine by swizzling it behind your teeth for a moment. This is most appropriate for young, tannic reds as it aids in evaluating the fruit and longevity of the wine. It is, however, considered gross to do this in a restaurant, and it is very pretentious to do it with every wine, particularly whites.)
6. Toast and butter
After the fruit and vegetable comparison, look for toast and butter characteristics. Various yeasts and wine making techniques can, if the winemaker so chooses, give wine a lingering bread-like smell, or the sweet-sour lactic aroma of buttermilk.
Toasty, yeasty wines are often the result of allowing spent yeasts to remain in the barrel with the wine for a period of time, called aging sur lies. Buttery and creamy aromas are the result of a process called malolactic fermentation, a secondary, post-alcohol conversion in which a specialized yeast changes the tart, green-apple malic acids of the grape into creamier lactic acids.
These characteristics apply mainly to white wines, as all reds are put through ML as a matter of course, and the deeper flavor and astringent tannins in red wines make sur lies aging more difficult to detect.
(Taster's Tip: Sometimes barrels do not completely finish malolactic conversion, or winemakers will put part of their barrels through malolactic fermentation, and then blend those barrels with non-malo lots, resulting in a wine with partial malolactic. You can ask about the percentage of ML in a wine, and with practice you will be able to guess accurately.)

7. Tannin
White wines have little or no tannin, which is a woody component extracted naturally from the skins and seeds of the red grapes. If you remember Boris Karloff craving his tanna leaves in The Mummy then you may have figured out that tannins are a natural preservative which facilitates the aging of red wines. (You should drink most white wines within four years of their vintage date—they lack the preservative tannins and will darken and caramelize with age.)
Although white wines are often completely dry, red wines taste even drier because the fresh tannins in a young red wine are very astringent. As these wines age, their tannins decompose in the bottle, creating an earthy effect and, one hopes, a more complex wine. The subject of aging reds before consumption is a controversy which has lasted for ages, but there is one simple guideline. If you like young wines, drink them young; if you like older wines, age them.
8. Oak
Now study the wine for oak. Can you smell it? Can you taste it?
Not all wines should be oaky—the delicate fruit flavors of light white wines can be overwhelmed by too much oak, and even red wine can sometimes smell more like furniture than fruit. The effect should be subtle—wines should not taste of pine, cedar, toothpicks or planks.
9. Good body
What is your overall impression of the wine's textural feel? Does the wine have body, and structure? Were its components multiplexed and interesting? Did the wine titillate all the surfaces of your mouth, and seduce your sinuses? Or did it seem to stick to just one portion of your tongue?
Body generally refers to a wine's ability to satisfy a multitude of sense in your mouth. Structure implies that the wine has layers of experience—flavors that echo the initial aromas and lead into a lingering finish. Some tasters prefer a thick, viscous, high-alcohol wine, while others enjoy a wine that seems to expand on the palate, throwing out a joyous array of flavors, aromas and teasing texturals.
10. The finish line
Does the wine have a nice finish, a lingering sensation of flavor? Wines designed to be pleasant, fruity gulpers should leave a clean, brisk finish; more expensive wines designed for longevity should leave hints of interesting, mysterious and pleasantly spicy flavors, much like an expensive and well-designed perfume.