Snowangel and I decided that with all the braising going on here and with the knowledge gained from Fat Guy's excellent
eGCI Braising
course, we should start a braise of the month. In this case we'll be using recipes from Molly Steven's excellent All about Braising book.
I'll kick this month's braise off with a short rib braise I did from her book last night.
Short Ribs in Porter Ale with Maple Rosemary infused Glaze
I picked up some nice meaty short ribs. Who knew though that "sliced short ribs" meant the bone had already been sliced away from the meat? What you see here is my clumsy attempt to tie them back together again. The recipe calls for them to be sprinkled with salt a day or two before. Since I forgot that part, I managed an hour before:
The ribs are browned, then the carrots and onion are added and browned. The recipe called for Porter Ale, and after Brooks filled me in on what that was, I had Don snag some from the LCBO for me.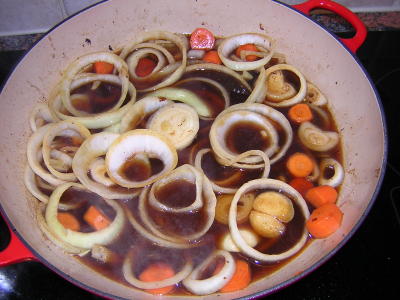 I found the Le Crueset braisier perfect for short ribs application.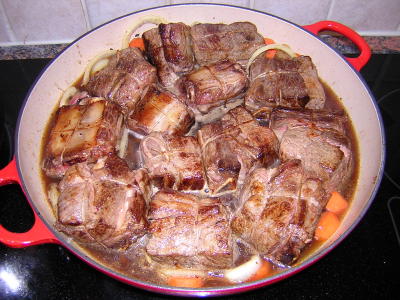 The ribs are braised in a combination of porter ale and beef stock. The recipe calls for 2 1/2 to 3 hours at 300, but I did mine for 4 hours at 225.
Once the ribs are done, remove them from the oven, transfer them to a flameproof dish and cover and keep them warm. Then remove the veggies and strain the liquid into a pot and reduce by about a half I guess.
Ribs just out of the oven.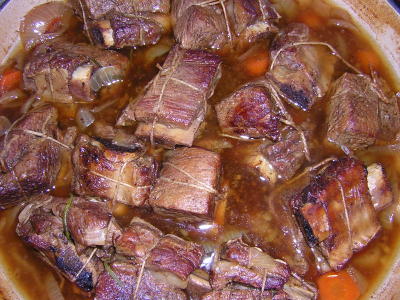 Somewhere along the way, you've taken the maple syrup, heated it, and added a sprig of fresh rosemary. Cover and let it infuse for an hour or so.
When the liquid is reduced, take it off the heat. In the meantime, some squeezed prepared horseradish is added to the maple syrup and rosemary. Take the rosemary out and brush the ribs with the glaze. Pour the reduced liquid around the ribs and stick under the broiler until the ribs are carmelized.
Ribs out from the broiler.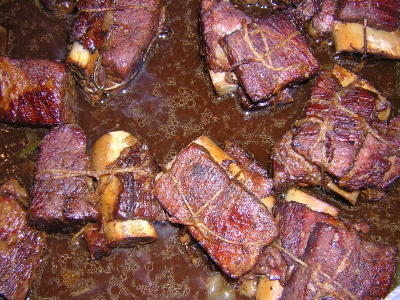 You'd have thought the glaze would have been sweet, but with the rosemary infusion and the addition of the horseradish, it was not. I might be tempted to add a bit more horseradish next time though.
These were damn fine ribs, I have to say. So come on, braise along with us. If you don't have Molly's book, I strongly urge you to get it, because it's amazing.
Snowangel gets to pick the next recipe.