I decided to try some chicken, investigating some of the original lab premises.
The pots:
The first question I want to address is the pots. Do the pots have any real effect on chicken? I will be using the little Le Creuset, a Corning Ware dish of comparable size, and a cheap foil pan with a foil cover. (I am skeptical about the foil thing, but, oh well.)
How many days:
The second question is, does the "next day rule," or even the "third day rule" hold for chicken, or at least this chicken. I will be using Paula Wolfert's technique of straining and storing separately and reheating slowly from the cold state.
The chicken:
This will be a new experience for me. My local HEB grocery had some lovely thighs that are a new brand, Smart Chicken. It is processed with cold air instead of water and states that there is no water added. It is also all vegetable and grain fed, no meat by-products and no antibiotics. (I am so relieved. The mental picture of little cannibal chickens with bones through their beaks has always been disturbing to me.) They seem to be more dense and firm than your usual grocery store chicken and the skin is beautiful. I normally get rid of the skin when braising chicken, but this was really pretty and I will go with snowangel's suggestion to leave it on, brown it really well, and remove it later.
The recipe:
I started with the recipe from Molly Stevens, "Quick Lemony Chicken with Prunes & Olives." Of course, I am going to tamper with it. I chose it because it is spookily close to a recipe that my dad developed years ago for a stew he called picadillo. I made some substitutions and additions to Molly's recipe to approximate my dad's carefully crafted recipe. I pretty much stuck with Molly's proportions since my weight for chicken thighs was about the same and I went with my dad's seasoning since his weight was about the same as well. We shall see.
2 tablespoons olive oil
2 tablespoons chicken fat (could use butter)
8 Chicken thighs, about 3 ½ pounds
Kosher salt
½ cup all purpose flour
1 ½ teaspoons paprika, I used Pimenton de la Vera
1 teaspoon ground cumin
1 teaspoon ground black pepper
½ medium onion, diced
3 garlic cloves, sliced
1 ½ cups white wine
¼ cup white wine vinegar
½ cup green olives thickly sliced (I used a spiced version)
1 tablespoon capers in vinegar, rinsed
Rind from ½ preserved lemon, rinsed and diced
In a large skillet, start to heat the olive oil and chicken fat.
Lightly salt the chicken thighs. Keep in mind that olives and such will be adding salt.
In a large zip type plastic bag (I use a 2 gallon), mix the flour, paprika, cumin and black pepper. Put the chicken thighs in and toss to coat. Shake off excess flour and put into the pan to brown, skin side down. Brown well. Turn and brown the other side. Remove to a plate.
Sauté the onion in the pan and begin to deglaze with the onion. When the onion is translucent, add the garlic and cook a few more minutes. Add the wine and vinegar and stir to get all of the brown bits into the liquid. Add the olives, capers and finely diced preserved lemon.
In the braising pot, distribute the liquid mixture over the chicken pieces. Liquid should come about half way up the chicken. Braise at 250 degrees F.
(Obviously, for this test, I used a large frying pan to brown the chicken and then distributed the pieces into my test pots. You could perhaps use a large Dutch oven and do this as a one pot deal.)
Here we go with the chicken in the pots.
All pots go into the same oven.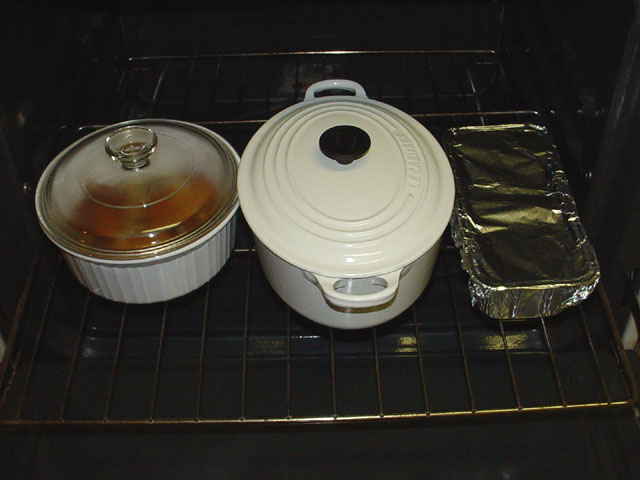 After one hour, the chicken in the Le Creuset seems to be noticeably tenderer than in the Corning Ware. The tin pan is more like the Corning Ware. We need more time.
After 1 ½ hours total oven time, I am ready to store for day 2.
After snitching scraps of chicken meat, I would proclaim the Le Creuset ready to eat. (Oh . . . Good . . . Lord! This is GOOD!) The Le Creuset thighs had a hard time holding together while being lifted into the storage container with the tongs. The Corning Ware and tin pan thighs held together fine during the lifting. They were certainly edible but not as melting as the Le Creuset. The flavor of the liquid was the same from all three pots. The liquid from the Le Creuset was maybe a little thicker but that could be due to more surface area on those particular thighs (the flour coating) so I am discounting it. I didn't deem any of that significant so I combined the liquid from the three pots into one storage container. I will probably have to add some liquid for day two. I did. I thinned with about a half cup of water before chilling.
Day 2: Now, what to do with the skin? Did I mention that I HATE braised chicken skin? I removed it at this point. After the reheating, the Le Creuset is still amazingly succulent. No improvement really. How can you improve on perfection? The Corning Ware improved a bit but such a little bit that I am convinced that a little longer cooking time on day 1 would have done the same thing. The tin pot is still the same. No succulence there. I may run the skin under the broiler and crisp it up to eat as cracklin's. Hey! Maybe I could use that as a garnish. Stay tuned.
Day 3: No change. I give up. Time to eat.
Served with plumped golden raisins (plumped with white wine), chicken skin cracklin's and toasted almond slivers. I added the almond slivers because that is what dad did with the picadillo. Also, I toasted them in the little bit of chicken fat that came off of the chicken skin. As for the raisins, I substituted those for the prunes in Molly's original recipe because I don't like prunes. And I didn't even add the raisins in during the cooking. Dad's original picadillo had the golden raisins added in during the cooking. Certain family members (like me) really didn't like the sweet note so he started plumping them separately and serving them with the almonds as a garnish. I would add some to my bowl and that was ok for a few bites but I didn't like them for the whole meal. That is why I did what I did with them here.
This side by side comparison has convinced me of the value of heavy cast iron. My only regret is that I didn't have a real clay pot to play with. Bottom line, you can get a perfectly acceptable dish with something as cheap as a disposable tin pan. You can also use the ubiquitous Corning Ware and get a perfectly acceptable dish. But the Heavy Metal rules! The Le Creuset produced a succulent, fabulous dish on Day 1 with 1 ½ hours in the oven. And there was a substantial difference. It was not subtle. I know that many of you think that I am prejudiced about cast iron in general and Le Creuset in particular. But I can assure you that, throughout this exercise, the objective scientist in me ruled. I am actually surprised at the difference and somewhat baffled as to why that should be.
The reheating regime did not substantially improve the texture of the meat from the Corning Ware or the tin pot. The texture of the Le Creuset thighs didn't change either. It stayed excellent. This is not to say that this doesn't work with other things, like beef. I have done that and it worked. I have also had reheating improve a pork recipe. I am just not seeing any difference with chicken thighs. From now on, I will braise chicken thighs in my Le Creuset, eat it on day 1 and be done with it. If they seem to need improvement, I will do the reheating anyway with hope in my heart.
And . . . I will try this recipe in a clay pot when I get the pot of my desires and will be prepared to be blown away.
I have to say that I have really enjoyed playing with this recipe as a tribute to my dad.