Good morning, y'all, and welcome to the party chez Therese.
As per the teaser, this week's foodblog does indeed come to you from Atlanta, where I live with my two children (hereafter known as Girl and Boy) and husband (hereafter known as The Man). Girl is 11, Boy is 14, and The Man is old enough to know better.
Atlanta's huge: the total metro population is about 4 million, and there are no physical boundaries to growth like rivers or mountain ranges, so people just keep moving (and commuting) farther and farther out of town. Atlantans can be divided into ITP (inside the perimeter) and OTP (outside the perimeter), the perimeter referring to the interstate freeway that encircles the downtown area and surrounding neighborhoods, separating it from outlying suburbs. The politically minded may note that these areas could be designated red and blue. I'll let you figure out which is which.
We're about as ITP as it gets, with home, work, school, and restaurants all in walking distance. The neighborhood's called
Druid Hills
, the setting for the play/movie "Driving Miss Daisy". The houses date from the 1920s, and because Atlanta has so little in the way of "old" buildings the neighborhood's on the National Register as a Historic District. Charming, sure, buts lots of the houses need some updating, and ours (purchased in 1996) was no exception. So we remodeled last year, including an addition with a new kitchen, and this week's blog will look at the finished product.
So, some encouragement for those of you presently involved in kitchen renovation, some ideas for those who are considering it.
But never mind all that for the moment: What's for breakfast?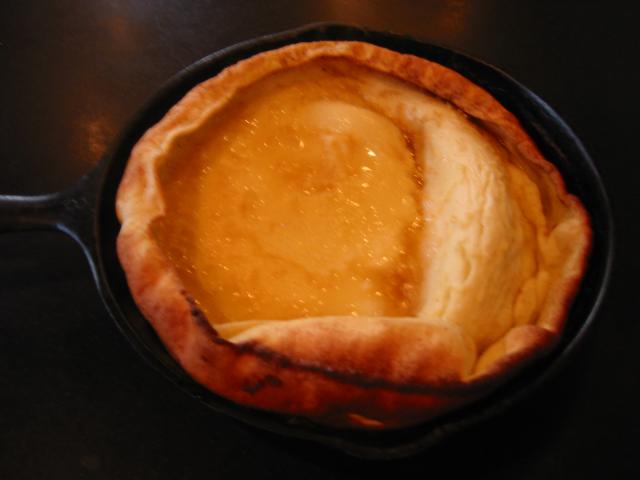 Dutch babies, that's what. And even better, these Dutch babies are produced by my children, the aforementioned Girl and Boy. The first picture is right from the oven, the second is after the somewhat messy job of sifting powdered sugar on top. They are delicious (the Dutch babies, I mean, not the children) and a great weekend treat.
The Man drinks coffee in the morning whereas I prefer tea. He's not up yet, having played poker last night. I'm hoping he makes it out of bed in time for dinner.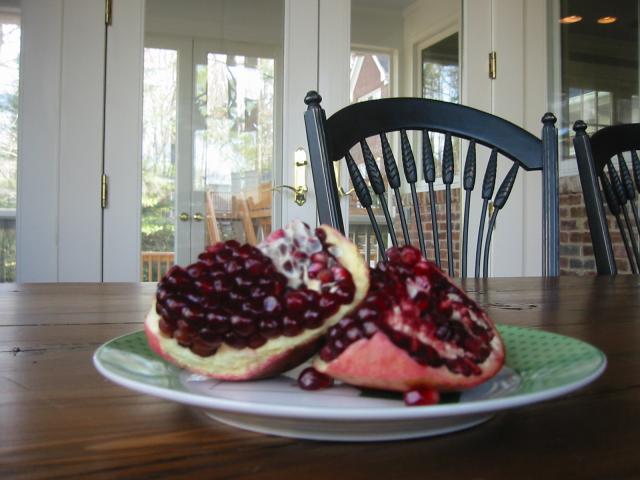 I also eat fruit whereas he prefers, well, anything but fruit. This is not such a bad thing, as it means that I don't have to share the fruit. Pomegranates are a pain to eat, but not so bad if you're reading the newspaper at the same time. This one's from California, but you can also grow them here if you've got enough sunshine (which I don't).