Due to fifi's comments the
Big Island recs sought thread
, I felt compelled to seek out Big Jake's Island BBQ. They have indeed moved to the Honaunau area, south of Kailua-Kona. It's very easy to find - there's one highway around the entire island, and he's at mile marker 106, which is the small green sign on the left of this picture.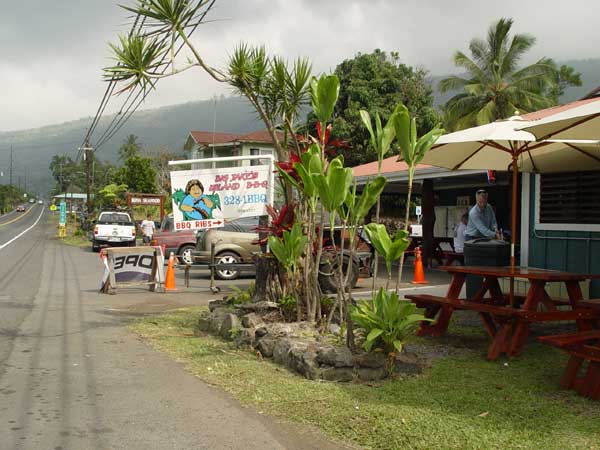 Right out front is his rig on a trailer, which he uses to smoke everything. Is K is for Klose?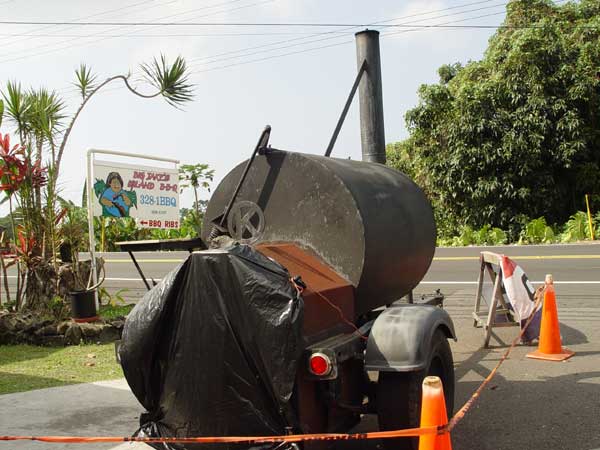 As is my usual M.O., I tried to order a little of everything. Clockwise from top left, smoked chicken sandwich, smoked pork plate, brisket plate, and half a rack of baby back ribs. Among the sides were cole slaw with raisins, a mustardy potato salad, and beans. They only offer one sauce, which is a sweet, ketchup based sauce. Tabasco is available to add on.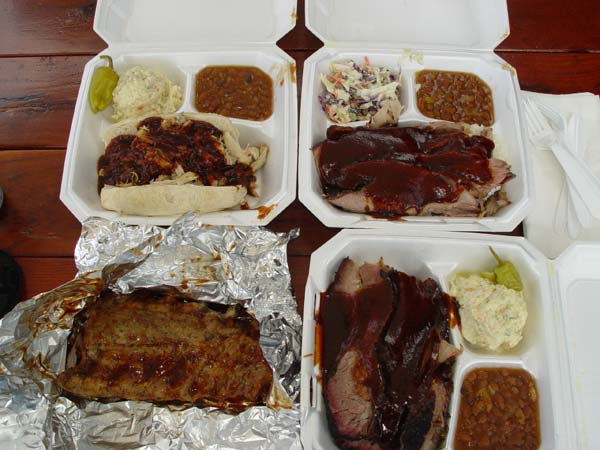 Here is a close-up of the brisket, showing the smoke ring and the bed of steamed white rice underneath, which would be a concession to the locals, who expect rice on any plate.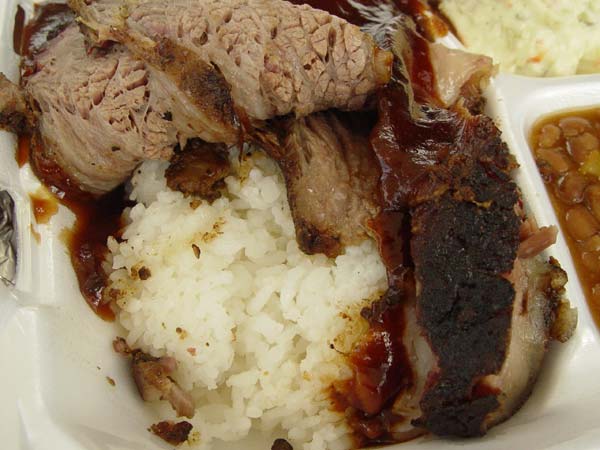 Another close-up, but this is of the pork.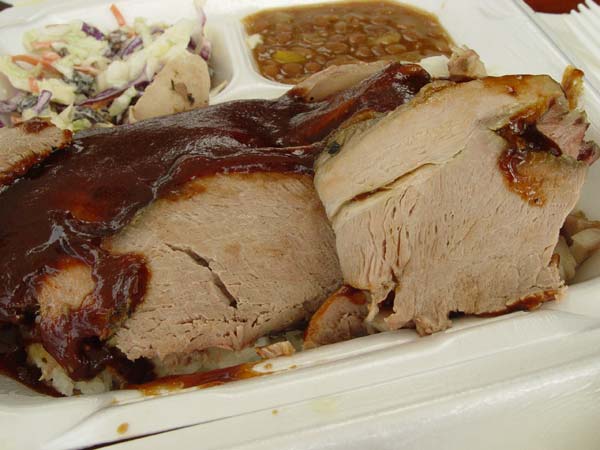 And the last close-up of a baby back rib.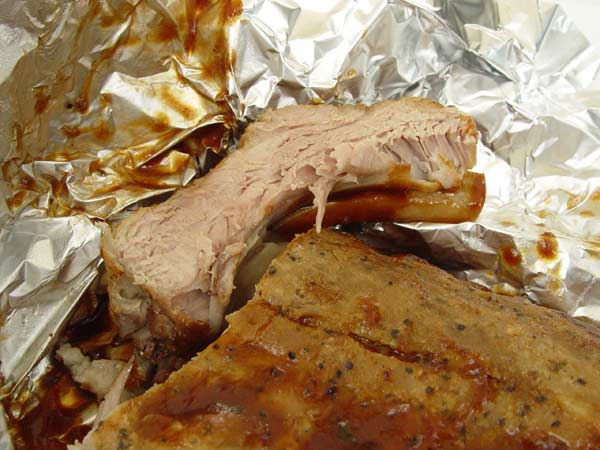 Short version of the review: If you're in the area, and you're looking for something other than plate lunch, it's worth checking out. Compared to other restaurants on that side of the island, they offer enjoyable food at a fair price.
BBQ fanatic version of the review: fifi's enthusiastic praise would be hard to live up to, even if you were trying. And please understand that I don't doubt what fifi experienced at all. But I think the pictures convey that something has changed in his method, because the smoke ring ranges from normal (brisket) to undetectable (ribs & chicken). In fairness to the restaurant, I could have been there on an off day (he had business in town, and it was meat that had been cooked the day or night before).
What follows is not so much a litany, but a rundown of all the items I tasted. The brisket was very tender, but seemed to have been finished off in their Winston steamer/oven (like an Alto-Shaam) which doesn't allow for as much shrinkage/rendering of fat, and leaves the meat a little greasy, IMHO. The pork was quite dry and lacking flavor in the middle. Neither the chicken nor the ribs tasted of smoke, even though they were very tender. The sauce is nicely balanced, but it would be nice if he had at least another to choose from. The beans seemed to be canned bbq beans with honey and some bell pepper added. The potato salad prominently features mustard, and while I liked it, I imagine most locals would want a mayonaisse binder (like my parents did). The cole slaw seemed to be just mixed (I was there at 11:30am so that's more my fault) and cut into such large pieces that it was more like cabbage with dressing and raisins. Steamed rice as a side dish is a little bit of a headscratcher to me, but makes for an impressively heavy plate of food.
While not tasting like it had been smoked, the chicken sandwich was probably the most enjoyable item, the sandwich roll was nice and fluffy. The brisket was surprisingly good, better than many restaurants or backyarders could create on a regular basis, yet it was a disappointment compared to what he apparently is capable of. I was hoping to experience genius, but instead it was competent, excepting the smoked pork (which would normally be easier than the brisket, no?). All in all, I'd still go back again.