I wasn't expecting much at our farmers' market in January. In fact, I was even happy to have one at all. But a sunny day beckoned and I found myself wandering through the stalls admiring the brassica, root vegetables, and cool weather greens, and . . . oh, lookee here!
A squash that's already sliced open, flashing bright orange like a neon sign. No hatchet or chain saw required to get at the succulent flesh—and there are still seeds attached. I love seeds. So at this point I'm thinking, hmm, squash soup with toasted seeds as a garnish.
Then I see some leeks. And shitake mushrooms. So it becomes a squash and caramelized leek soup, adorned with sautéed shitake and a few more leek curls, and garnished with toasted seeds.
I also stop to get some Brussel sprouts. One stalk for dinner, and one for the SO to snack on, raw. Herschel (the headless) reports that Brussel sprouts will be coming on for several weeks yet. His family farms are in Paso Robles, Arroyo Grande, and Santa Maria.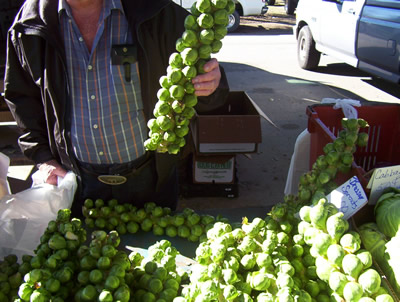 Then I stop at Maria's green stall. As always, she is yelling at people.
You stop eating her sample
, she yells at a young professional couple.
You get your own! Hey
, she yells at me.
You like those pea tops? They good for salad.
She throws a handful in a bin of greens.
They good for stir fry.
Another handful gets tossed on top of the snow peas.
They good for you! You try one, now!
So I leave Maria's stall with snow peas, pea tops, winter spinach, and arugula. Good thing they're light, because I don't have a cart—just a red canvas bag.
After a few more stops to pick up local honey, olive oil and jam, I'm starting to waddle with my red bag and knock little old ladies over. A nuisance to society, I return to my SUV.
The soup was great.
Also loosely categorized as fresh . . .