Much to my amazement, I can't find a topic on gratins in general. I love gratins. Ever since I got my Le Creuset enameled cast iron pans, I have been "gratining" (Is that a word?) everything in sight. Lately, gratins have come up in several topics so I decided that it was time to start a topic on this fabulous technique. Many of us have sung the praises of Jeffrey Steingarten's excellent preparation of Potatoes Dauphinoise. I have taken his excellent technique and dumbed it down and it works for me. I will start off with that one.
First you peel and slice two medium Russet potatoes into even 1/8 inch slices. Do not rinse. the starch is needed to bind the final product. Either butter the gratin pan or spray with cooking spray.
Arrange the potatoes in even rows, overlapping by about 1/3 both horizontally and vertically.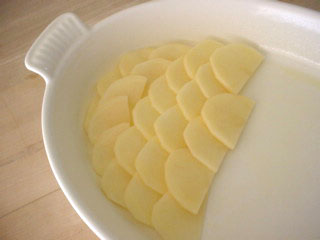 In a heavy saucepan, heat 2 cups of a mixture of heavy cream and whole milk* with a crushed large garlic clove, 1 teaspoon kosher salt, 1/2 teaspoon white pepper, 1/8 teaspoon nutmeg. Discard the garlic clove. Carefully pour the cream mixture over the potatoes. Note that in the picture it looks uneven because the rack isn't level in the extended position. I find it convenient to pour the cream on the rack so you don't have to carry the pan and disarrange the potatoes.
*Some recipes go all out for the heavy cream. I usually dilute with 3/4 cup whole milk. Some recipes use half and half. I wouldn't go for less butterfat than that.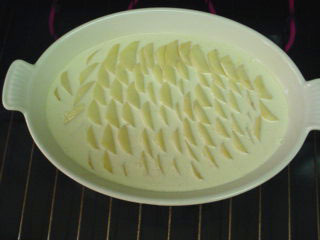 Bake in the lower part of the oven at 325 degrees F for about one hour.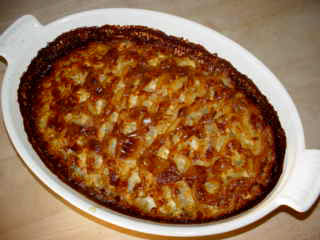 Allow it to cool slightly, cut and serve in squares. Use a spatula to get all of the browned bits off of the bottom. The square on the right has been turned upside down so you can see how the bottom has browned.
Your turn.