Explanation.
Yesterday I made a batch of duxelles and took photos of the process. I neglected to upload the photos to my computer yesterday and since last evening, I am at the home of an acquaintence, babysitting a basenji bitch who is ready to whelp at any moment and the owners are away from home, the wife at the dog shows in Palm Springs and the husband, an L.A. County firefighter, on duty because of the storms.
I brought my camera along to take photos in case the pups are born on my watch. Unfortunately I needed to clear the memory card to make room so had to upload the photos so put them into image gullet.
With not much else to do, I have edited the photos and uploaded them to my album. Fortunately they also have a Mac, and since I had already posted the recipe to my notepad in eG, I have decided to post this now.
First the recipe:
Duxelles
Mushroom paste, a condiment/sauce.
1 1/2 pound Crimini mushrooms or Italian brown mushrooms.
Minced finely in food processor or by hand.
6 ounces of butter
2/3 cup finely minced shallots (You can substitute an equal amount of mild onions with a large clove of garlic if shallots are unavailable.)
2 teaspoons Herbes de Provence
1 1/2 teaspoons kosher salt - use less if you have regular table salt.
1 teaspoon freshly ground black pepper
1/4 cup plus 1 tablespoon all-purpose flour
2/3 cup Port, ruby or tawny are okay, Sherry can be substituted if Port is not available.
1/2 cup heavy cream
Mince the mushrooms fairly fine in a food processor - do a small batch at a time so as to avoid over-processing.
Line a colander with muslin (or a thin cotton dishtowel) and squeeze the mushrooms to extract as much liquid as possible. Squeeze liquid into a bowl and save for later..
In a large, heavy-bottomed, skillet or sauté pan melt the butter until it just begins to brown.
Add the finely minced shallots, sauté, then reduce heat to a low simmer and cook until shallots are translucent and just beginning to show a light tan color.
Add the Herbes de Provence and continue cooking for one minute, stirring constantly.
Bring the heat up to medium and add the mushrooms.
Stir constantly to mix the mushrooms thoroughly with the shallots and until the mushroom began to express some liquid.
Reduce heat to low simmer.
Continue cooking, stirring well every 5 minutes for 30 minutes.
Add the salt and pepper, stir well.
Bring the heat up to low medium.
Sprinkle the flour evenly over the top of the mushrooms and stir well to mix thoroughly.
Continue cooking and stirring constantly for at least one minute so the flour is completely incorporated and browned.
Add the liquid squeezed from the mushrooms to the mixture.
Add the Port and stir well.
Continue stirring often for 2 to 3 minutes, the mixture should be bubbling well.
Reduce heat to low simmer.
Blend in the cream.
Taste and add additional salt and pepper if needed to balance flavor.
Continue cooking at a low simmer, stirring at 5 to 10 minute intervals for 30 to 40 minutes, until the mixture has the consistency of a thin paste. It should hold its shape for several moments when scraped into a mound.
Cool and transfer to a container and store in the refrigerator. Use within a week.
The mixture can be frozen in small amounts in airtight containers for up to 3 months, vacuum sealing is best.
This recipe is my own interpretation of several recipes tried over the years and significantly altered from the originals.
This condiment can be used as a sauce for meats, spread on toast or crackers. A dollop can be added to hard-boiled or deviled eggs. It can be spread on crepes and rolled up with other fillings. It can be added to meat mixtures for savory tarts.
And, when combined with onion confit, is a wonderful complement to just about anything savory.
Scalloped potatoes, with alternating layers of potatoes, onion confit and duxelles, is a wonderful side dish for a cold, rainy day.
And, you could always use it in the traditional way, in Beef Wellington.
And now, the picutres: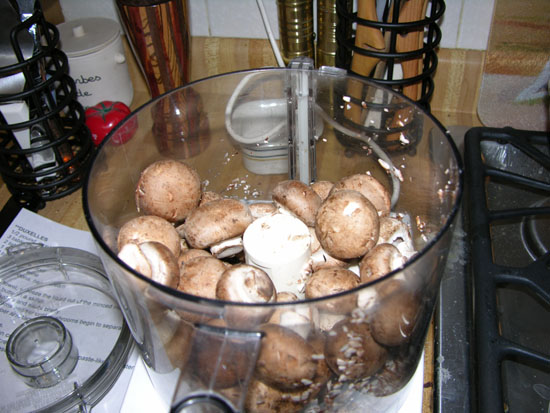 First the mushrooms, brown Italian or Crimini are the best to use.
Mince in small batches in food processor.
they should look like this.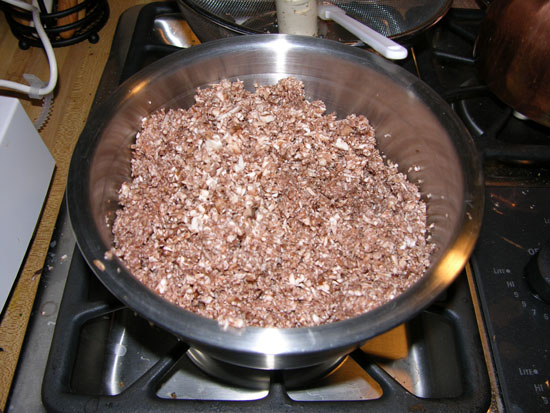 Now mince the shallots
The liquid has to be squeezed out of the mushrooms.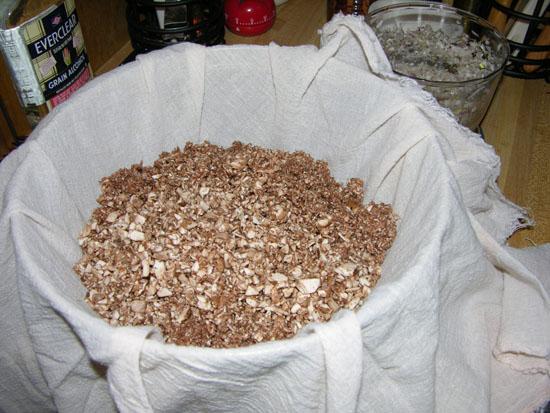 It should look like this - save the liquid.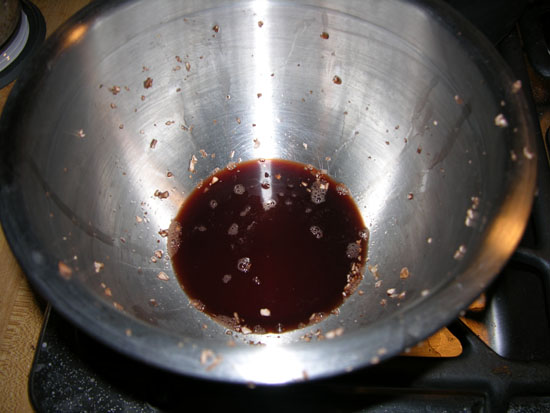 The mushrooms don't have to be completely dry.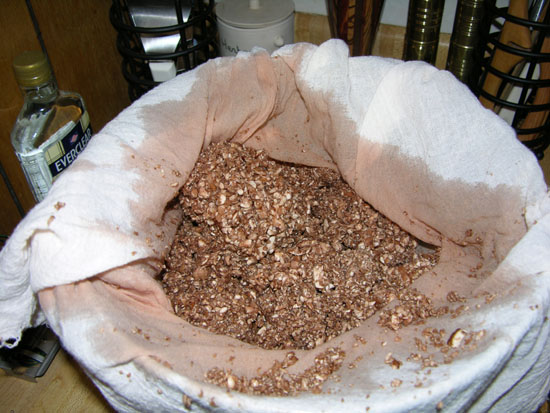 Now melt the butter over medium heat in a heavy-bottomed saute pan: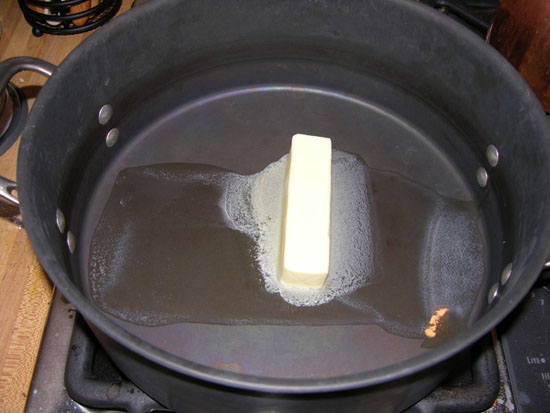 Add the shallots: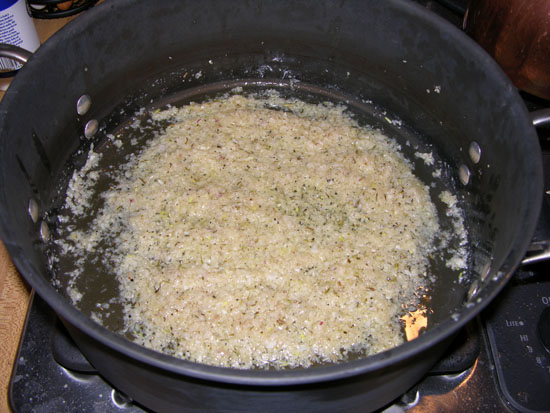 and the mushrooms after the shallots have been cooked:
Watch for the mushrooms to release liquid: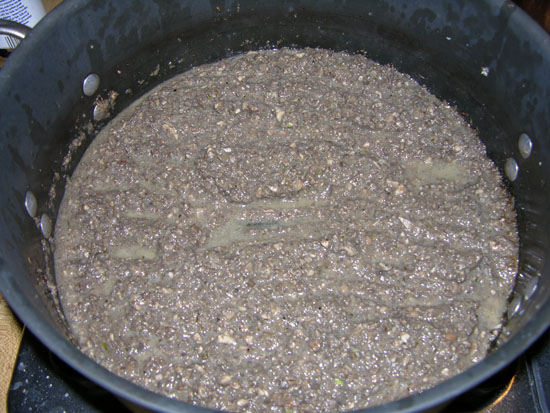 Reduce heat - now begins the first reduction -
2/3rds of the way there: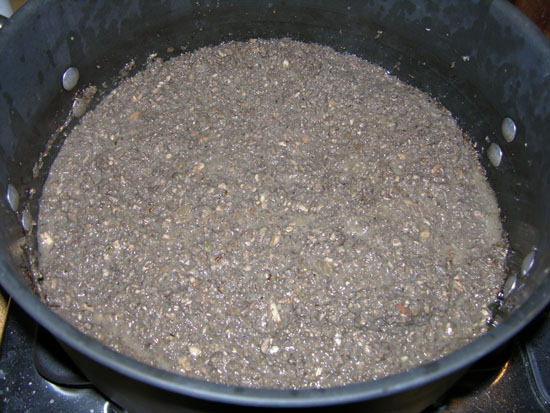 First reduction is done and the flour has been stirred in:
Now the Port has been added: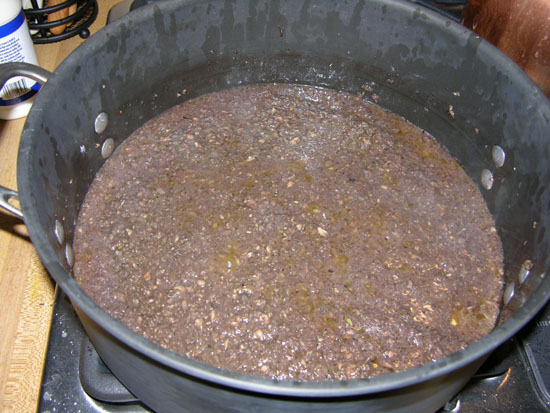 Now the cream has been blended in: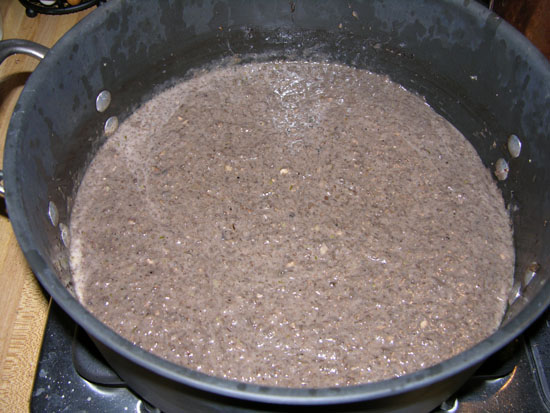 Now begins the final reduction,
half way there: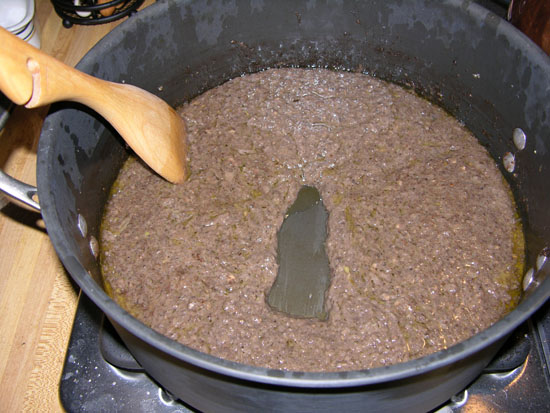 Finished! We have achieved duxelles.....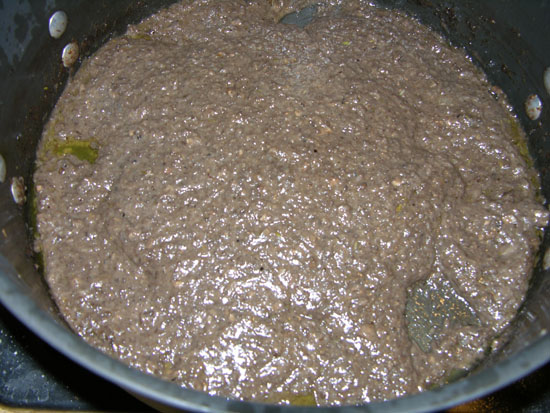 Edited by andiesenji, 08 January 2005 - 11:46 AM.