Toaster ovens are called oven toasters in Japan. (Don't ask me why.)
Many Japanese including me shy away from using an oven. For example, my father had an oven installed for my mother when he had a new house built around 1970, but she would not use it.
On the other hand, Japanese like cooking with a toaster oven. The purpose of this thread is to show you some examples of using a toaster oven.
But first, one clarification.
By toaster ovens, I mean small-sized ones with a wattage of about 1,000 or less. Mine is rather old, 830 W, bought about ten years ago, measuring about 31 (width) x 19 (depth) x 24 (height) cm in outside dimension. Currently popular ones are, I think, slightly larger models with a wattage of about 1,000 and capable of toasting a pizza 20 cm in diameter.
Now to the main issue.
1. Toasting mochi
How do you toast your mochi? I think mochi can be best toasted with a toaster oven.
Let me give you a tip for toasting mochi with a toaster oven so as not to let the mochi stick to the grid of the toaster oven when it expands.
Pour some soy sauce in a small plate, dip your finger in it, and apply a dab of soy sauce (about a 2-cm dia. circle) to the center of the top surface of a piece of mochi. Put the mochi in the toaster oven and turn it on. This way, you can make sure that the mochi expands from the top, not sideways or underneath. This is a tip I learned from the TV show, "Itouke no Shokutaku" last month.
Edit to add photos: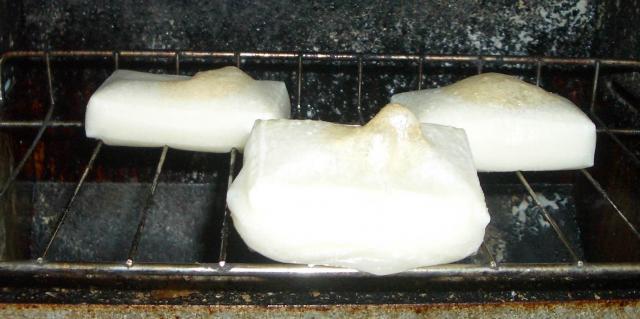 Edited by Hiroyuki, 07 January 2005 - 09:20 PM.