When Mrs. Varmint and I agreed to buy her family home from her parents 6 years ago, I did so with one condition: that we'd renovate the kitchen within a year -- 2 at the most. Well, after a 6-year wait, we're ready to go.
Thanks to all the great suggestions from our great members here at the eGullet Society (
all of which is contained in this monstrosity of a thread
), I've come up with a solid plan.
This thread will focus on all the details of the renovation. I'll include drawings, budgets, permitting, costs, and all the highs and lows a family of 6 could experience.
First, however, I should show you the plans.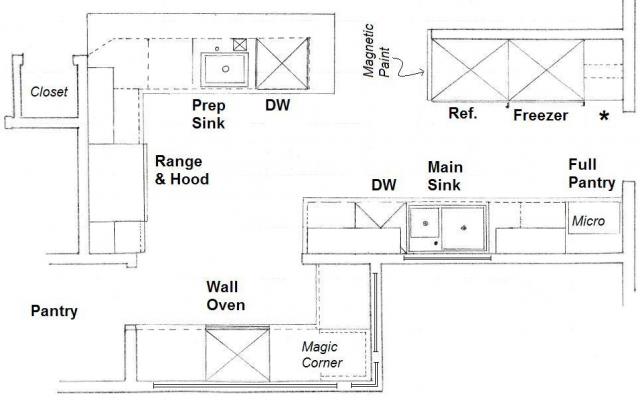 I drew these, following the ideas y'all helped me develop and refined by Arne Salvesen CKD (aka Daddy-A), who has provided great advice from a professional design perspective. Let me go over the plans briefly:
Along the counter where the main sink is located (bottom right), we'll start with a 27 inch full-height double-doored pantry that'll house the microwave. We'll then have 36" of base cabinets/countertop (two cabinets, one of which will be a trash pull-out) with about 33" of upper cabinets. The sink will consist of a 39" base cabinet housing a Blanco 510-874. The dishwasher is next, followed by 22-1/2" of base cabinet. To the right of the sink (if you're standing at the sink) will be 42" of upper cabinets. There's currently a circuit breaker box on that wall, which we'll flip to the other side. We'll also consolidate an existing 6 light switch panel down to 3 switches.
The baking area (the complete "L") will likely consist of a slab of white marble cut from the existing kitchen (the short side of the "L") and the rest will be tile -- likely granite. Arne has suggested using a "magic corner" in the blind corner of that region. This is a new product to me, but I think it's pretty cool.
Go to this page, and then click on the first thumbnail for a video showing how this works.
My Kitchen-Aid mixer will sit on the counter in the corner -- an area that rarely gets used anyhow. After the magic corner comes the oven and then 33 inches of base cabinets. We're expanding the pantry by about 4 feet. This makes for a very narrow doorway (27"), but I'm thinking of installing a restaurant-style swinging door there to make things easy. If anyone wants to research this type of door for me, please do so.
Over to the cooking area, we'll have 15 inches of base and upper cabinet, then the range/hood, and then 24 inches of lower cabinet (with pull-outs for cookware) with 36" of upper cabinet. The corner of the eating bar will be a bit unusual: I don't want a lazy susan in this corner, so the unusually shaped cabinet will have the doors facing out, with no hardware. This gives me some storage space for rarely used stuff. Note that the closet is new, too.
Moving clockwise, we'll have a 21 inch base cabinet followed by a prep sink (Elkay LFR 1915) and then a second dishwasher. The little block with an "X" represents a post, as it will be replacing a load bearing wall tying into an I-beam over the eating bar.
Down to the Sub-Zero refrigerator and freezer, there will be a 2 inch wall built in at the end which we'll paint with magnetic paint, creating a giant place to hang our refrigerator magnets. It should be pretty damn cool. To the right of the freezer is a strange configuration of "desk" area and bookshelves. I've marked it with an asterisk. This is strange because the base cabinet will be almost functionless, as the area under there houses some return-air ducts from the adjacent room. This surface will likely consist of a slab of marble from the existing countertop. Above the marble will be a high bookshelf for "some" of my cookbooks!
I've worked out a number of other details, but I'll provide those as we go along.
I met with one contractor on Monday and will meet with another tomorrow. I'll also fill y'all in on those details later on.
I'll be sure to include lots of photos, specifications, equipment choices, price lists, etc. I'll try not to hide anything from you, as this should be a learning experience, and if mistakes are made, you can pick on me! It should be fun, however.