I'm in the process of making confit duck, so I thought I'd share my technique for doing so; it's a slightly modified version of the one I make in the restaurant. I hope this encourages people to try making it, as it's a wonderful thing to have in the storecupboard. I'd be interested in hearing how other people's techniques vary from my own.
You'll need:
10 duck legs (I use French Babrary)
a lemon, sliced into 6 or so slices
an orange, ditto
a couple of dozen sprigs of thyme
half a dozen bay leaves
a head of garlic
about 8oz / 220g medium coarse salt
about 2kg / 4lb duck or goose fat (I use goose)
1) In a plastic or otherwise non-reactive contatiner that'll fit in the fridge, place everything apart from the goose fat, and mix with the hands to combine. Leave in the fridge for 12-16 hours.
2) Take the legs out of the fridge. The salt will have dissolved and there'll be some fluid in the bottom of the container.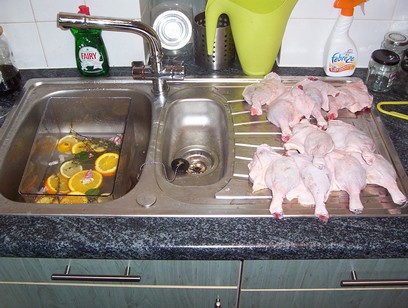 3) In warm water, rinse the duck legs, and leave them to drain. Rinse and drain the herbs, garlic, orange and lemon.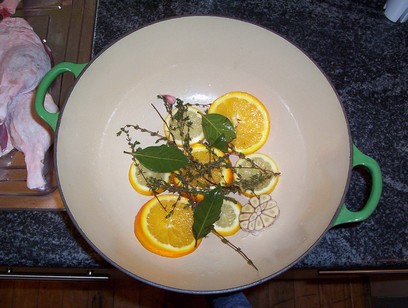 4) Place half the herbs, garlic and fruit slices in the bottom of a heavy pot (I use a cast-iron Le Creuset pot)
5) Make the first layer of duck legs, overlapping like this.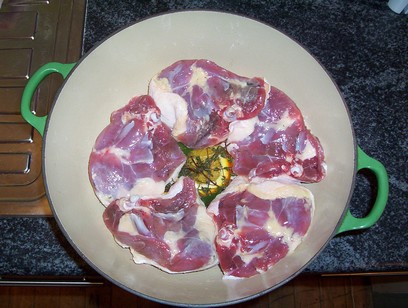 6) Place the fifth leg in to make a complete circle.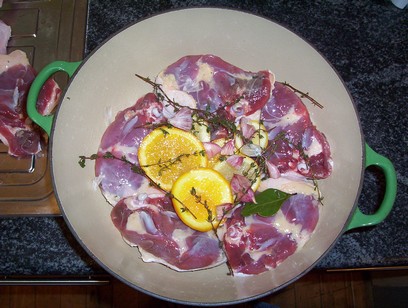 7) Fill in the middle with the remaining herbs/garlic/fruit.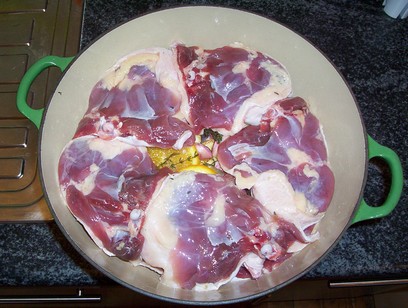 8) Make the second layer of five legs in the same way as the first.
9) Just cover with warm duck/goose fat.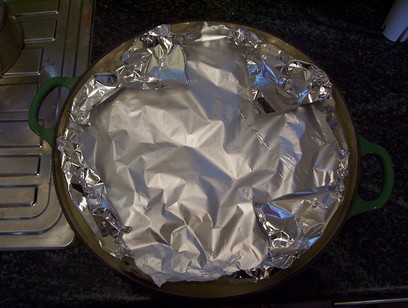 10) Cover with a cartouche of aluminium foil. It's imporatant that the foil doesn't overlap the edge of the pot otherwise the fat may spill over upon cooking.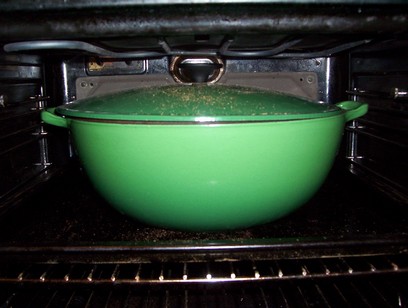 11) Place in the oven at 90C (200F) for 12-14 hours. The lid should be slightly ajar, as shown, and it's good practice to place a tray underneath the pot to avoid any spillage catching fire on the oven floor. I learned this the hard way.
If there's any interest, I'll put up pics of the potting process when I do that tomorrow.
Hope this proves of interest...