I seem to have more than the usual need for small kitchen gifts lately. We are talking roughly $15 or less but they need to be really cool. I thought that this might be a common problem, especially this time of year, and it might be useful to get our heads together. For instance... I bought this charming garlic smasher some years ago, I don't remember where.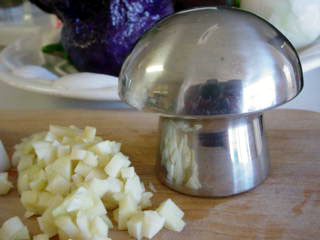 It is ergonomically perfect for smashing garlic cloves, then you can rub it around on your hands under water to get the garlic smell off. The edges even work under fingernails. Additionally, it looks really cool just sitting around. I have had several folks ask me how to get one and I can't find it to save me. (I did see it listed among the AMCO products in Amazon but it is no longer in stock.) This is a good example of the kind of thing that makes people smile.
Any other favorites out there that never fail to delight?
Anybody know how to ask about stainless steel mushrooms without sounding like a whacko?