Laban Ummo, literally means "It's Mother's Milk" is a wonderful stew made with lamb or beef in a rich cooked yogurt sauce. The name refers to the fact that the young tender lamb or veal is cooked in it's own mother's milk! Kind of gruesome, I know but as far as we are concerned the meat will not be cooked in it's own mother's milk or even a relative's milk for that matter, and this is one elegant and delicious stew.
In my recipe I add chickpeas even though they are not traditionally added to this dish. I just think they go great with it and add a little more body to the finished product.
This dish is very easy, well almost very easy. The yogurt sauce is a little tricky and needs constant attention and stirring or else it will curdle and turn very nasty. So, clear a good 15 to 20 minutes of your time and do NOTHING but the yogurt sauce and you will be rewarded with the most unusual, creamy and delicious sauce that could be used for many applications and this stew is one of the classical and best ones. To make the sauce I use whole homemade yogurt. If you are using store bough yogurt, just make sure it is fresh and not too sour tasting.
I like to serve this with white rice or basmati rice cooked with some clarified butter (Samen). As for the garnishes, the crushed mint and melted Samen are a must. The preserved lemon on the other hand while certainly not traditional in Lebanon, and my mom will never use it, will add a wonderful flavor that goes great with the tender meat and slightly tangy sauce.
4 Tbsp. Samen (clarified butter)
1.5 lbs. beef chuck or lamb shoulder
1 Cup chopped onions
4-5 peeled small shallots
10 cloves garlic, chopped
2 bay leaves
1 can chickpeas drained, or equivalent dried cooked
chickpeas
Cooked Yogurt Sauce:
3 cups plain whole milk yogurt at room temperature
4 Tbsp. corn starch
1/2 cup water (or more if needed)
Garnishes:
Crushed dried mint
Melted Samen (about 1 Tbps. Per serving)
Chopped preserved lemon
- Prepare the meat by trimming any excess fat and
sinew. Cut into 1 inch chunks and season with salt and
pepper.
- In a heavy pot over medium heat melt half of the
Samen and sear half the meat on all sides. Remove to a
platter and repeat with the rest.
- Add the onions, shallots (left whole), garlic and
bay leaves to the pot. Cook while stirring until they
are translucent but not brown.
- Put the meat back into the put and stir to coat with
all the aromatics. Add 3-4 cups water to the pot. The
water should be barely cover the meet.
- Bring to a boil on high heat and remove any scum.
Reduce the heat to simmer, partially cover the pot and
let cook for about 1.5 hours until the meat is almost
tender. Raise the heat to medium and remove the lid.
Let the mixture cook till the liquid is no more than 1
cup.
- Add the chickpeas and continue cooking/reducing
until most of the water is gone. You still need some
liquid in there though so do let it dry out. Now turn
the heat to the lowest setting. Cover and prepare the
yogurt.
- Put the yogurt in a sauce pot and whisk till smooth.
- Make a slurry by whisking the corn starch with the
water. Add to the yogurt.
- Put the pan over medium heat and gently stir
CONSTANTLY in one direction. Do this until the yogurt
is hot, with steam coming out of it and tiny bubbles
appear on the edges. Do not expect it to come to a
boil but it will get a little thicker than it was. If
you did this right and did not stop stirring or raise
the heat, you should end up with a smooth creamy hot
yogurt sauce ready to be used. Turn the heat off.
- Carefully pour the yogurt sauce over the beef stew.
Stir everything thoroughly, cook for no more than a
couple of minutes to get everything to the right
temperature. Season with salt and pepper if needed and
serve immediately with rice and top with the above
garnishes if desired.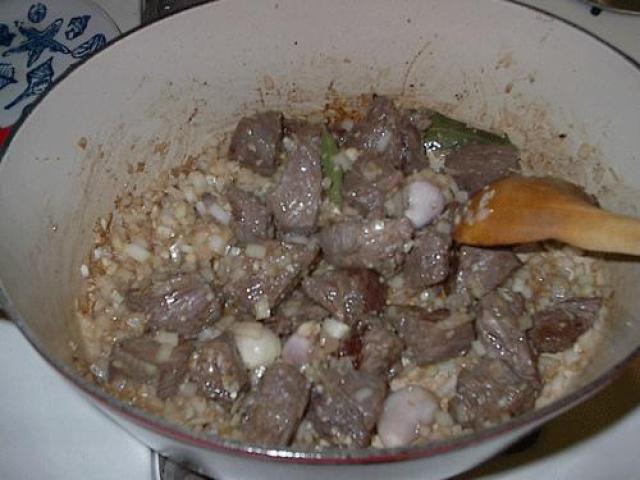 The meat right before adding the water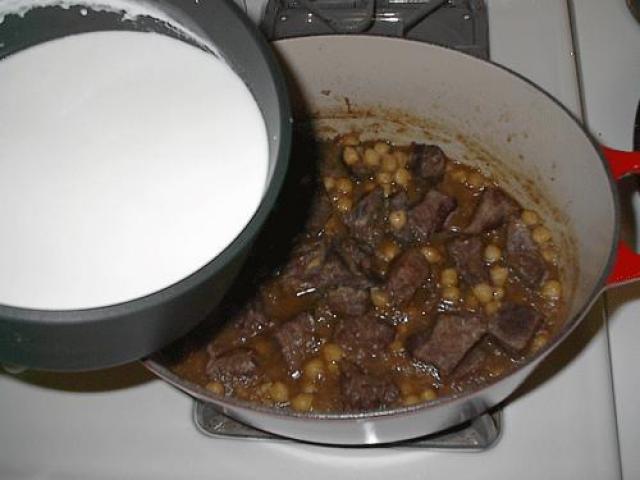 Getting ready to add the cooked yogurt to the stew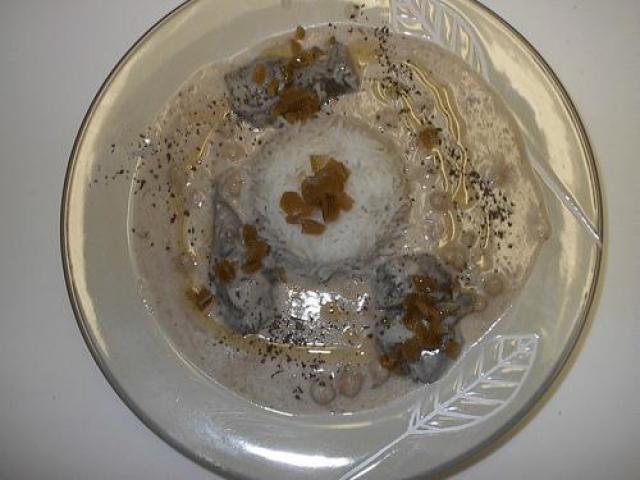 Plated and ready to serve!
Elie