University of Hawai`i at Manoa Dining Service
http://www.uhmdining.com/
http://www.hawaii.ed...center/Vendors/
Like many institutions of higher education, the University of Hawai`i's main campus has for several years leased the rights to stuff food down the mouths of its 20-some odd thousand students to Sodexho, the French giant that dominates much of the world's institutional food service business. This contract was inherited from Marriott Host, which had itself held the contract for several years, when the Host was swallowed whole by Sodexho. Despite what some purveyours of crude national stereotypes may think, moving from being Utah-owned to French-owned did not lead to an instant transformation in the quality of food, and over recent years the complaints have continued to pile up. Of course, griping about campus food service is just a normal part of the college experience, but at UH the complaints had a special poignancy - the food was simply not "local" enough. It was generic mainland food being plied onto them by a European-owned company, and didn't reflect the Pacific and Asian roots of much of the student population.
To give credit to the management, they had gone out of their way in recent year in attempting to address these complaints, installing such things as a select-your-own-stir-fry station, a saimin (soup noodle) stall, and even a loco-moco (meat and egg on rice) bar at the various campus dining locations, as well as providing packaged assortments of sushi, manapua (local-style dimsum), and spam musubi (you don't want to know). Nonetheless, many students continued to feel that the versions of the dishes supplied were not up to par with what they were used to getting from outside restaurants and plate lunch places, and while business improved, it still failed to take off.
Last year, the management even experimented with setting up a demonstration station specializing in Hawaiian Regional Cuisine, offering up such dishes as tataki-style seared rare ahi, furikake-crusted mahimahi, and garlic-teriyaki marinated ribeye. However, this was a commercial failure. While the prices for these dishes was relatively cheap, generally under $10, it was still more than the average college student was willing or able to pay for a school cafeteria lunch.
Starting from this August, seemingly in desperation, the management finally crossed the Rubicon. Sodexho essentially subcontracted most of the campus dining facilities to two local companies: Ba-le and PBHK Inc.
Ba-le is a fast food franchise operation
specializing in
banh mi
, Vietnamese-style baguette sandwiches. PBHK is the parent company for Yummy's, a chain specializing in Korean-style plate lunches. Ba-le and Yummy's are the third and fourth largest restaurant chains in the state (after
L&L
and
Zippy's
). Ba-le is the second-largest Vietnamese restaurant chain in the world (after Pho Hoa), and Yummy's is the largest Korean restaurant chain in the U.S.
That this is an act of desperation is indicated by the fact that Sodexho is not in a good position regardless of whether the experiment works or not. If it fails, then it will be blamed. If it succeeds, then the University management could presumably decide to contract directly with the vendors themselves.
PBHK has essentially taken over the Campus Center Dining Hall, the largest eating facility on campus, while Ba-le has taken over what used to be called Manoa Gardens, an annex of sorts for the Campus Center, located between it and the undergraduate library. The third major dining facility, the Paradise Palms Cafe, remains largely unchanged and continues to be run directly by Sodexho, except for a Chinese-style takeout line has opened up (run by whom, I'm not sure).
So what's it like? I'll start with Ba-le. As a full-service operation, the campus Ba-le couldn't very well serve only banh mi, so instead it has three different food stations as well as an assortment of packaged foods. Two of the stations offer an assortment of banh mi and pho, respectively, while the third offers Vietnamese-style curries and stews. There are a variety of ready-made salads and summer rolls on an island in the center. Bubble tea and Vietnamese-style ice coffee are available, as are an assortment of tapioca desserts. If you're desperate to avoid Vietnamese cuisine, you can still call through a small winodw and have the chef rustle up you some chicken fingers, onion rings and other fried 'Freedom Food'.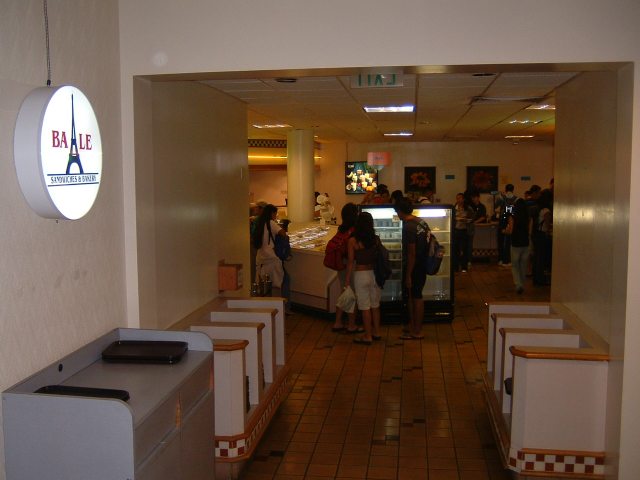 While the menu is greatly expanded from that of the usual Ba-le, it's not as much of a stretch at it might seem at first glance, since a few of the other Ba-le franchises, such as the
one in Manoa Marketplace
, also offer expanded menus, though without the chicken fingers. However, the nature of the facilities and the need for mass feedings during the lunch hour mean that the format is somewhat different. The entrance continues to be like that of the typical university cafeteria, rather than a restaurant, with first thing you see not being a chirpy greeter but rather stacks upon stacks of plastic trays arrayed low to the ground.
At the pho station, however, things are somewhat interesting. The need to prepare the pho quickly leads to a setup that is in some ways a strangely updated version of the what one might see in the birthplace of pho, the street stalls of Hanoi. The lady (sorry for cutting off her head) preparing the pho stands in front of a large array of veggies and two kinds of precooked meat, beef balls and chicken. For safety reasons, the raw beef strips are kept in a small refrigerated compartment behind the fixin' setup. The rice noodles are separate little piles and are quickly boiled to order in a colander-like instrument, while the broth stands in a huge pot on a burner next to the boiling water for the noodles. Things get really hectic during the rush hour, but the pho lady has already worked out a system for boiling one person's noodles while putting the garnishes on the next persons'.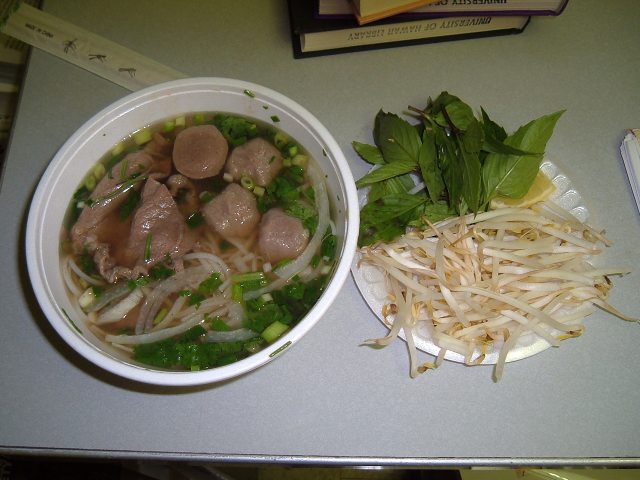 The pho itself is served in styro bowls similar to the kind associated with instant ramen. There are piles of plastic lids at the utensil station you can place on top of the bowls so that you can take it back to your office. The veggies (mung bean sprouts and basil) and lemon are on the side - you have to wrap it in aluminum foil if you want to take them out separately.
By the time you get back to your office, the raw beef is completely well done. Well, that's your fault for being so stuck to your desk and computer. The broth is O.K., with the requisite star anise and fish sauce flavors, though perhaps, in my opinion, it could be more concentrated in both the meat flavor and the seasonings. But you can't complain - it's a reasonably healthy alternative that wasn't available before; now you have no excuse for always larding up on food-service grinds.
The banh mi gets prepared at a sandwich station with similar trays full of different fillings. The main innovations are that there are a larger variety of breads - in addition to the usual baguette and croissant, you can also get your banh mi in ciabatta or whole-grain loaves. All are baked at the central Ba-Le bakery in Palama, which is to say that they are baked that morning and are of decent quality - none of the squishy stuff. The fillings are the usual ham, pate, fried tofu, lemongrass chicken, and veggies only, as well as roast beef, turkey, tuna, and even pastrami for those who wanted to be at Subway's (which, ironically, has opened up just around the corner). I've never seen anybody actually order the latter four, so I'm not even sure they're even necessary. The garnishes are carrot-and-daikon pickle, cucumber, and cilantro, just like Ba-Le sandwiches anywhere else. This is the lemongrass chicken banh mi, though it's hard to see it through all the garnishes. . .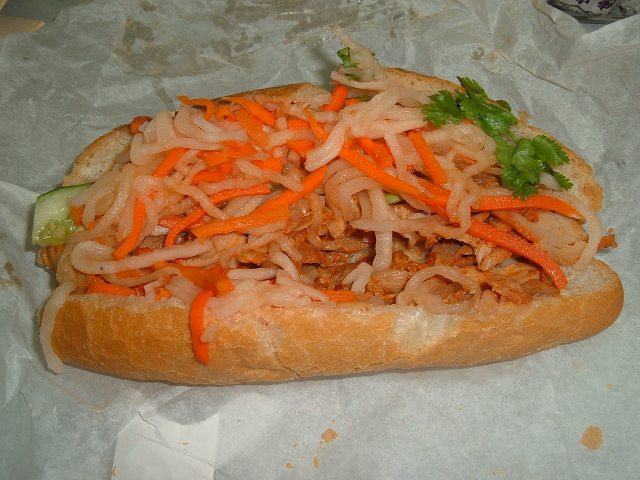 I was interested in trying the Vietnamese-style curry, since it's not a common dish even at most sit-down Vietnamese restaurants here, and is an interesting solution to the problem of how to offer a "hot meal" alternative to pho and sandwiches without using up excessive labor.
You can have your curry with rice on the side, or Saigon-style, with a baguette. There are two kinds - chicken or the one pictured, eggplant and tofu. They do not skimp on the coconut milk for this curry - there is a lot of it, seasoned with a fenugreek n' turmeric laden Vietnamese-style curry powder. I like eating it with the baguette - it soaks up the sauce much easier than the rice.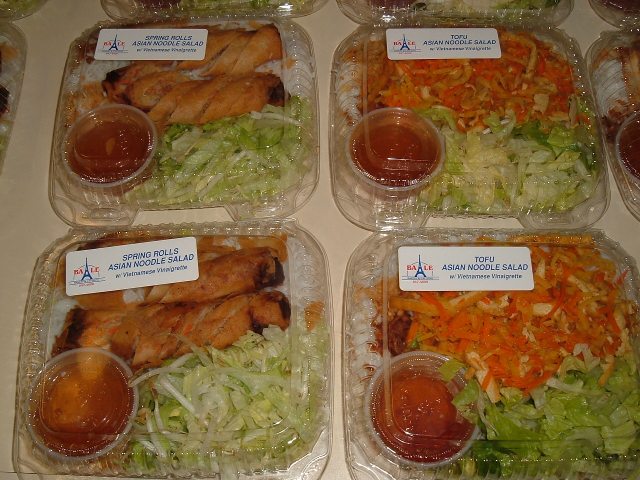 The ready-made foods include an assortment of summer rolls (pork, shrimp, or even tuna); rice noodle salads topped with lemon grass chicken, spring rolls, or fried tofu; beef or lemon grass chicken lettuce salad, and green papaya salad. Of course, don't expect the spring rolls to be super-crisp, but otherwise there is a surprisingly large assortment to choose from.
Here's the tapioca tank. A food service first!
We'll get to the Campus Center when I have time. . .