Please join
Harold McGee,
for an eGullet Q&A the week of November 8, 2004.
Harold McGee
writes about the chemistry of food and cooking. He fixed on this peculiar vocation after training in two more conventional subjects: physics and astronomy at the California Institute of Technology, and English literature at Yale University, where he wrote a thesis titled "Keats and the Progress of Taste." After teaching literature and writing for several years at Yale, he decided to practice what he'd been preaching to his students and write a book on the science of everyday life.
The result was the publication—five years later—of
On Food and Cooking: The Science and Lore of the Kitchen
, a 680-page compendium which won the Andre Simon Memorial Fund Book Award and brought feature articles in
Time
and
People
magazines and many newspapers. The timing couldn't have been better: America was just awakening to the diversity of world cuisines, and the book helped satisfy the growing hunger for information about the origins and nature of ingredients and techniques. Along the way, McGee fell in love with the subject, so he was no longer a science writer: he was a food writer.
Six years after
OFAC
, in 1990, he published
The Curious Cook: More Kitchen Science and Lore
, a slimmer narrative volume detailing his efforts to solve kitchen puzzles (How much oil can you emulsify into a mayonnaise with one egg yolk? [gallons]; Why does frying spatter end up on the inside surface of the cook's spectacles? [gravity]), and make sense of the modern and ever-changing scientific evidence linking diet and the major scourges of later life, heart disease, cancer, and Alzheimer's disease.
Along the way McGee contributed original research to the scientific journal
Nature
("Why whip egg whites in copper bowls?" in vol. 308, 1984, p. 667; "Recipe for safer sauces" in vol. 347, 1990, p. 717), and has written articles and reviews for many publications, including
The New York Times
,
The World Book Encyclopedia
,
Food & Wine
,
Fine Cooking
, and
Health
. He has lectured on food chemistry at an unusual range of venues, including the Culinary Institute of America and other professional schools, the Canadian Federation of Chefs and Cooks, the Guild of Food Writers, at universities, the Oxford Symposia on Food, the American Association for the Advancement of Science, the Denver Natural History Museum and the Fermi National Accelerator Laboratory. He has appeared on CNN and on National Public Radio's "All Things Considered," "Fresh Air," and "Science Friday," and was a regular guest on Los Angeles public radio station KCRW-FM. In 1995 he was named to the James Beard Foundation's Who's Who in American Food.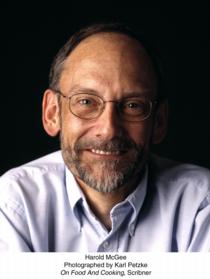 A vastly revised and enlarged second edition of
On Food and Cooking
has just been published by Scribner.
You may read the Introduction to the new book here
.