Since I have returned to work it has been more difficult to find the time to put together the logs for our trip. On the 29th of September we went for lunch at the first Three Star Michelin Restaurant I have ever been to. I have been to comparable restaurants in the U.S. such as Per Se, Daniel, Jean-George, Charlie Trotter's, etc., but this was the first of this caliber as recognized by Michelin. We drove up from Barcelona after a morning touring the Casa Mittla' and El barrio Gotico. I was actually relatively hungry (a rare thing for this trip that involved almost constant eating) and arrived in Sant Celoni to find El Raco de Can Fabes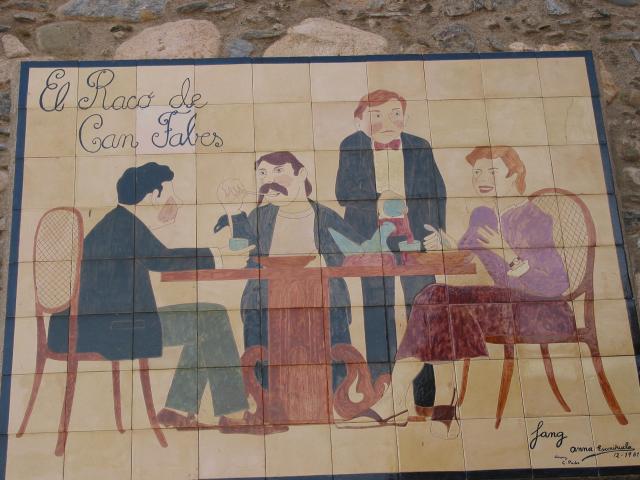 The sign
The Entrance
As we entered we passed through a couple of lovely as yet empty dining rooms with beautiful place settings.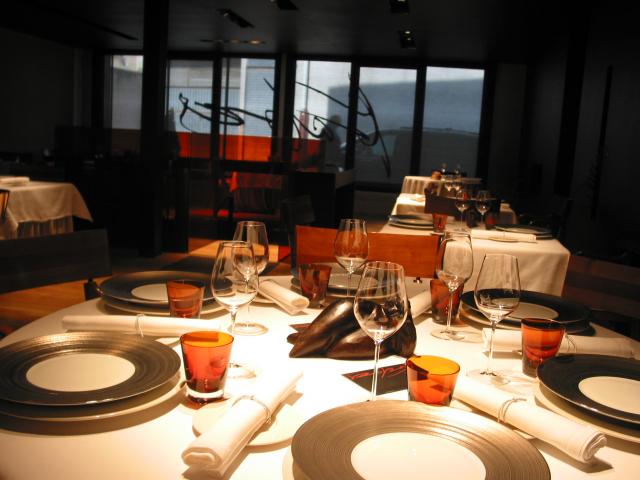 We were placed in a large private room, elegantly appointed and overlooking the large and efficient kitchen.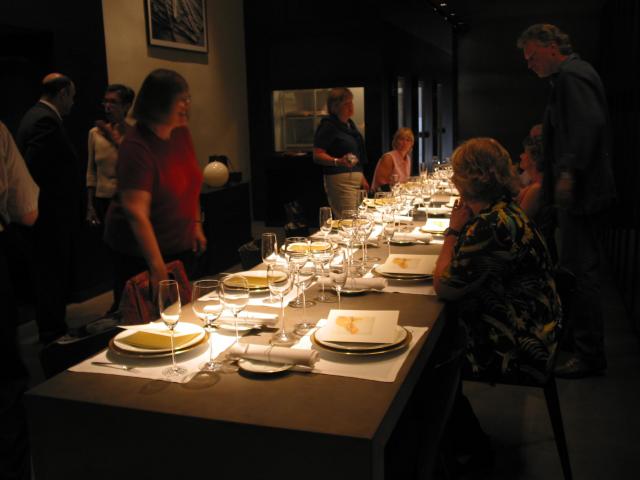 I asked for and had the pleasure of meeting eGullet's own Simon Sunwoo, who was working the last day of his staige at Can Fabes.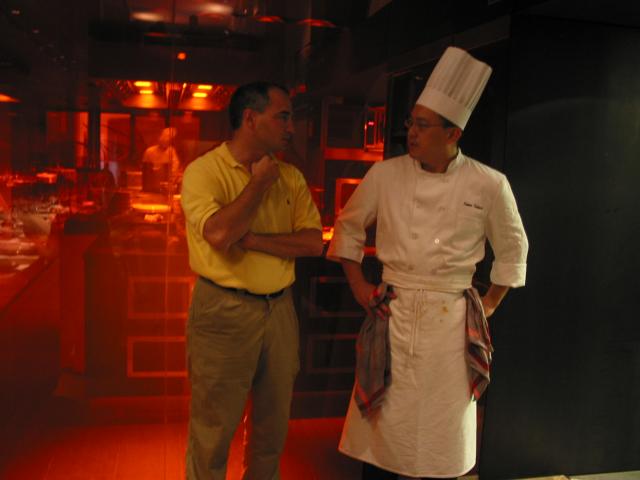 In our private room we had ready access for viewing the provision rooms, the cheese caves and the production areas themselves. Every thing was temperature controlled. We were given a tour of the wine cellar. It was filled with exceptional wines from all over Europe and possibly elsewhere, although I didn't see any from other places.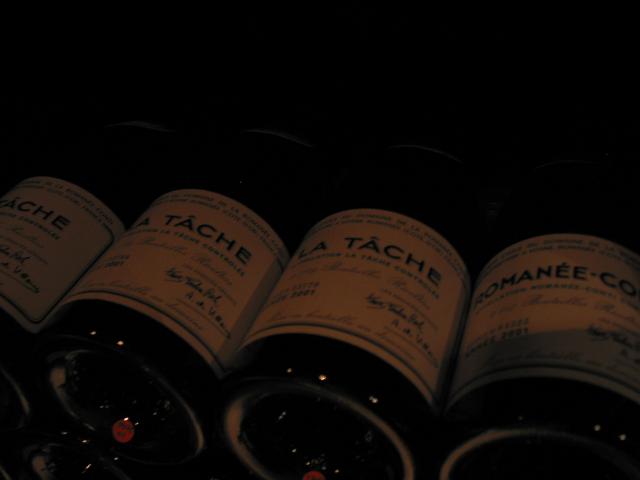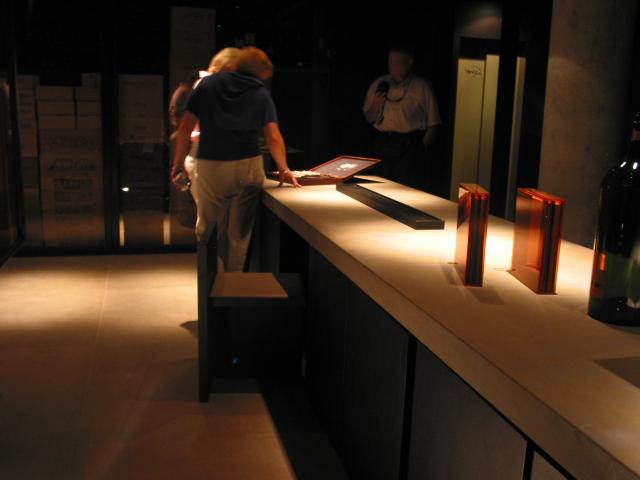 The Tasting Table
Returning to our tables,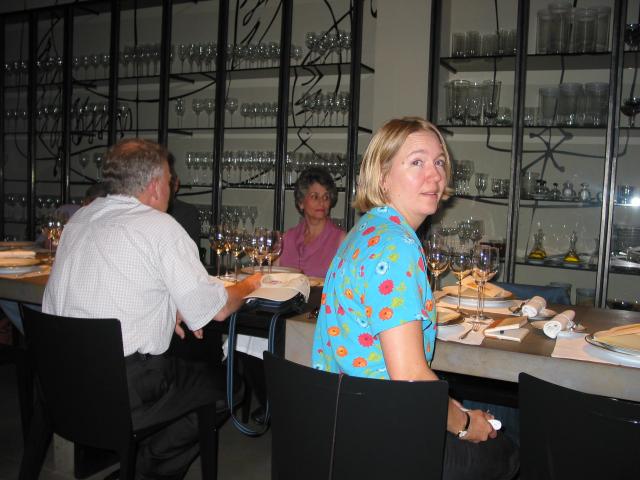 the amuse cocktails arrived on long trays that were set on the table.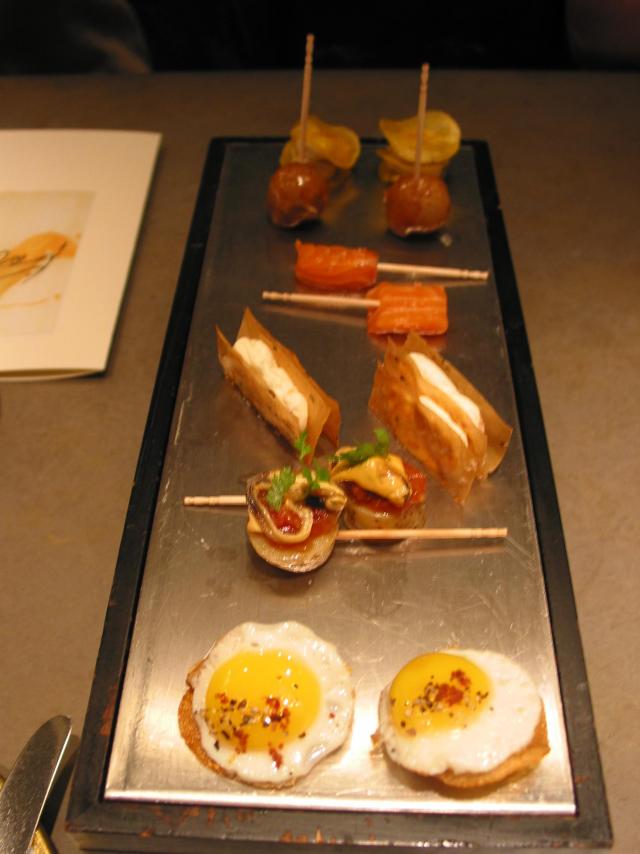 These consisted of a small potato chip with fried quail egg, a ball of foie gras with gelatinized figs, a banana chip with sweetbread mousse, an almond mousse, marinated raw salmon and a potato with mussel and anchovy. These were served with Cava Gran d'Abbatis Brut Nature, a single varietal (Perellada) cava. All were excellent, although my favorite was the potato and egg.
The waiter brought around a variety of breads. This was the most impressive looking bread selection of the trip. They weren't too bad to eat either. No, they didn't serve the entire loaves.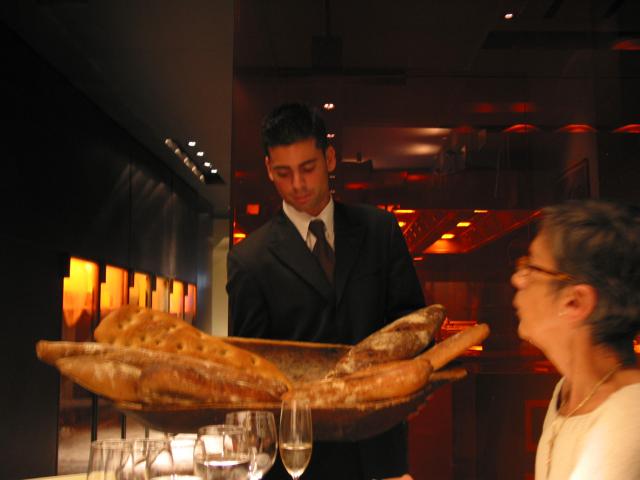 The first of the regular courses united whimsy with wonderful, intense flavor. It was "Tomato with Mascarpone and Basil", which consisted of tomato aspic, hollowed in the center and filled with basil mascarpone.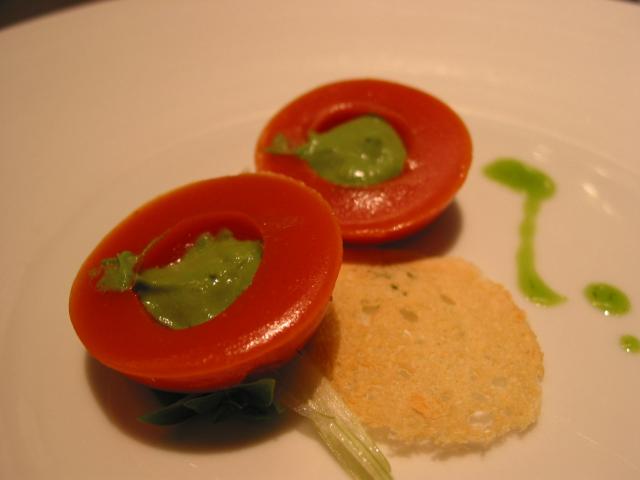 An "Esqueixada" of white prawns was next. Although "esqueixada" is usually a salad of shredded (what esqueixada literally means) salt cod and vinaigrette with tomatoes and onions, this consisted of shredded raw prawns with diced tomatoes, garlic, olive oil and other ingredients. Though interesting and beautifully presented, this was probably the group's least favorite dish of the meal. Some of that I believe may have been cultural as a number of people expressed doubts about eating raw shrimp.
Macaroni with little Cuttlefish and paprika followed. This dish also had red mullet and Parmiggiano in it. The pasta was first boiled in stock then quickly pan-fried to give it a crisp texture. The flavors were fantastic. This dish combined elements of comfort food and haute cuisine to a remarkable degree. It was truly delicious on every level.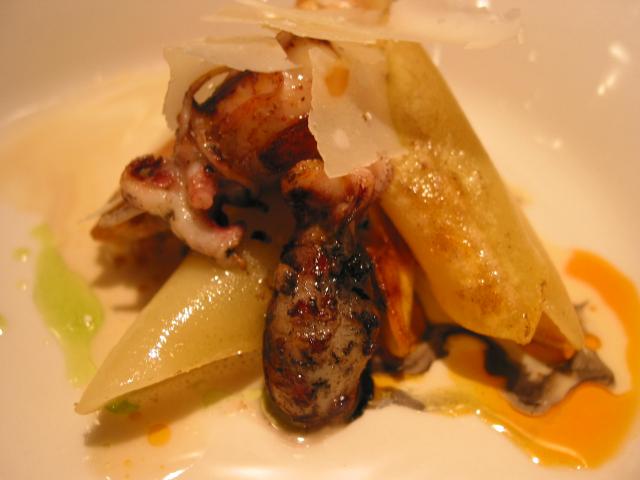 Wild Mushrooms cream with Sweetbreads was a delicious soup with sweetbreads and langoustines that captured the essence of the mushrooms. The sweetbreads themselves were actually unremarkable.
The Original Plate
The Service.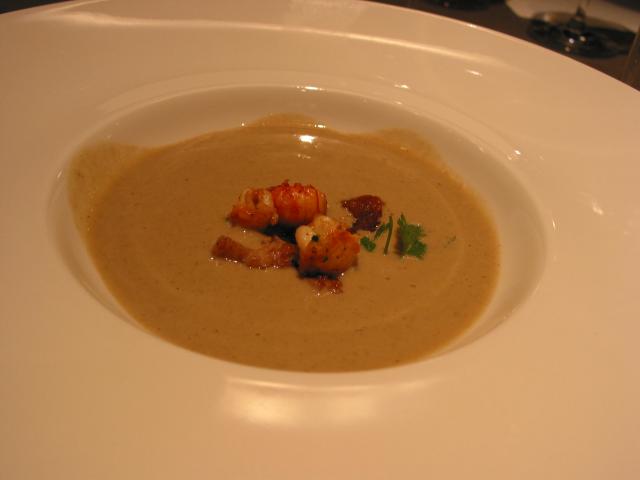 The Final Plate.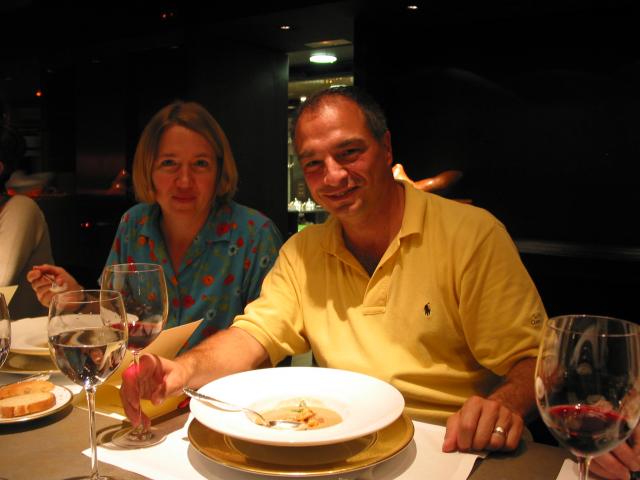 A Couple of Soup Fans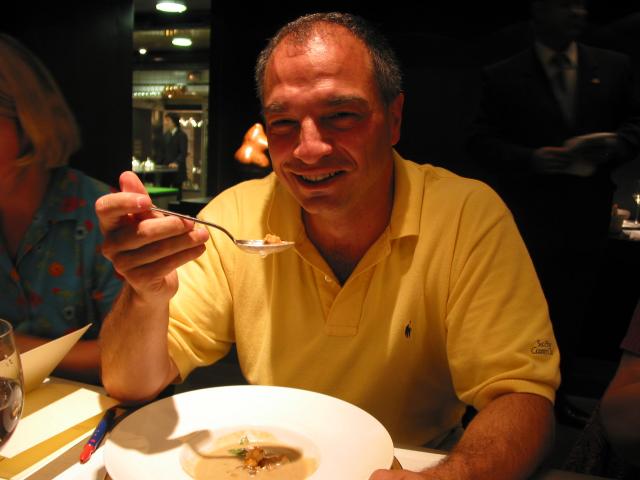 Uum, Uum Good!
The wine paired with these courses was Xarel.lo Pairal '01 from Can Rafrols dels Cavs. This is a small production wine made from 50y/o vines with barriques of a special Catalan chestnut wood.
"Corvina" with "sofregit" came next. This was a beautiful piece of hard to come by sea bass served over a sauce of caramelized mushrooms, onion and I think, tomato. The dish was magnificent.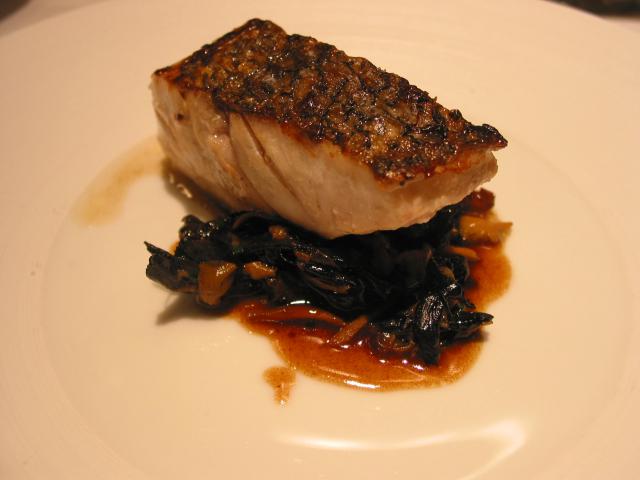 Leg of baby goat with sage was a tour de force. It was cooked sous vide and then finished for external caramelization. This dish along with the other sous vide roasts we have had on this trip including the veal leg at Aligue and the suckling pig at Abac, prove the value of this technique as each was amongst the most beautiful and delicious dishes of their kind I have ever had anywhere. See
this topic
for an interesting discussion on sous vide. I came to Catalonia expecting great seafood, but these roasts have been the most outstanding dishes so far. With this series of photos I had the opportunity to show the range of a dish from initial presentation to production and plating in the kitchen to final service.
The Presentation of the kid.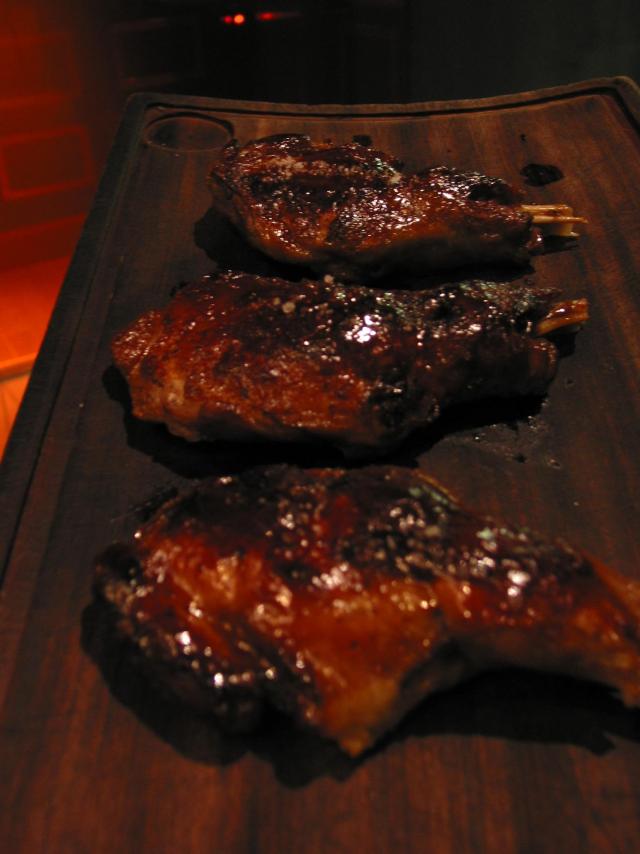 The legs.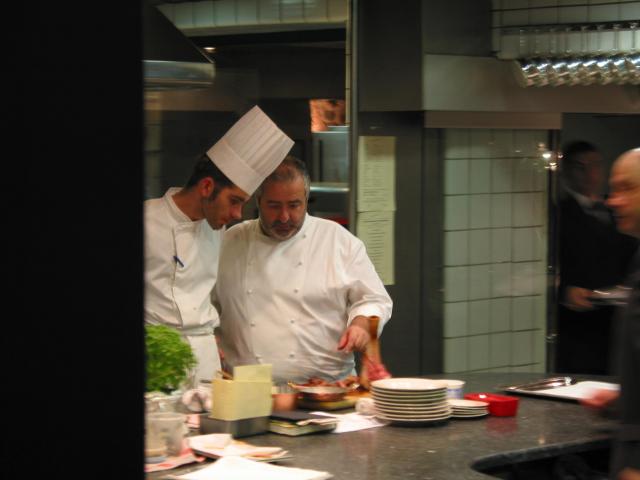 Santi Santamaria at work in the kitchen.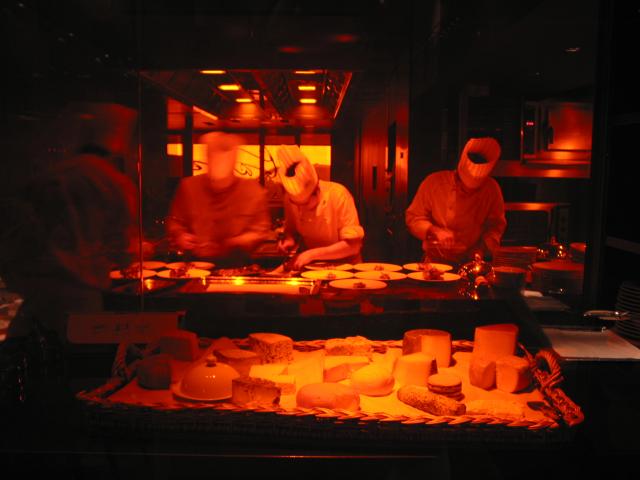 Starting to Plate the Kid.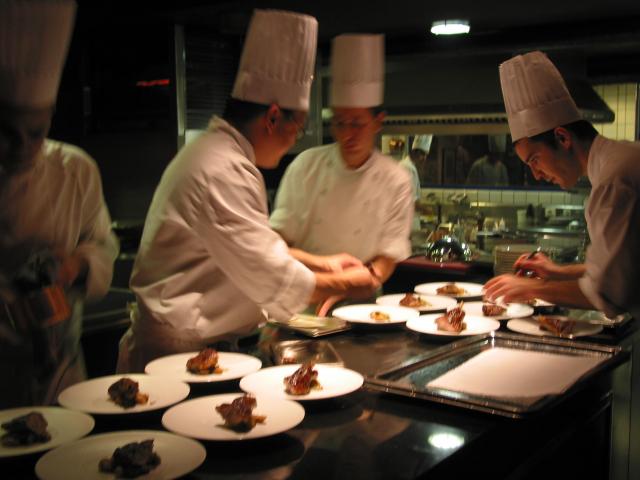 Simon Sunwoo in the Thick of it.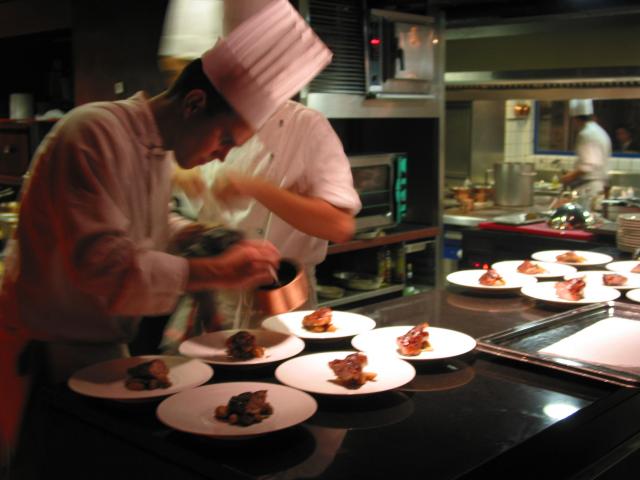 Next part.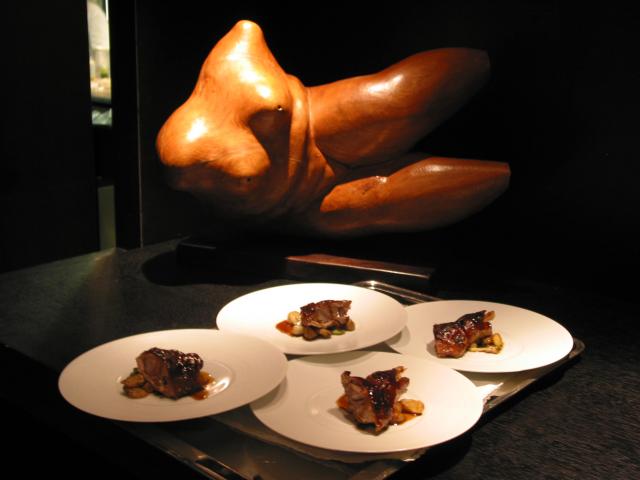 Just Prior to Service.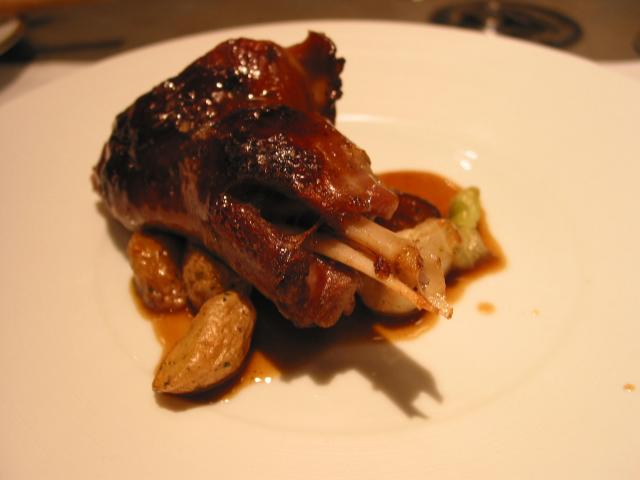 Two different plates.
An impressive cheese tray was carried by two people to the table.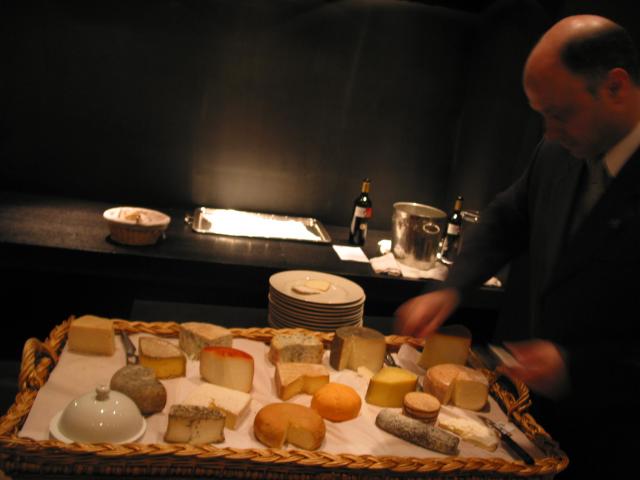 I selected about four different cheeses of mostly Spanish origin, the names of which elude me. The wine for these courses was perhaps the best red of the trip so far, 159 Barricas '02 from Mas Arago' near Tarragona. It consisted of 80% Merlot and 20% Tempranillo.
Unfortunately dessert needed to be abbreviated secondary to our time constraints. This meal took a wonderfully long time. Dessert consisted of figs in vanilla cream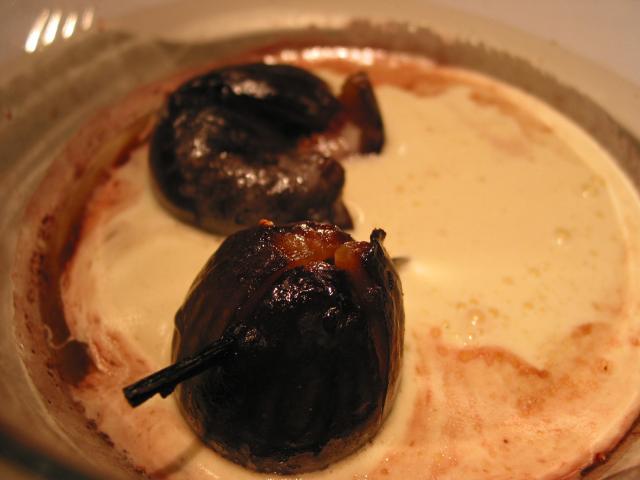 and wonderful petits –fours
along with Moscatel de Jerez Emilin. Santa Santamaria was gracious to visit with us, pose for photos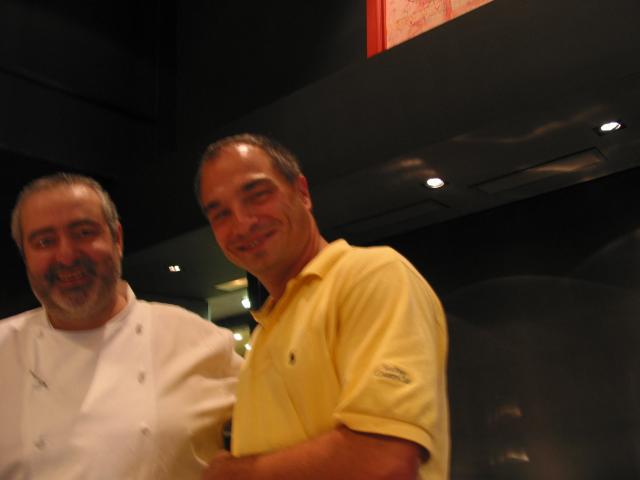 and autograph our menus and his books. It was a particular highlight to watch him hold court in the kitchen as he oversaw production of the meal and the aftermath of the kitchen.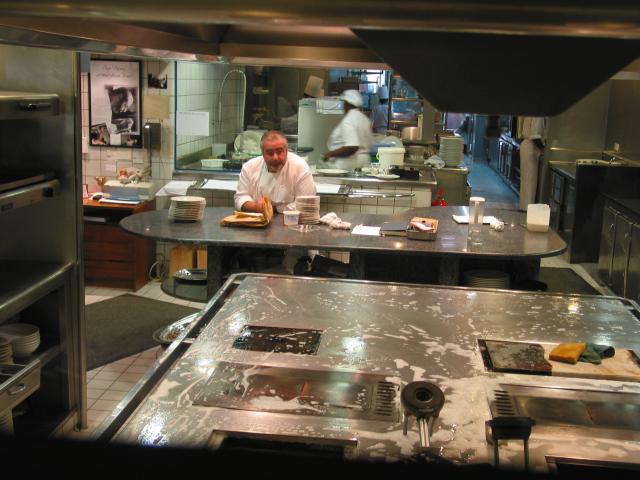 Here I developed a basis for understanding what a Michelin Three Star meal is all about. Nevertheless, not all the details were perfect, as the men's room had run out of hand towels and was mildly unkempt. Then there is the legitimate question as to whether a number of our group suffered a day or so of major gastrointestinal distress from that meal, the timing of which makes it the most likely culprit (onset later that night and early the next day). It is extraordinarily unlikely that the source was spoiled or bad food. More likely, something may have been contaminated by someone handling some of our food in the kitchen who probably shouldn't have been that day. The meal itself in terms of presentation, service and flavor was certainly one of the best I have ever eaten or hope to eat, but its memory, unfortunately will remain slightly tainted by the events that followed. Nevertheless, while I certainly would have preferred that it didn't happen and that my following day wasn't spoiled, I think if I had to I still would have paid that price again for that meal.