Not too long ago, I started to saying crazy things, like California rolls are not evil, and I found myself attempting to learn how to like stuff like rainbow rolls. But four hours at Urasawa has restored my sanity. California rolls, bah! And don't get me started on rainbow rolls. Well okay, if the California roll actually has crab in it, fine.
In this price range (around $400), I suppose I have a couple of options. I have thought about spending my cash at say French Laundry but I just never seem to get that excited about FL. I mean, intellectually, I know it's good. And the dishes sound interesting. But I kind of made one or two half-assed attempts to get into French Laundry, failed, and then forgot about it. I mean, I will probably go to FL sometime, but somehow I don't have nervous anticipation over it. I had nervous anticipation about going to Urasawa, and it was actually surprisingly easy to get a reservation.
When I got there, there was an Indonesian couple sitting there, about halfway through their meal. Fingers were crusted with huge jewels, huge jade pendant hanging from a gold chain. The lady also wore jewelry. Hiro was telling them that he was closing the restaurant for a couple of days because he needed to make a trip to Tokyo to buy pottery. I found out later in the meal that this couple had been coming here every night for the last two weeks, and that he was warning them in case they decided to show up while he was in Tokyo. On Sunday (the day before the night I was there), they had brought 4 members of their family. That's approx a $2000 meal! When I asked them about coming here so much, the man solemnly told me "it's the best". The lady nodded.
I also sat next to another couple, one of the owners/chef Bruce Marder of Capo Restaurant in Santa Monica, with his cool, smart girlfriend. Actually, I think that was him. I heard Hiro call him Bruce and I looked it up on google. Anyway, after talking to him a little bit, it was quickly apparent that he is an ingredient freak, and that he really loves sushi. He knew pretty much every ingredient Hiro was using and revealed that the rice he uses for risotto in his restaurant he gets from Mori (of Mori Sushi, famed for the rice he grows in Sacramento and hand mills for his restaurant).
It's no wonder to me that Marder showed up at Urasawa because it's all about the fantastic ingredients and (unbelieveable in a young man) skill here. The only thing missing is an old man's crochety attitude. Hiro is friendly and talkative and eager to give you things that will make you happy. In my case, it was unlimited toro, ikura, and uni.
I've only had ikura that I like at one other place, Abe in Newport Beach, where it's called the "salmon eggs cocktail" and marinated in sake and some other stuff. Usually it's been frozen and so damn salty and slimy. Urasawa marinates his salmon eggs in several kinds of sake, some soy sauce, and other magic things. The eggs pop in your mouth as you eat it, and I had a lot of pieces, about 6, to tide me over while I go through withdrawal until the next visit.
Everything here is organic, and most of it is made by Urasawa himself from the best ingredients, naturally. The ginger that comes with your sushi? Made by Urasawa from organic roots, so much better than that pink stuff that comes with your usual bento box special, you might not recognize it. The salt? Handmade by Urasawa. Soy sauce? I suspect this is not just soy sauce, because it tasted like it had bonito or some fish element in it. It was so much better than your average tabletop Kikkoman, that the Indonesian couple took some home to put on "pizza, rice, sandwich, whatever, haha". Okay, actually I don't know if he made the soy sauce but it was definitely a unique blend of something.
My favorites were the amazing "egg custard" that was made with eggs, shrimp, sugar, soy sauce, mountain potato, but tasted and looked more like a yellow sponge cake with a slight briny aftertaste to it. Far, far better than it sounds. I had a bunch of these. The toro he has is so fatty it looks like it is frosted, like you see in the pictures, but can never get at the cheaper places. I had so much toro, cooked on the stone, and raw in sushi and sashimi, that I was a very happy camper. Oh and the uni was the best ever. Sometimes uni can be totally skank, but this uni was legions above practically anything I've had. I mean, he might as well have just cracked it in front of me and handed a spoon. Creamy and sweet oh god. I asked for a lot of uni and he gave it to me. He cracked open a huge live shrimp in front of me and made amaebi sushi topped with the shrimp guts mixed with soy sauce. Oh man, I dream of those shrimp guts. The chawan mushi here was amazing, as well it should be with the caviar, uni, gelee all in one place. But the egg custard itself was silky, like flan only softer, silker, almost pudding-like.
His rice is really good. This one thing he did, had I think Japanese pike makerel (didn't write this down) on top of a log of rice he had kneaded with chopped shiso. If you or I were to knead rice like that, it would turn into a gummy mess, but the resulting sushi rice was still somehow delicate, light, with distinct grains of rice still intact. The pike was seared with several long metal tongs and you could see the fat oozing out of the flesh. When the display was over, he cut it up into pieces and the fish was slightly warm and uh melting from the treatment, with the rice formed in my mind the best possible mouthful I had had.
I know I've forgotten to mention at least a half dozen amazing dishes, but it's late and I have a ton of work to do.
Urasawa is a young chef, only 36 years old, but he's been in the game 30 years, starting with his father's restaurant in Kyoto. He states to customers that his food is Kyoto style and Masa's is Tokyo style, and so they should expect something slightly different. But he does keep some of Masa's favorites, like the shabu shabu. I don't know how he can be open 7 days a week, and yes he does lunch. He wakes up early to get to the fish market (and he told me that Koreans make up half the buyers) then he has to make lunch, then dinner. He barely sleeps and is, of course single. He says he will never leave L.A. "I am staying here forever", and that cooking is his hobby, his passion. But how long can a guy keep this kind of schedule up, even if he is a young whippersnapper like Urasawa?
The price of the omakase dinner is $250, but with everything, including sake, tea, Evian water (the only kind you'll get here) the meal comes to about $400. Frankly, I think it's a bit underpriced, considering his ingredients, rent on that little cobblestone area of Rodeo Drive, help costs. But I'm not complaining; I just hope he can stay in business. Meanwhile I will be driving over here from Irvine every chance I get. Price of parking in the structure underneath the restaurant (kind of difficult to find the entrance actually) is about $7 if I remember correctly.
Blowfish season is coming up! Anyone?
In short, I can't think of anywhere else I'd like to fritter away my retirement money, than this tiny 10 table restaurant. I have found my brand of crack and it's name is Urasawa.
----------------------------------
Pic of Hiro Urasawa whipping green tea for another customer. Here he looks kind of serious, like a monk even. But when he starts talking about sushi, his eyes widen the way kids eyes do when they see their Christmas presents.
Toro fat melting on a hot stone, greasing the way for the rest of the toro. Tasted sort of like very tender beef in a way. Aw yeah, beyatch.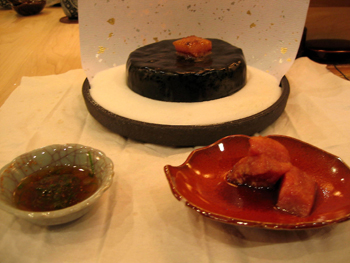 Foie gras, hamo fish, scallop shabu shabu. A Masa holdover. Note the paper shabu shabu broth bowl over the brazier.
Tai, I think herring, and I forget which kind of toro over a huge ice bowl carved by Urasawa himself. What am I saying. He made practically everything including the salt.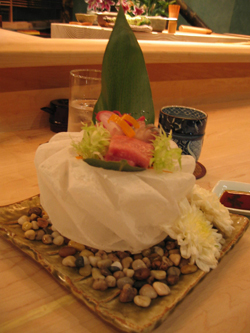 Chawan mushi with uni, a gelee of some kind on top and Russian beluga caviar
Salmon eggs (ikura), bluefin toro, squid with yuzu juice and salt, toro roll with I think cucumber

Look at that uni, more toro, I think tai (Japanese sea bream), japanese mackerel (?), scallop

Edited by jschyun, 29 September 2004 - 08:39 PM.