Ciao tutti! Thanks for stopping in to see me. As I write you, I am in Modena, trying to sort out the changes within the consortium that protects Aceto Balsamico Tradizionale di Modena, the glorious elixir from this northern province. The Italian Trade Commission has asked me to prepare an article for their Vinotizie newsletter, which will be inserted in several nationally circulated magazines (Santé, Quarterly Review of Wine, Wine Country, and some others) in December, along with some other topics of Italian interest.
Tonight I will be back home in Fontecornino. That is our località, a tiny part (3 or 4 farms) of Frazione S.Albino, a small village which is a 'fraction' of Montepulciano. Montepulciano is a charming hilltown in the province of Siena, halfway between Florence and Rome. This is the road to my house….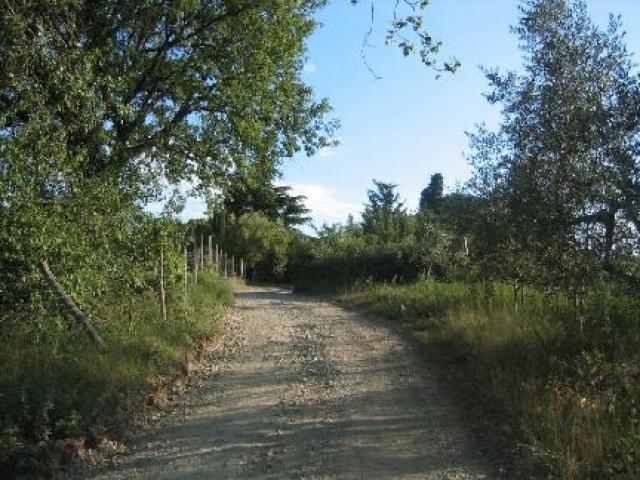 …where we picked the last of the blackberries last week. Stickery, buggy work, if you can get it. They were dry, hard little berries because we are at the end of the season, but also because we didn't get much rain again this summer. Their flavor was concentrated and made a good jam, in any case.
As in the Nora Jones song, it never rains when you want it to…and the rain finally came a few days ago. Rain blown sideways by the wind, hail in some parts (and grapes haven't been harvested yet), lightening and heart-stopping thunder. I lost a fruitful limb of one of my favorite fig trees, and too many of my precious olives were knocked off. On the other hand, this rain plus a few sunny days may get the porcini started. My postino gives me a daily report on porcini futures, and sometimes takes me with him to hunt for them. Have you noticed how preoccupied this former California girl (now Tuscan farmer) has become with weather?
Oh, gosh, I think I just wrote my first blog! Let's interact. I'm looking forward to the next few days of Q&A with you. Given the time change, you may see a delay in my responses, but I'll get them up as soon as possible.
Peace,
Pamela