It's Friday, it's after 5:00 and I think
Started by
ned
,
Jun 25 2004 02:05 PM
100 replies to this topic
Posted 03 June 2005 - 06:45 PM
I'm having a Opera, and "J" has a Manhattan.

Happy Friday!

A.

---
Posted 03 June 2005 - 09:35 PM
Started with Pastis, moved on to a bottle of Super Bock beer from Portugal, some Pooles Rock Firestick Chard from Oz with dinner and now finishing a glass of Frescobaldi Nipozano CCR 2001 I openned yesterday.

Working tomorrow so no Scotch tonight.

Cheers, Steve

slowfood/slowwine
---
Posted 14 June 2005 - 08:47 PM
it ain't friday but tonight was our first fully settled evening in the new apartment so cocktails away.

i had a negroni - i'd only read about these before so without any baseline to compare, I think it was exceptionally good, 1:1:1 campari:martini&rosso vermouth:blackstone gin with an orange twist. It was bitter refreshing sweet herbal pungent complex intense and ultimately very refreshing drink. somewhere between a manhattan and a campari soda i suppose, i think a lot of blackstones subtlety got overwhelmed and if we still had something more juniper-y i'd give that a go. the negroni of june 14 will henceforth be the baseline.
mrs. homer had a G&T with a splash of ouzo which gave it the slightest milkiness.

good drinks for watching a serious thunderstorm unfold

"There never was an apple, according to Adam, that wasn't worth the trouble you got into for eating it"
-Neil Gaiman
---
Posted 15 October 2005 - 12:33 PM
Decided I was in the mood for a Sour last night. I thought I remembered that Whiskey Sours had egg whites sometimes and had some left over from doughnuts, so I put one in.

1 1/2 ounces Wild Turkey 101 Bourbon
1/2 tsp. simple syrup
juice of 1/2 small lemon
1 egg white
Dash Angostora Bitters

Combine in an iced cocktail shaker and shake, shake, shake!

This was my first time trying a cocktail with egg whites. Boy does it give the cocktail a neat texture and rich flavor.

Discovered today what I made was a "Boston Sour".

-Erik

---
Erik Ellestad
If the ocean was whiskey and I was a duck...
Bernal Heights
, SF, CA
---
Posted 17 October 2005 - 07:44 PM
Tonight, we'll be making a drink that blew me away at Bemelman's the other night, Audrey "Libation Goddess" Saunders' Earl Grey MarTEAni.

That sounds wonderful. I love Earl Grey tea. I'm not so crazy about foamy drinks, though -- what's the texture like? Does the egg white make the whole thing like a light mousse, or is it more subtle than that? With advance apologies to Audrey, could I make it without the egg white and get a good drink, or is the texture key?

Hmmm... Hard to say. The foam more or less rises to the top of the drink -- so it doesn't stay foamy throughout. I have to think that the egg white also adds some silkyness to the mouthfeel.

And don't forget the froth, with egg whites make sure you use really cold, fresh ice and a jackhammer shake. There should be a cold souffle on top of that drink.



A DUSTY SHAKER LEADS TO A THIRSTY LIFE
---
Posted 17 October 2005 - 07:47 PM
It's saturday night, I'm sitting with a wicked cold P.B.R and a double Monte Cristo 12, one small cracked cube. Heaven.




A DUSTY SHAKER LEADS TO A THIRSTY LIFE
---
Posted 19 October 2005 - 12:18 AM
...Monkey Glands, as gin is cheap, I have some homemade grenadine to work through, I never use that damn Pernod, and I seem to have come across a steady supply of free oranges. :)
"Monkey Gland"
2 ounces gin
1/2 ounce orange juice
1/2 ounce grenadine
Several dashes of Pernod
Shake and strain.
Edited by mbanu, 19 October 2005 - 12:19 AM.
---
Posted 19 October 2005 - 06:22 AM
I think someone here needs to design a drink called "I Dropped the Baby" for Ned.

Ned? What do you like?

You could call it the "Ironweed" cocktail.



A DUSTY SHAKER LEADS TO A THIRSTY LIFE
---
Posted 08 April 2006 - 08:15 AM
At about 7 o'clock last night (Friday, after 5 — hence the bump on this thread) I tried The Brooklyn Cocktail.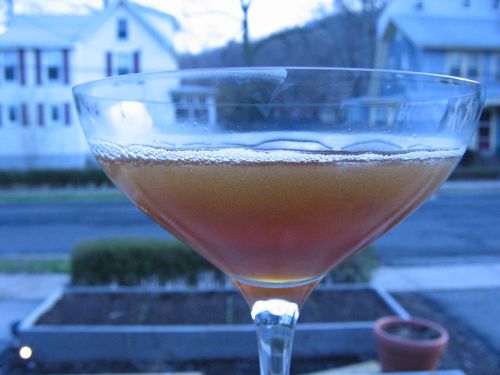 I used the recipe from
CocktailDB.
Too bitter.
---
Posted 08 April 2006 - 09:56 AM
Last night I finally got around to trying a concoction Alchemist had suggested to me in another thread:
2.0 oz aged rum
.75 oz fresh lime
.50 curacao
One barspoon Orgeat
This was quite tasty and refreshing. In fact, I had two!

The Appleton V/X I have in the house worked fine. I'm certain this drink would be even better with some really well aged rum in it.
Katie M. Loeb
Booze Muse, Spiritual Advisor
Author: Shake, Stir, Pour:Fresh Homegrown Cocktails

Cheers!
Bartendrix,Intoxicologist, Beverage Consultant, Philadelphia, PA
Captain Liberty of the Good Varietals, Aphrodite of Alcohol
---
Posted 13 April 2006 - 06:38 AM
It's no longer Friday but I do remember what I mixed up that night. A modified Juniperitivo.

Boodles (The modification. Proscribed, tho not nec. preferred is Junipero)
Lime juice
Pomegranite syrup
Mint

I mix the Boodles, lime juice and syrup in a funny but cool shaker made by Alessi, an orb that looks just a little like a tea pot. Let the drink steep in ice while aggresively muddling mint and a hunk of lime zest in a glass. Then mix the drink with the herb and run through a not-so-fine strainer. The result should be pinkish but flecked with tiny pieces of mint. Go lightish on the pomegranite syrup or the drink will be too sweet.

You shouldn't eat grouse and woodcock, venison, a quail and dove pate, abalone and oysters, caviar, calf sweetbreads, kidneys, liver, and ducks all during the same week with several cases of wine. That's a health tip.

Jim Harrison from "Off to the Side"
---
---