I'll step in with a photo I took last week that I was less than happy with. I also think it demonstrates a technical point, so some of you may find it helpful.
I took this shot of some pineapple saute for my journal. I shot it in nice warm diffused afternoon light, and was generally happy with it: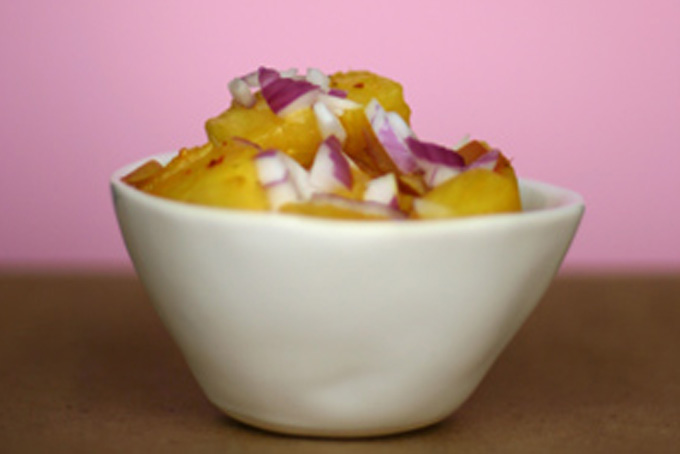 A few days later, I was in a rush and shot the following picture of these pupusas, in the same exact location, but at a different time of day. It was early morning, light was really on the other side of the house, and I was too lazy to move everything. Notice how much bluer, and 'cooler' the light is, especially in the shadow behind the lunchpail. I don't like it as much, and wish I had made the extra effort to either wait, or move to slightly better light.
To address some of the more general ongoing discussion points here....In my mind it is important to strive towards improving the overall aesthetic of your shots even if your purpose just tends towards documenting where you are and what you are eating -- if only for the following reason. Every chef and good cook knows that the way something is presented impacts the way a person feels about what they are tasting. Presentation is always a consideration. When you post a picture, it is in a sense an extension of their presentation.
If someone is putting in alot of time and effort towards making your meal special, you need to strive towards shooting their creations with the same care and sensitivity, especially if you intend on sharing pictures of their creations publically. When you are telling me what an amazing dining experience you've had in one of your posts and you include a picture, I want the photograph to support what you are saying, aesthetically. It is not something that happens overnight, but it is something to strive for.
I know the photography learning curve can feel steep, but it is important to learn from your experiences, look at your work critically, and get over some of those initial technical hurdles, until you are shooting the kind of pictures you aspire to be shooting.
Of all the technical photography books I've had over the years,
this is the one I have kept
. I'm a visual learner and it is great at showing you technical information through easy to understand full-color examples. Worth a peek.