This is the 2nd installment of my food diary from my trip to Japan which was from the December 26, 2006 to January 17, 2007.
This installment will cover the dates 29.12-30.12
In case you need to refer to the previous postings on this thread featuring the following dates, here they are:
26.12-28.12
29.12-30.12
31.12.06-2.1.07
3.1. WEDNESDAY
In the true Japanese tradition of
Hatsumoude
the first pray of the year, we took the train to
Mount Takaosanguchi
to exchange our uchiwa (paper fans) and make a wish at the temple at the top of the mountain. Unfortunately the Gods were not with me that day. Just as we were about to approach the temple, an error message appeared in my digital camera. A faulty Dick Smith Electronics 256mb compact flash memory card decided to pack up and die. This is why there are no photos up to this day. I could wait to get back to the house to insert my back up memory card. I was so disappointed to lose so many precious photos from this trip up to now. No money from the shop refund could ever replace that loss.
LUNCH
-When returning to the base of the mountain from our chair lift ride, we wrote our name in the book at the soba restaurant on the corner of the walkways,
Takahashiya(Japanese)
, and waited for a table. I had the opportunity to try soba sake ¥840 and ate the tempura soba ¥1260, while Hidemi had the sansai soba ¥840.After the meal we bought some soba miso ¥520 from them. We then walked down the path and found a shop selling fresh grilled sembei (rice crackers).We bought a few varieties-miso, garlic, negi-miso. Very nice. Should have bought more. Across from the sembei shop is another soba restaurant. The chefs were on display in the front window rolling and cutting the fresh buckwheat noodles.
DINNER
-We just settled for some inari sushi and
yakitori
from inargeya supermarket. At less than ¥1000 for the two of us you can't go too far wrong with that.
4.1. THURSDAY
LUNCH
-We caught up with Miki and Yasuko, friends from Hidemi's childhood. I wanted to try a Japanese pizza.ph 1 So we called Dominos.We had the teriyaki chicken and vegetarian ½ and ½. The thick crust was OK, pretty normal for that sort of thing I guess. However I should have gone for the thin crust I think.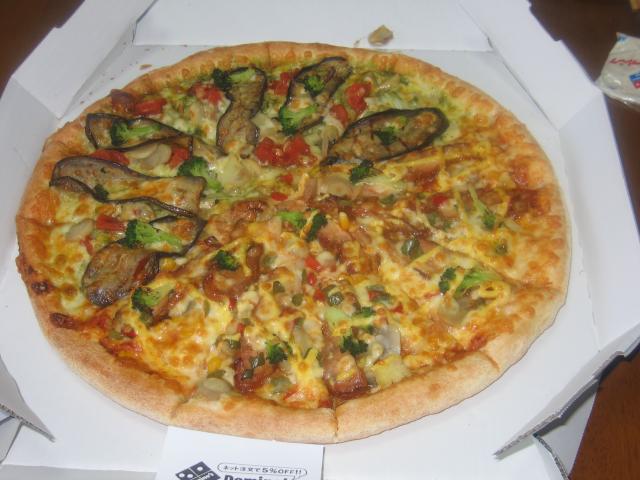 We supplemented that with some just made
shumai
,
gyoza
and a roasted vegetable and deep fried anko(monkfish) salad, all from the Keio store at Seseki Sakuragaoka. Drinks with lunch included beer and
umeshi
(plum wine). We finished the meal with an icecream biscuit sandwich and some strawberries which were very sweet, perfectly ripe and soft in the mouth, unlike most Aussie strawberries. I noticed that characteristic in all the strawberries I tasted in Japan. I must confess though we did always but the more expensive ones in the supermarket to be sure they would be good. We paid about 800yen for a punnet most times.
DINNER
-We went to No no Budou.This is a photo of their advertising plaque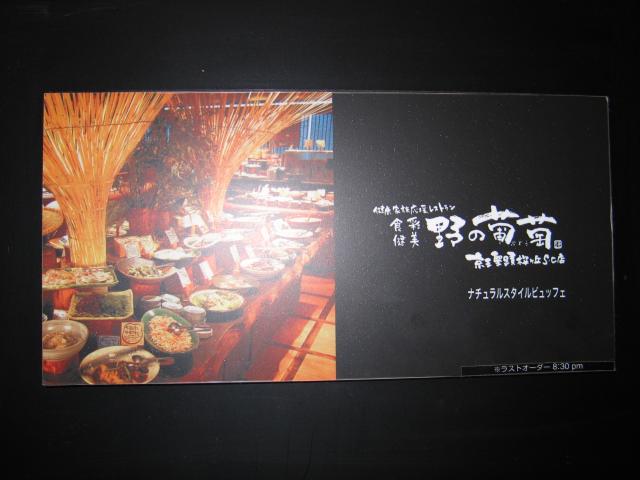 This was a baikingu (buffet style) restaurant on the restaurant level of the Keio store at Seseki Sakuragaoka.ph 2 The menu prides itself on healthy foods and farm vegetables. There are over 80 menu items. I really enjoyed the freedom to select anything from the buffet that looked interesting for ¥2600.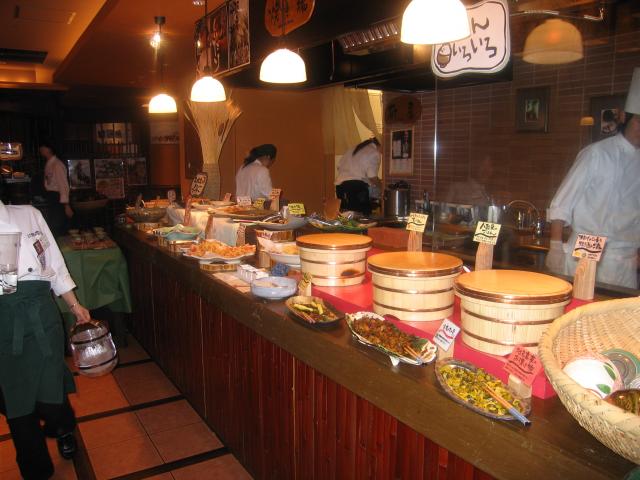 I also opted for the nomihodai option,where you pay ¥2000 and have as much beer, wine, sake, shochu and soft drink as you like from their page of choices. I was interested to try shochu again as an unpleasant past experience had turned me off it for a while. So I figured that if I didn't like it this time then I could move straight onto the sake.
The shochu is like a Japanese schnapps I would say. It was too harsh for me, and when mixed with water I felt is this really worth it. Anyway, I ended up tasting 4 different shochus. Each made from a different grain- soba, barley, rice and sweet potato. I discovered that I still prefer sake.
The next part of my trip involved a bus tour to Akita for 2 nights,4 days.