The way we're taught by the professionals to chop onions is:
- Cut off the bud end
- Cut in half vertically
- Peel the halves
- Lay each half flat
- Make a series of vertical cuts
- Make a series of horizontal cuts
- Make a series of cross-cuts
It makes sense, of course. You're dealing with a three-dimensional object. You should have to cut it three times to get a good dice.
But there are a couple of additional factors that I take into consideration:
- I find the "Make a series of horizontal cuts" step to be particularly difficult and dangerous.
- An onion is not a solid block of matter but, rather, comes to us in a series of layers.
I've found that, if you just skip the horizontal cutting step, you still get a pretty good, usable dice. The sections of the onion make the cut pieces fall into little polyhedrons anyway. You save time and effort. And nobody is ever going to notice in most preparations. Like so: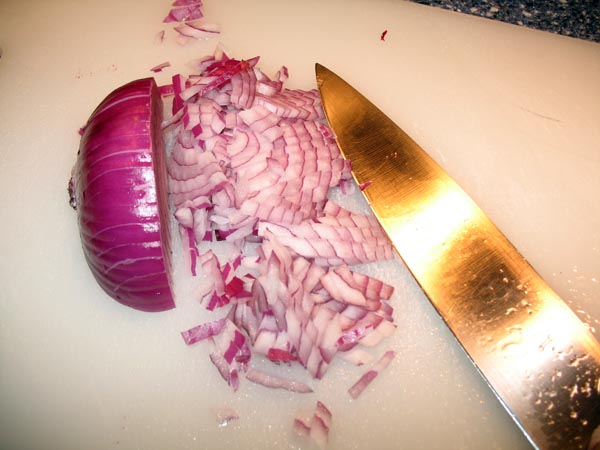 Sure, if you're doing this at a professional level, you need to be more serious. But this approach works just fine for me, the home cook.
Am I the only one who does it this way?