Happy Bloomsday!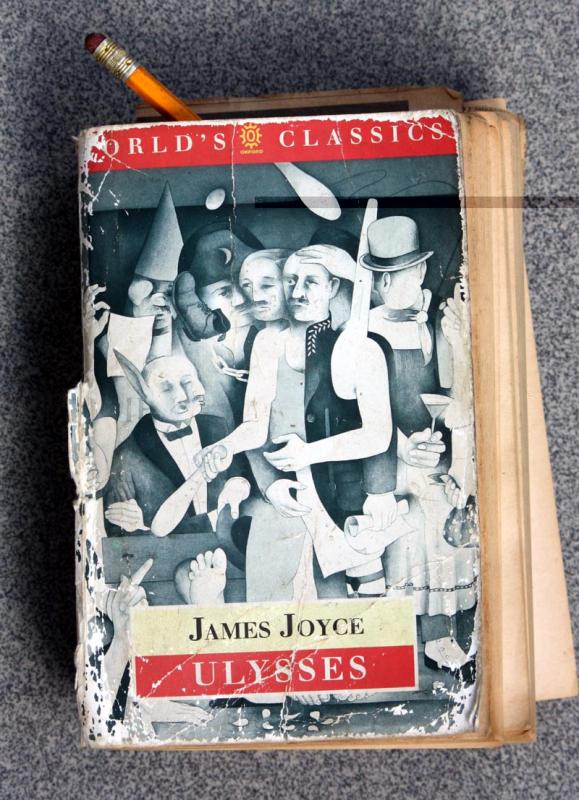 James Joyce's masterpiece Ulysses was set entirely in June 16th, 1904, the day he had his first date with Nora Barnacle whom he eventually married (after 'living in sin' for many years).
Among its myriad wonderfulnesses are its food descriptions You can almost taste and smell the food Mr Bloom eats during his peregrinations around Dublin.
"Mr Leopold Bloom ate with relish the inner organs of beasts and fowls. He liked thick giblet soup, nutty gizzards, a stuffed roast heart, liverslices fried with crustcrumbs, fried hencods' roes. Most of all he liked grilled mutton kidneys which gave to his palate a fine tang of faintly scented urine."
His visit to the butcher to buy his morning kidney gets all mixed up with some sexual fantasy about the neighbour's servant girl.
"A kidney oozed bloodgouts on the willowpatterned dish: the last. He stood by the nextdoor girl at the counter. Would she buy it too, calling the items from a slip in her hand? Chapped: washingsoda. And a pound and a half of Denny's sausages. His eyes rested on her vigorous hips. Woods his name is. Wonder what he does. Wife is oldish. New blood. No followers allowed. Strong pair of arms. Whacking a carpet on the clothesline. She does whack it, by George. The way her crooked skirt swings at each whack."
He buys his kidney, takes it home, and ends up half burning the kidney, but eating it anyway.
"...stubbing his toes against the broken commode, hurried out towards the smell, stepping hastily down the stairs with a flurried stork's legs. Pungent smoke shot up in an angry jet from a side of the pan. By prodding a prong of the fork under the kidney he detached it and turned it turtle on its back. Only a little burnt. He tossed it off the pan on to a plate and let the scanty brown gravy trickle over it.

Cup of tea now. He sat down, cut and buttered a slice of the loaf. He shore away the burnt flesh and flung it to the cat. Then he put a forkful into his mouth, chewing with discernment the toothsome pliant meat. Done to a turn. A mouthful of tea. Then he cut away dies of bread, sopped one in the gravy and put it in his mouth. What was that about some young student and a picnic? He creased out the letter at his side, reading it slowly as he chewed, sopping another die of bread in the gravy and raising it to his mouth."
Then his lunch in Davy Byrne's bar, there to this day.
"—Hello, Bloom, Nosey Flynn said from his nook.

—Hello, Flynn.

—How's things?

—Tiptop... Let me see. I'll take a glass of burgundy and... let me see.

Sardines on the shelves. Almost taste them by looking. Sandwich? Ham and his descendants musterred and bred there. Potted meats. What is home without Plumtree's potted meat? Incomplete. What a stupid ad! Under the obituary notices they stuck it. All up a plumtree. Dignam's potted meat. Cannibals would with lemon and rice. White missionary too salty. Like pickled pork. Expect the chief consumes the parts of honour.
...
Lord knows what concoction. Cauls mouldy tripes windpipes faked and minced up. Puzzle find the meat. Kosher. No meat and milk together. Hygiene that was what they call now. Yom Kippur fast spring cleaning of inside. Peace and war depend on some fellow's digestion. Religions. Christmas turkeys and geese. Slaughter of innocents. Eat drink and be merry. Then casual wards full after. Heads bandaged. Cheese digests all but itself. Mity cheese.

—Have you a cheese sandwich?

—Yes, sir.

Like a few olives too if they had them. Italian I prefer. Good glass of burgundy take away that. Lubricate. A nice salad, cool as a cucumber, Tom Kernan can dress. Puts gusto into it. Pure olive oil. Milly served me that cutlet with a sprig of parsley. Take one Spanish onion. God made food, the devil the cooks. Devilled crab.
...
Wine soaked and softened rolled pith of bread mustard a moment mawkish cheese. Nice wine it is. Taste it better because I'm not thirsty. Bath of course does that. Just a bite or two.
...

Mild fire of wine kindled his veins. I wanted that badly. Felt so off colour. His eyes unhungrily saw shelves of tins: sardines, gaudy lobsters' claws. All the odd things people pick up for food. Out of shells, periwinkles with a pin, off trees, snails out of the ground the French eat, out of the sea with bait on a hook. Silly fish learn nothing in a thousand years. If you didn't know risky putting anything into your mouth. Poisonous berries. Johnny Magories. Roundness you think good. Gaudy colour warns you off. One fellow told another and so on. Try it on the dog first. Led on by the smell or the look. Tempting fruit. Ice cones. Cream. Instinct. Orangegroves for instance. Need artificial irrigation. Bleibtreustrasse. Yes but what about oysters. Unsightly like a clot of phlegm. Filthy shells. Devil to open them too. Who found them out? Garbage, sewage they feed on. Fizz and Red bank oysters. Effect on the sexual. Aphrodis. He was in the Red Bank this morning. Was he oysters old fish at table perhaps he young flesh in bed no June has no ar no oysters. But there are people like things high. Tainted game. Jugged hare. First catch your hare. Chinese eating eggs fifty years old, blue and green again. Dinner of thirty courses. Each dish harmless might mix inside. Idea for a poison mystery. That archduke Leopold was it no yes or was it Otto one of those Habsburgs? Or who was it used to eat the scruff off his own head? Cheapest lunch in town. Of course aristocrats, then the others copy to be in the fashion. Milly too rock oil and flour. Raw pastry I like myself. Half the catch of oysters they throw back in the sea to keep up the price. Cheap no-one would buy. Caviare. Do the grand. Hock in green glasses. Swell blowout. Lady this. Powdered bosom pearls. The élite. Crème de la crème. They want special dishes to pretend they're. Hermit with a platter of pulse keep down the stings of the flesh. Know me come eat with me. Royal sturgeon high sheriff, Coffey, the butcher, right to venisons of the forest from his ex. Send him back the half of a cow. Spread I saw down in the Master of the Rolls' kitchen area. Whitehatted chef like a rabbi. Combustible duck. Curly cabbage à la duchesse de Parme. Just as well to write it on the bill of fare so you can know what you've eaten. Too many drugs spoil the broth. I know it myself. Dosing it with Edwards' desiccated soup. Geese stuffed silly for them. Lobsters boiled alive. Do ptake some ptarmigan. Wouldn't mind being a waiter in a swell hotel. Tips, evening dress, halfnaked ladies. "
And much, much more.
Any other literary food recommendations.
Please do not quote extensively from works still in copyright or you'll get us all run out of town. Ulysses is no longer in copyright.