I bought some green olives from the market. Following the recipe in the MoVida cookbook, I did the following:
Rinsed them.
Split them.
Soaked them in waterfor about a week.
Parked them in a mixture of white vinegar and water for three weeks with some other items (lemon wedges, fennel, garlic) as per the recipe. The book is an Australian book. It said to do this at room temperature. I did.
In short, the recipe looked pretty much the same as a lot of the recipes I saw online. One might use fennel, another might use ... nothing but the core parts of the process were very similar.
I'm at the point where the recipe says to remove them from the brine and place them in sterilised jars with salt, olive oil and (optionally) some other ingredients (i.e. chilli, more garlic). And yet I am concerned.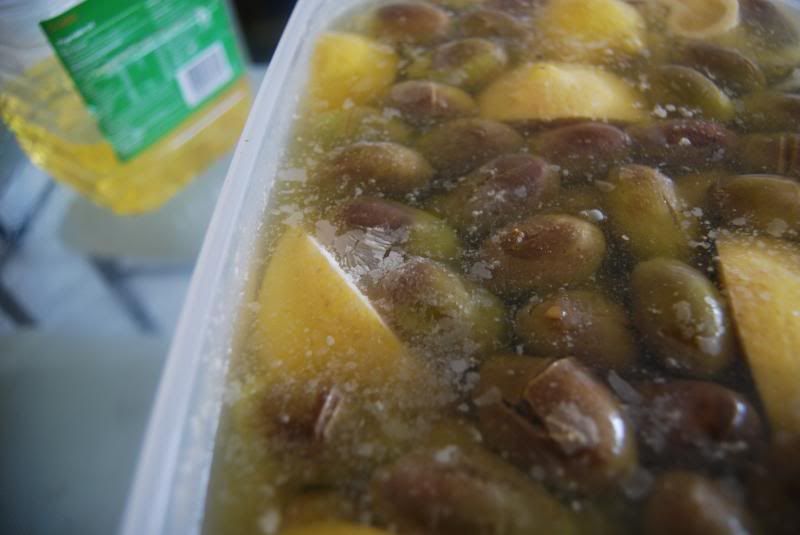 The surface of the pickling liquid is covered with things. It almost reminds me of hardened lumps of fat. The container was new and had been cleaned before I used it so it's not like it's some nasty residue from a half-arsed cleaning job. Whatever it is has come from the ingredients I put in the container.
What you see in the photo is what there is. They don't look like the spores/signs of contamination I've seen before but I don't have any idea what they are. Is this normal? Is it a product of some of the oil from the olives being released into the water? Could it have come from the lemon, garlic or fennel? I simply washed the lemon and sliced it, crushed (but did not peel) the garlic cloves and washed and sliced the fennel.
It doesn't smell bad. It doesn't smell any different, in fact, to what I'd imagine it should smell like. That is to say it smells primarily of watered down vinegar. There's no funk of the sort I'd imagine something that had 'gone off' and been sitting at room temperature for a while would have.
At this stage I'm holding off doing anything until I get reassurance that the olives are okay.