Hello,
I've been trying to make these liquid center pralines using starch and then covering with tempered chocolate for the las couple of days. I am having problems when I pour the syrup in the starch holes. I've managed to make it in a way that it doesn't penetrate the starch(sometimes), but when I have to cover the filled holes with more starch it just goes trough the liquid, it doesn't stay on top of it.
Almost forgot, if anyone has thought in a way to put them in a painted mold (with the chocolate shell already of course) I would like to read your experiences before I start experimenting myself.
Hope you could give me some advise.
Greeting from Peru :)
P.D.: I don't post much in the forum, but I do read it and appreciate a lot any help you can give me, much of the advise you gave me took me from failing with painting to this: (many thanks to Kerry and everyone that helped me)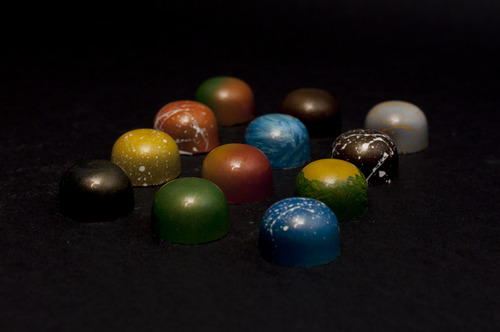 Edited by Victor Antonio Padilla, 06 June 2014 - 08:27 AM.