Greetings!
I started to title this blog "Notes from the Deep Freeze", but since Heidih posted the first teaser photo it's warmed up nearly 60 degrees F in the last 2 days:
That's both good and bad.  As long as it's very cold, the sky is usually clear and the roads are dry.  On the other hand, when it warms up as it has now, you don't have to worry about freezing your beer or cola if you leave it outside more than 15 minutes.  There is, as I type, a frozen caramel-colored slush inside our garage refrigerator, from a forgotten bottle of diet cola that froze and exploded in our absence.  On the other, other hand, we'll have to start watching out for icicle-laden avalanches off the roof.  Every "warm" day the glacier slides another inch or two:
It didn't clear 0 Deg F between New Year's Eve and Jan 9.  "Only a fool would live here," grouses my darling.  I take (an admittedly perverse) pleasure in the extreme swing of the seasons, particularly now that I don't often *have* to go someplace when it's too cold, and I can warm the house up with kitchen projects.1 That's what I plan for much of this week.  Last week, during the harshest temperatures, there was a lot of baking and roasting and soup-making.  This week is likely to be much of the same.  This afternoon's project is cutting and roasting squash to make a ravioli filling.  These are the last of my butternut squash and a carnival squash from a neighbor down the road.
Roasted, ready to become filling: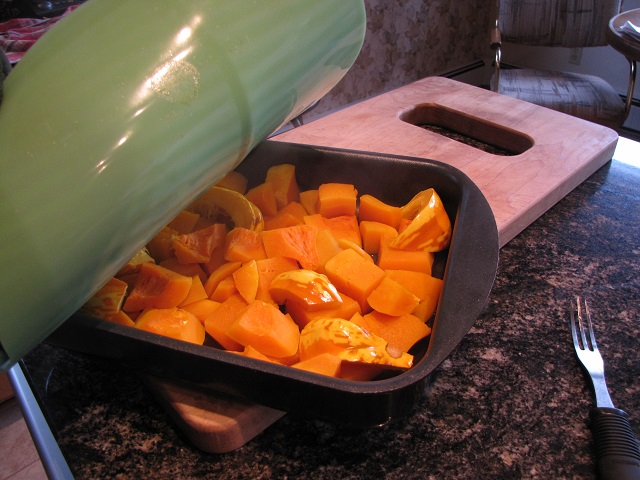 The carnival will need to be peeled, but the butternut was very easy to peel before roasting.
This squash filling is a recipe from the much-ballyhooed Amazon Link "Sauces and Shapes, Pasta the Italian Way" by Oretta Zanini de Vita and Maureen B. Fant.  I've been enjoying the book's lively writing style, and this fall when I attempted ravioli for the first and second time they came out tasting very good, but looking terrible unless I used a mold.  I'm not ready for the "free-form" pasta shapes they advocate yet.  
1 Well okay, prolonged glamping in warmer climes also helps.