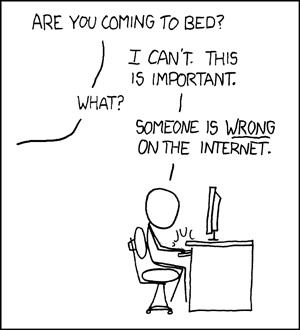 (Used by permission of
http://xkcd.com/386/'
>Creative Commons Commercial 2.5 license.)
There are at several different issues being discussed in this part of the thread.
1) Whether two drinks with absolutely identical final constituents will taste identical if the bitters are diluted in one step (one dash full strength right into the glass, with an extra dash of water in the glass) or two steps (in the dasher, then to compensate, two dashes into the drink).
2) Whether two drinks with nearly identical final constituents, differing only by a the extra water involved in using two dashes of the 37.5% bitters will taste different. Same as 1), but don't use the extra dash of water.
3) Whether bitters will change in
relative
aromatic (non-tongue) flavor when diluted in a dasher -- that the 37.5% bitters might taste different from the 75% bitters when dashed onto your finger and stuck in your mouth. By relative flavor, I'm not talking about alcoholic heat or intensity but a change in the relative prominence of one aromatic botanical to another.
Absent a chemical reaction (such as solids precipitating out of solution), I believe:
1) is chemically impossible. The two drinks have the same number of constituent molecules in each drink. Any perceived effect will disappear in double-blind A/B/X testing.
2) is vanishingly unlikely, otherwise drinks would impossible to make repeatedly because the amount of dilution in cocktail-making caused by ice and measuring errors is orders of magnitude higher than the 1ml amount that we are talking about. Any perceived differences will disappear under double blind testing.
3) May be true, but because it is both counter-intuitive and in conflict with my experience in tasting bitters, I doubt it. Every bitters that I've ever tasted has been the same in
character
when sampled directly out of the dasher and then diluted in plain (or seltzer) water. (I'm talking
relative
botanical aromas here, not bitterness, alcoholic heat, saltiness, acidity, etc.) If 3) is true, then bitters makers should ignore the flavor of the bitters in the bottle and construct them so that they taste as desired in the cocktail. Alas, I don't know how to construct a double-blind test for this.
I think we all agree that:
4) Two dashes of the same bitters in a glass will make a different drink than 1 dash.
5) Savvy bitters consumers consider the concentration / potency of the bitters when dispensing dashes. One dash of Xocolatl Mole may overwhelm a delicate drink, whereas 2 dashes of Angostura might not be enough.
6) Bitters should ideally be constructed so that they are an appropriate concentration. For example, Stirring's Blood Orange "bitters" are so mild that that they are useless in dash quantities.
7) The alcohol concentration during infusion makes a big difference, along with time, material preparation, temperatures, etc. This affects the flavor of the "base" bitters, prior to dilution to bottle strength.