Since I don't see a pork jerky recipe on this forum I figure it'd be nice to share my Honey Glazed Pork Jerky recipe. This is one of my favorite snacks to serve in a party. Perhaps you can try to surprise your guests during this holiday season:)
Ingredients:    
Pork Marina
2tbsp soy sauce
2tbsp fish sauce
2tbsp dark soy sauce
½ tsp salt
2tbsp sugar
1tbsp cooking wine
2tbsp honey
1tsp five-spice powder
½ tsp freshly ground pepper
Cayenne pepper powder to your own taste (optional)
For Basting
2 tbsp honey
1 tbsp cooking wine
Instructions:
In a mixing bowl, combine the ground pork and marinade ingredients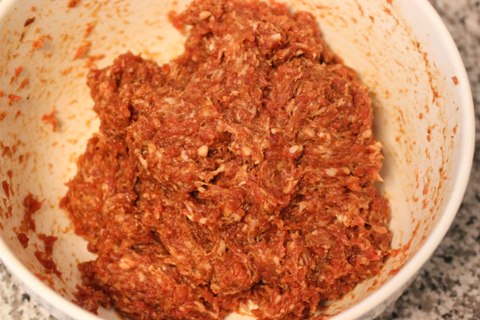 Mix with a spoon or by hand until the pork turns into a paste. Cover with plastic wrap and chill in the fridge for at least 1 hour
Preheat the oven at 375 F. Place a piece of parchment paper on a baking sheet. Put a few spoons of pork on a sheet of parchment paper then cover the put plastic wrap
Gently run a rolling pin over the wrap to flatten the pork and form a thin layer of pork. Prepare the basting glaze by mixing the honey with cooking wine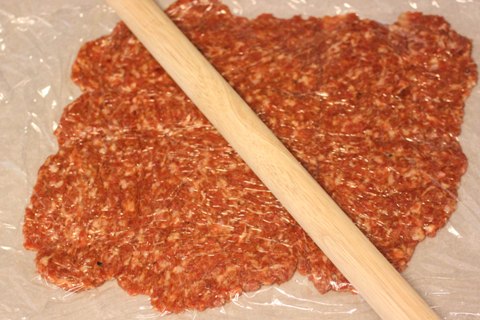 Bake the pork for about 12 minutes on each side. Carefully flip it once in between
Coat the pork with the honey glaze on both sides. Bake at 400 F for 5 minutes each side. Repeat this step one more time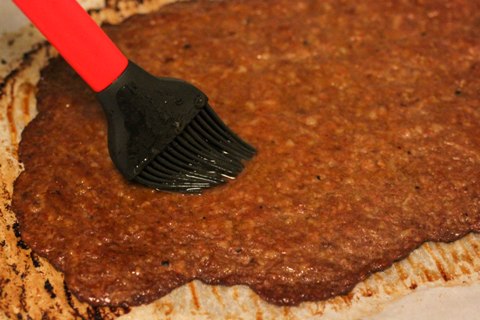 Cool down the pork jerky on cooling rack. Cut into bite size
The pork jerky can be enjoyed both warm and cold
Edited by YiReservation, 11 November 2013 - 09:57 PM.