Here's what we did for Sunday lunch. We had four friends in and started at about 1:00PM, finshed about 5:00PM. Pretty typical for Sunday lunch around here. 
I'll apologise up front for goofing this up a bit. I got so involved in the lunch that I neglected to take pictures when I should have done so. Sorry guys & girls.
Anyway, after drinks & nibbles we started with baked tomatoes. (remember the tomato picture in the market?) For these I cut off the tops, cut out some of the core and filled the hole with a dab (less than a teaspoon) of balsamic vinegar, finely chopped garlic, some dried basil and Salt & pepper. These went into a hot (200 degree C) oven for about 45 minutes. They came out & had fresh basil put on then back into the oven to finish off. I garnished them with sprigs of fresh coriander (cilantro).
They were served with the breads I'd bought that morning.
This is the main course moussaka that Linda had made. (No after cooking picture I'm afraid) Her moussaka is fantastic, lamb, ground beef, aubergines (eggplant), tomato, a cheesy white sauce. Its incredible. This was served with broccoli.
Then came the cheeses.
As you can see there were 4 today. A somewhat different assortment to my usual choices.
Le Vieux Pané - Cows milk. 25% MG. Aged two weeks. from the Loire area.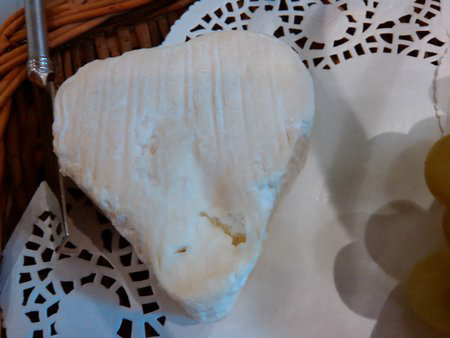 Margalet Papillon - This is a sheep's milk cheese. Made by Papillon who are a large cheese producer. Despite its commercial origins it is a very nice tasting cheese.
Colline aux Chevre - a classic goats milk cheese from the Tarn region, Segla to be precise. The claim is that the open land & space give the milk extra good flavour. Run by the  ETEVENON family who are good marketeers as well as good cheese makers.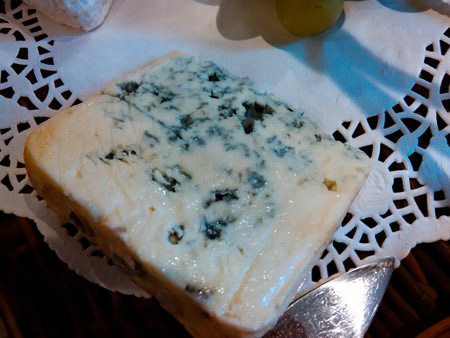 Bleu d'Auvern - A cows milk cheese from as you will have guessed the Auvern region. Its a relatively new cheese having first been produced in the 50's. Interestingly it uses rye bread yeast and is 'needled' to improve aeration.
More bread with these of course.
After a break we had dessert.
This was a plum (prune) tart using locally grown plums. We poured a little bit of cream over it.
Some coffee for those who wanted it.
I should mention the wines. Both the red & the white were from one of our favourite wineries. The white is a blend of varietals from the region, its very fruity, but very dry. The red which the vintner calls 'Traditional Prestige' is very smooth for it young age (2009) and perfect with the moussaka.
All in all a nice laid back lunch. Very typical of Sunday lunches here.
Tomorrow we're eating out. I'll let you guess as to the cuisine.