Summertime on Cape Cod means, I'm told, tons and tons of tourists.  Always getting in the way of the locals (if you happen to live on the Cape, please chime in as to whether I'm correct or not).  And they can't wait for everyone to exit - which generally means they mark Labor Day on their calendars as the day when the Cape once again belongs to those who live there year round.
Well, last weekend Significant Eater and I, at the behest of family members, made our way to Chatham, which is where our relative's relative's relative lives - in a beautiful house, I might add.  Immediately upon arriving, our niece and her husband (both much younger than us and both major food geeks, by the way) , took us down to the Chatham fish pier, located right down the block from said house. It's an active fishing port and trucks were loading up with their catch to bring to the Boston and NYC markets. Here's a boatload of dogfish shark ready to be unloaded...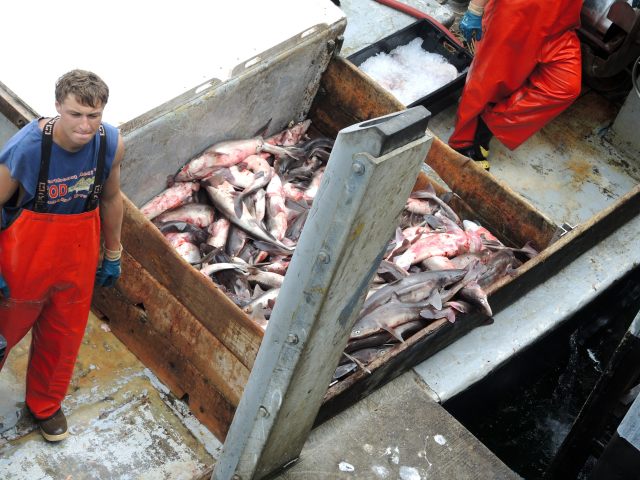 The pier is also home to the strangely named Chatham Pier Fish Market, where the catch of the day and then some is offered for sale.  We decided upon New England clam chowder and lobster rolls (like you'd order anything  else!)...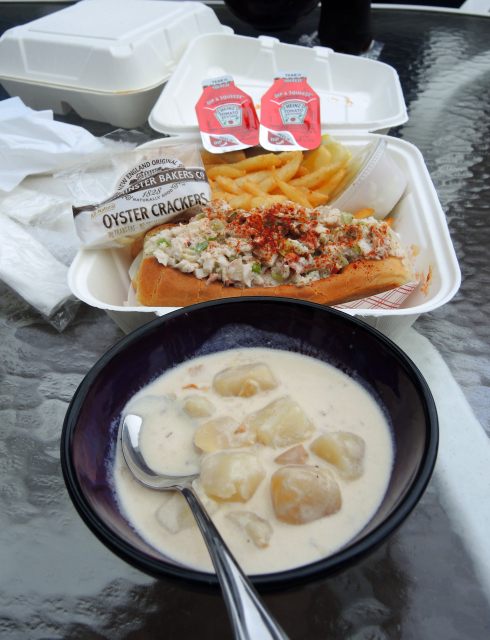 The chowder was fine, loaded with meaty clams and not too rich. Just right, as a matter of fact.  The lobster roll...
had perfectly cooked lobster in a sadly incorrect roll lined with lettuce and a bit too much celery, in my opinion.  But at $19 for a good 6 oz. of lobster, fries and slaw, who can complain?
The real reason for the trip was fishing for striped bass, and Captain Jack and I ended up with a nice trio of keepers, along with a bluefish.  Perfectly handled, blues are delicious on the grill.  
On the day we were leaving, breakfast was at Chatham stalwart the Lazy Lobster.  They're only open for breakfast and lunch, and only for about 7 months a year, but man do they serve a delicious breakfast.  I had house-made corned beef hash with a couple of poached eggs (even the corned beef is made in-house!)...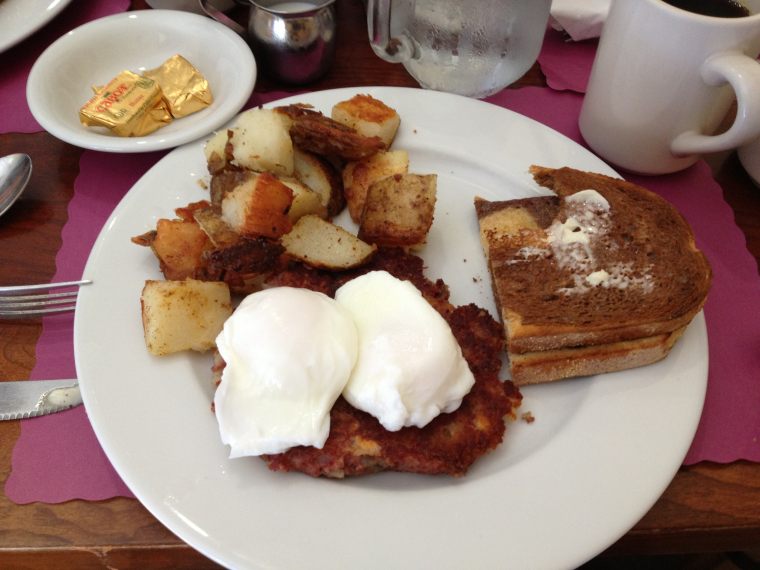 If you're ever on the Cape, don't hesitate to swing by Chatham - the eating's good and so's the fishing.  Full blog post here...Labor Day's Ovah.
 Edited: To finish post.
Edited by weinoo, 13 September 2013 - 08:32 AM.