First try of the Clove Club for lunch a week or two ago.
We got there a bit early so had time to have a look around the area.  Not been around this part of town before.  I don't know what it's like in the evenings but there was not much going on.  There were a few bars setting up but looked to me like they were trying a bit too hard to be cool with mismatched furniture and recycled old tat. 
There was a street market on Hoxton St (I think) that had a few stalls doing food or drinks and a whole lot of cheap clothing and other junk.  Not particularly impressive.   I may not have seen the best of the area as I was only there for an hour or so.
So off we went to lunch.  The menu at lunch time is set up with firstly snacks, then two choices over three courses.  We asked for one of everything as it all read well and we would share.  Happily the kitchen sent us out a plate each of each course.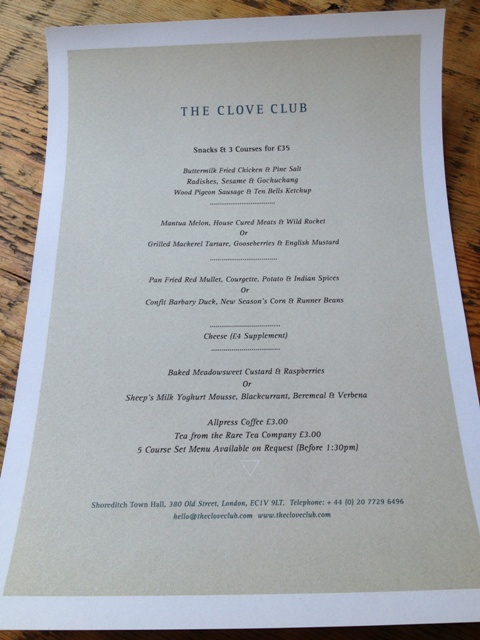 We had snacks
Buttermilk fried chicken and pine salt
Radishes with sesame and gochuchang
Wood pigeon sausages with ten bells ketchup
Starters were Mantua melon with house cured meats and rocket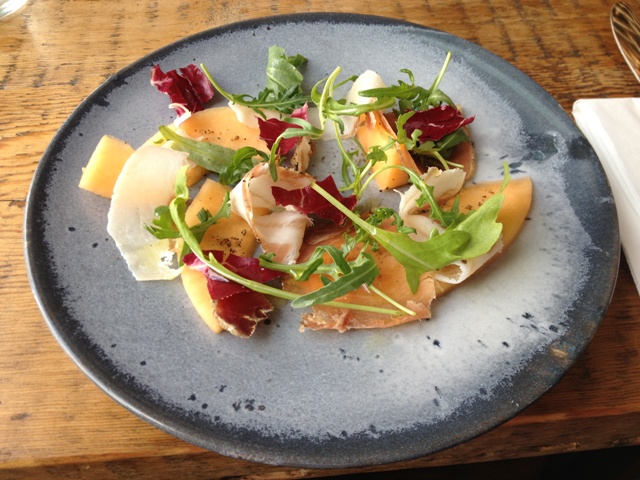 Grilled Mackerel tartare, gooseberries and English mustard
Mains.  Fried red mullet, courgette, potato and Indian spices
Confit Barbary duck, new seasons corn and runner beans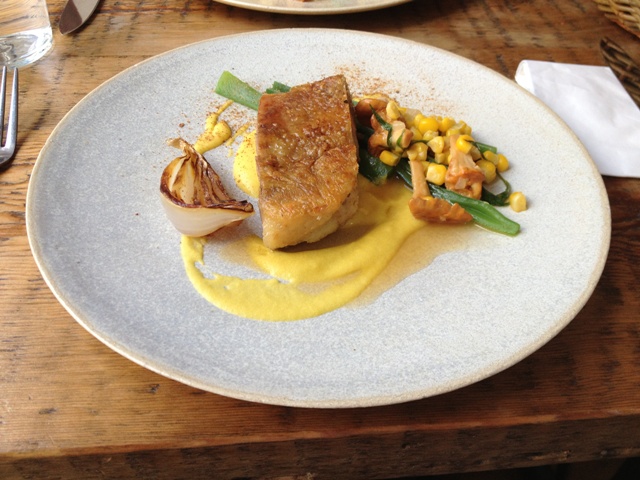 For dessert we had baked meadowsweet custard with raspberries
And a sheep's milk yoghurt mousse with blackcurrant, beremeal and verbena.
All in all it was good.  The food was nicely cooked and presented.  Service was casual and friendly.  It was good value for money and I would happily go back.