I thought I'd learn some more precision and improve my method of cooking vegetables, so I recently got this book.
The recipes aren't complicated. Following the recipes is the tricky thing; I'm a throw-in-a-bit-of-this-and-a-bit-of-that-and-see-what-happens kind of cook.
I'll write what I think of the book when I've tried a few more of the recipes. For now, here's the first one I made:
Pommes rôties au laurier - roast potatoes with bay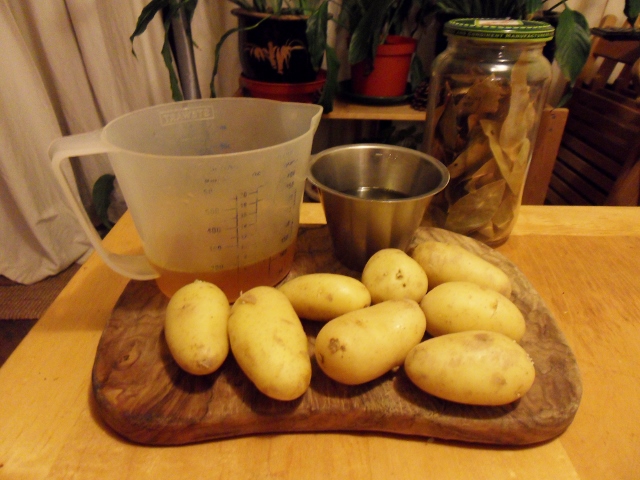 The first step in this recipe is to slit the potatoes (I used Exquisas) and slip some slivers of bay inside the incisions. Then you roast them in a mixture of stock and olive oil. Here they are ready to go in the oven:
The unusual thing about these roast potatoes is that they're half-way submerged in liquid at the start of cooking. The plan is for the stock to boil off and the potatoes then to roast in the oil; you don't parboil the potatoes first. It's really more of a braise.
After 40mins in the heat: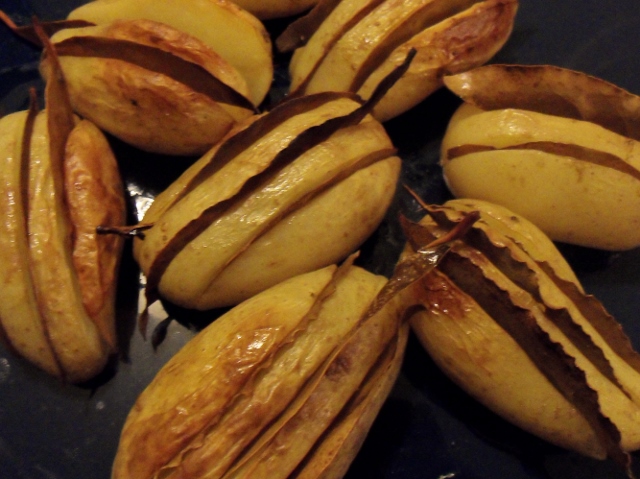 The potatoes are very tender after 40mins bubbling away in their bath. They taste - and you'll hardly credit it - of bay, so can make friends with any dish that likes bay. The flavour is pronounced, but perhaps not as much as you would expect with that many leaves getting involved. They are also attractive to look at. On the other hand I had to pour the stock off for the final part of cooking as it didn't evaporate as intended. I will try the recipe again with larger potatoes and a shallower dish - the size and shape of the vessel and the vegetables are left to the imagination by the recipe. That meant pouring off the oil too, which probably affected the texture at the end. There was also a bizarrely large quantity of oil specified so I only used about a fifth of it. The potatoes taste rather one-dimensional; I would perhaps prefer them with some garlic slices stuffed inside as well.
We ate them with a green salad and flageolet beans, with a French Domaine Vocoret Chablis in the glass.
Edited by Plantes Vertes, 05 August 2013 - 05:40 PM.