A couple recent meals featuring a bunch of stuff from Fuchsia Dunlop's new book (out in UK, should be out in North America soon). Sorry for any typos.
This is what my wife cooked up last night:
Smacked Cucumber in Garlicky Sauce (Suan Ni Pai Huang Gua 蒜泥拍黄瓜) (p34)
Silken Tofu with Soy Sauce (Xiao Cong Ban Dou Fu 小葱拌豆腐) (p41)
Also (not from the book), some lotus root cooked with serrano and habanero peppers from our yard, a little soy sauce and mirin, and chayote shoots (long xu cai (龙须菜); lit. dragon whiskers vegetable), stir-fried with shaoxing wine, garlic, and salt.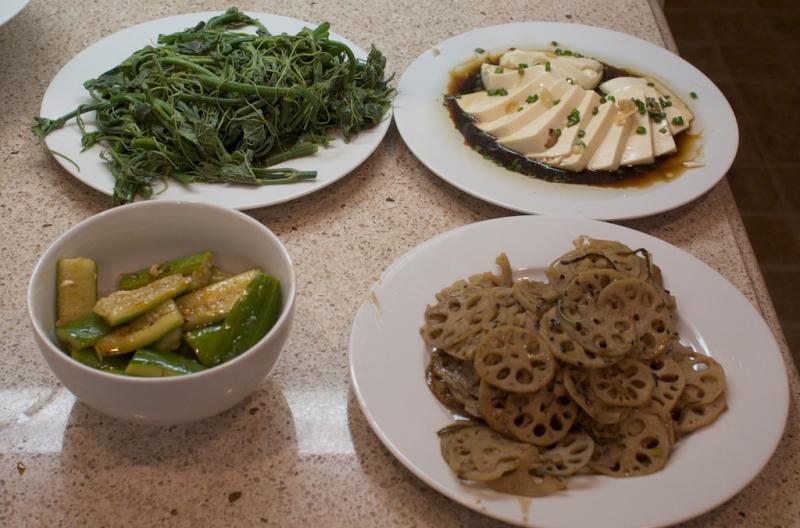 Tonight's dinner, cooked by me....
Tofu "Bamboo" with Spring Onion-Flavored Oil (Cong You Fu Zhu / 葱油腐竹) (p46)
Stir-Fried Garlic Stems with Smoked Mushrooms (vegetarian variation of Stir-Fried Garlic Stems with Bacon - La Rou Chao Suan Tai - 腊肉炒蒜薹) (p206).
Pipa Doufu - 琵琶豆腐 (p78)
The tofu skin sticks (fuzhu) with scallion oil came out Ok. I made a quick stock with soybean sprouts and carrots; despite using unsalted broth and what I thought was a smallish pinch of salt, it came out a tiny bit salty, so I'll probably use even less salt next time. I'm not sure if they're supposed to retain their chewy texture (which I love in braised dishes), or if I needed to simmer it a bit more slowly. It did seem to take forever to cook down the stock. Good, but not mind-blowing. However, it's really pretty.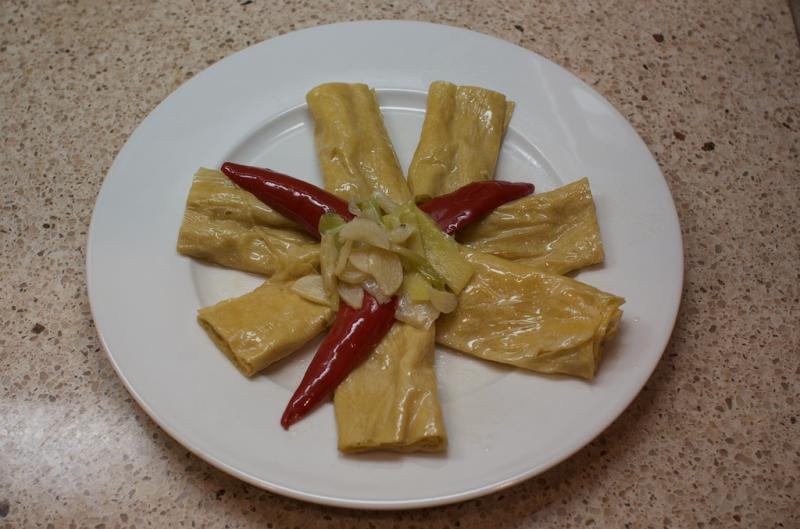 Got fresh garlic scapes, so decided to try this stir-fry. My first time working with this type of garlic scape( though I've used green garlic stalks before). Maybe I didn't trim enough of the base on some, or else they didn't cook perfectly evenly, because some of them were more tender than others. I decided to make some tea-smoked shitakes and marinate them, rather than use button mushrooms, which was her suggested vegetarian variation. I thought it worked pretty well - captured some of the flavor of bacon, though not the saltiness.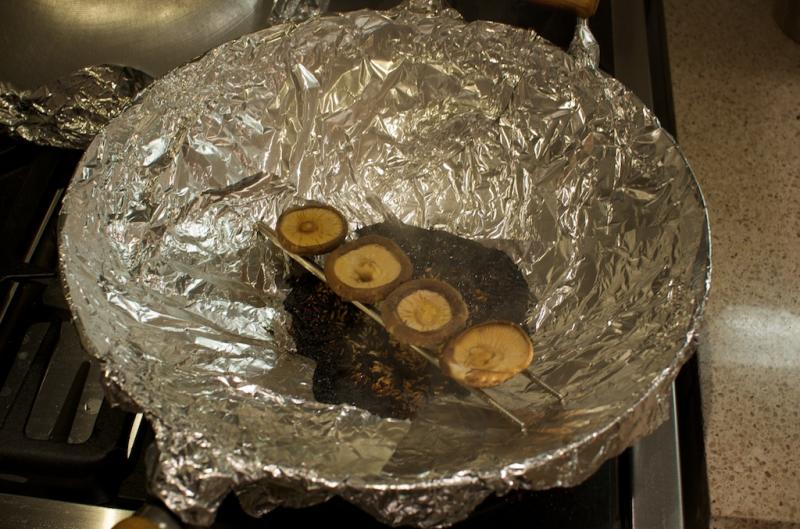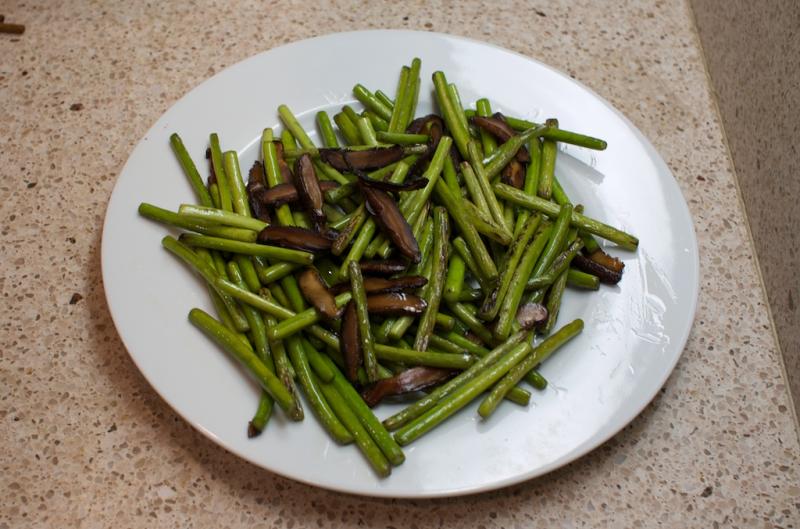 Lastly, Pipa Doufu (so-named because the little tofu puffs are supposed to roughly resemble the pipa, a Chinese lute) -- I really enjoyed this one - I've been talking about it ever since I saw the picture. Actually came out pretty well! I had thought about making it eggless, but decided to use a duck egg white since I had some around. The dish is kind of what I expected taste-wise, and mine came out looking fairly close to the picture in the book (at least considering that I don't have a professional food stylist either). Conforting, kind of like HK café food, with a typical gloopy Cantonese style brown sauce. I added a little vegetarian oyster sauce to the base, but otherwise pretty much used her recipe. Accidentally got silken tofu instead of regular tofu, but it worked fine (I pressed it for a bit longer than I would have otherwise). The puffs are slightly crispy after deep-frying, but become soft when simmered in the sauce. Great flavor and texture.