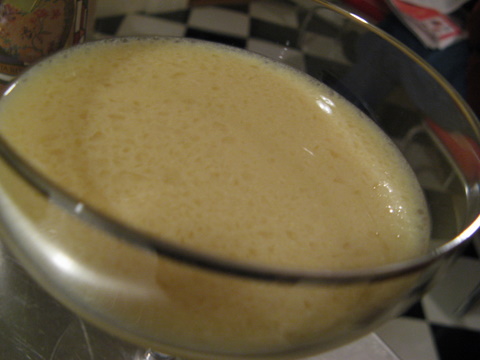 Eye-Opener Cocktail
The Yolk of 1 Fresh Egg.
1 Teaspoonful Powdered Sugar. (scant teaspoon Caster Sugar)
2 Dashes Absinthe. (1/2 tsp Verte de Fougerolles)
2 Dashes Curacao. (1/2 tsp Brizard Orange Curacao)
2 Dashes Crème de Noyau. (1/2 tsp Amaretto di Saschira)
1 Liqueur Glass Rum. (1 1/2 oz Inner Circle Green Rum)
Shake well and strain into cocktail glass.
Sadly, my schemes to acquire Noyau de Poissy or Noyau de Vernon have so far come to naught, so I have substituted Luxardo's Amaretto.
Unlikely though it seems, this is a very nice cocktail, and will certainly open your eyes, should they previously have been closed.
Both this and the preceding "Everything But" would make tremendous brunch cocktails. If we find enough of these, maybe we can finally put those old saws, the mimosa and screwdriver, back to bed where they belong.
edit - If you're like me, you'll make this cocktail, taste it, and think of that open bottle of champagne in your fridge. Go for it. It's pretty tasty that way too.
Edited by eje, 20 December 2007 - 04:42 PM.