Drink like a pirate, yo ho
Back a couple of years, when I was doing my week as an eGullet food blogger, I caused some expressions of envy when I wrote about 'my local gin distiller'.  Well I'm sorry, Chris Amirault - I'm going to do it to you again.  There's a man in Wellington who makes some very special rum.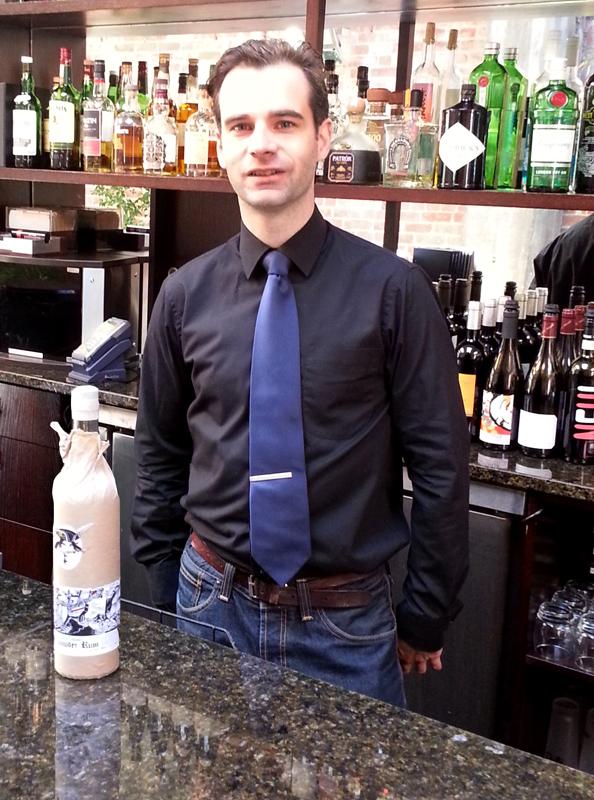 This is Ben Simpson, who, for the past five years or so, has been the brains, brawn and everything else behind the Smoke & Oakum Manufactory.  He makes just three products - Gunpowder Rum in 'normal' and cherry variants, and English Curaçao to 'Professor' Jerry Thomas's recipe from the 1860s: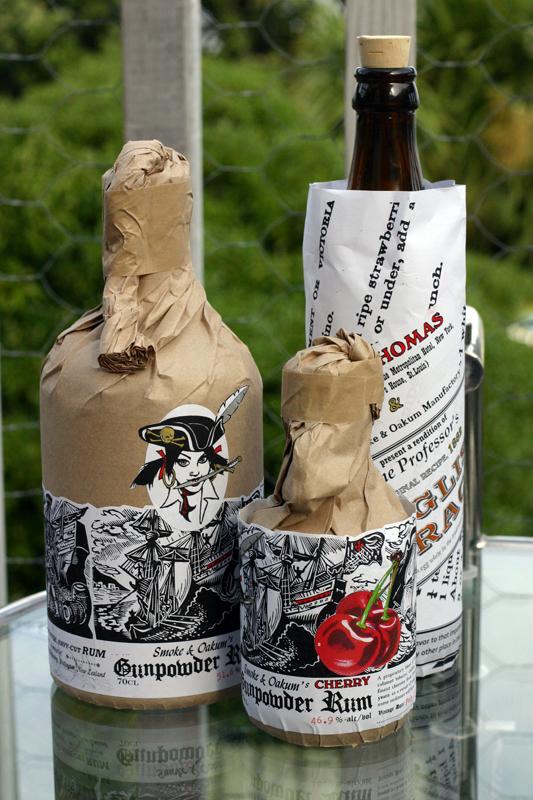 Ben's intention with Gunpowder Rum was to recreate the style of rum drunk 300-odd years ago by pirates, smugglers, sailors and voodoo practitioners.  With ingredients like calumet tobacco, chillies and  - yes - gunpowder, it's a rich, dark, hot brew.  This is not a rum for civilised sipping; it's also not something you can ignore in a cocktail - if it's in there, you'll know it!  But that's not to say it's some gut-rotting equivalent of bathtub gin.  Far from it; treated with a bit of subtlety it's a delicious, characterful addition or substitute in many standard rum-based cocktails.  My favourite is one I wrote about in eG's Mai Tai topic recently, where after mixing white and golden rum, Ben's Curaçao, orgeat and falernum I float some Gunpowder Rum on top.  Amazing - and the little black flecks (Ben says they're a secret flavouring ingredient, intended to look like gunpowder) don't hurt at all.
The gunpowder?  Yes, the rum contains potassium nitrate, sulphur and charcoal, just the sort of stuff I used to use in my pyrotechnic experiments as a schoolboy (sorry, Mum).  There's a long history of 'culinary' uses of gunpowder; Navy gunners commonly tasted their powder to check its quality, and Blackbeard was said to have drunk rum and gunpowder before boarding his victims.  The concept of 'proof' in spirits comes from the practice of mixing rum and gunpowder and applying a match; if the mixture failed to ignite it was 'under proof'.  'Proved' rum was deemed to be at or above 'Navy strength' - now around 54.5% alcohol by volume.  I was interested that Ben doesn't make Gunpowder Rum to this strength, though; he feels it starts to lose some balance as the alcoholic heat rises, so he usually settles for somewhere around 50-52%.  And his painstakingly hand-done packaging is intended to evoke ammunition charges for muzzle-loading weapons: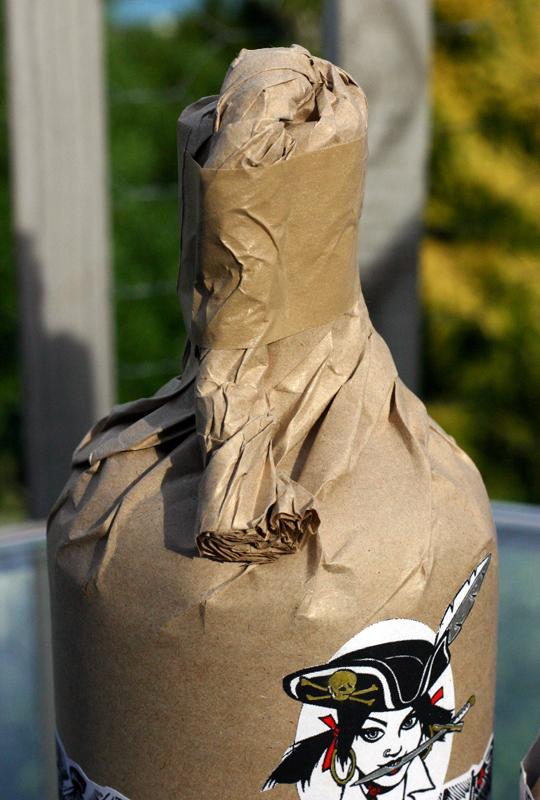 It's a challenge to get into, but as a reward each bottle hides a saucy pinup to contemplate on your next long sea voyage: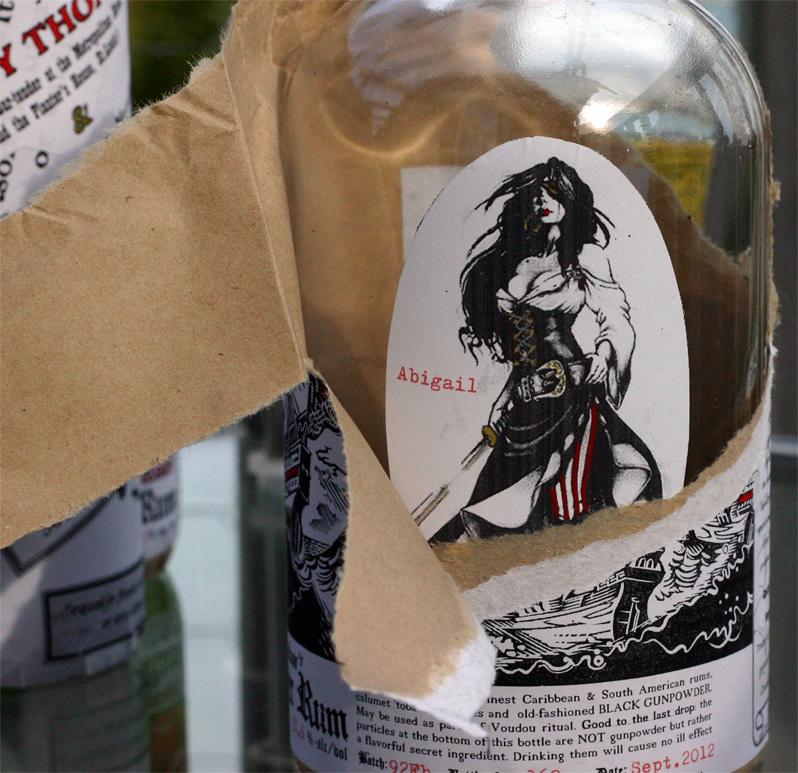 The rum itself is a blend from several Carribean regions.  Ben buys his bulk supply through a company in the Netherlands, E & A Scheer, who have been in the trade since 1712, originally as ship owners bringing rum back to Europe from the Americas and (slightly) more recently as specialist rum shippers and blenders.  Ben tells them the styles he's looking for, it arrives in big plastic containers and Ben puts it all together in a borrowed warehouse in Petone, on the other side of the harbour from Wellington.  There's some real local input as well; just off the main street of Petone there's a source of clean, fresh artesian water which Ben uses in his blends.  Other local ingredients include organic Northland chillies and, in the cherry rum, Otago cherries (the cherry is only available in 250ml bottles and one bartender I spoke to suggests it be used almost like bitters - just a sprinkle is enough to get the taste).  His total output across the range - the two rums and the Curaçao - is only around 2000 litres.
The Curaçao itself is a delightful product.  Although it's made to Jerry Thomas's recipe (number 188 in his 1862 Bartender's Guide), Ben points out it's not as simple as just following the recipe.  You have to think about, for isnstance, what type of sugar would Thomas have been using?  Would he have made his syrup in the same way we do now?  And exactly what is the 'genuine whiskey' he calls for?  Whatever the original was like, Ben's version is lovely - a clear, light golden nectar with a fabulously orangey nose.  In addition to the Mai Tai above, we've been using it in most drinks requiring some orange influence.  A very simple one is Curaçao, white wine and lemonade in a tall glass with lots of ice.  Delicious.
So, you ask, where can I get some of this stuff?  Well, realistically - you probably can't.  Even in Wellington it's only available in a few outlets (notably Moore Wilson's or Regional Wines), although you may well see a bottle hiding on the shelves of some of the more interesting cocktail bars around the country. Ben sends a small supply over the Tasman to the International Beer Shop in Perth, who then dispatch it to clients all over Australia.  And you may soon be able to get it in Singapore, but apart from the odd sample bottle individual bartenders elsewhere may have picked up, that's about it.  Hey look, a reason other than hobbits to visit New Zealand!
I'll close with a couple of other recipes to keep you in the mood.  Here's one Ben made me himself a couple of weeks ago at one of the bars he works in:
Gunpowder, Blood and Sand
30ml Gunpowder Rum
20ml red vermouth
15ml Cherry Heering
15ml blood orange juice
Shake all together in an ice-filled shaker and strain into a chilled cocktail glass.  Garnish with flamed orange zest.
And this is one from Ben's own recipe sheet.  I made it a few nights ago and it's fantastic:
The Bay Rum Mojito
45ml Gunpowder Rum
30ml falernum syrup
Half a lime
5 fresh bay leaves
1 long sprig of fresh rosemary
1 sprig of fresh mint
Soda water
Ground cinnamon
Muddle lime, falernum and some soda water in a shaker or tall glass.  Add the herbs and more soda and stir with the muddling stick - don't crush the herbs too much.  Add the rum and crushed ice, stir again and strain into a rocks glass.  Top up with soda, add a short sprig of rosemary as garnish and dust with cinnamon.