Here's a little different use for SV equipment. No vacuum involved, and you don't even need to use a bag, but it takes advantage of the LTLT control that's achievable with a simple home SV set up.
I don't have a PID controller. Instead, I use a "bang-bang" controller from Ranco. A PID controller should work just as well though, if not better.
Basically, it's a temperature-controlled simmering pot (kind of like a crock pot with a more precise temperature control mechanism). It's not always easy to get a pot of whatever you're cooking to maintain the proper simmer temp over a multi-hour period, particularly if you don't want to monitor it frequently. This makes the long simmering process a slam dunk.
I simply plunk the probe into the pot (which in this case is enameled cast iron, but could be just about anything else), then set the pot on a standalone electric burner that in turn is plugged into the controller. Set whatever simmer temp you want (usually something in the 190-205F range) and away you go. Since it's just simmering, the precision of the temp control isn't nearly as critical as if you were cooking a SV egg or salmon mi cuit. My set up will bounce around within a a 5% range (F), but that doesn't make any difference for this application. Come back 2 or 4 or even 8 hours later to some tasty vittles.
Today, I'm using it to make chicken stock, but I've also used it to make stews as well as red beans for red beans and rice.
Cheap and easy. Just the way I like it.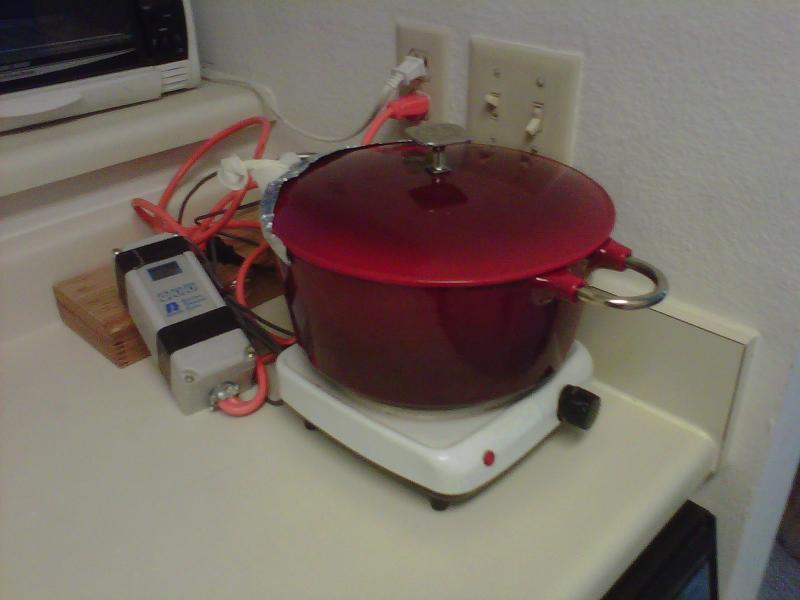 Edited by JanK, 10 January 2011 - 01:35 PM.