OK OK! You twisted my arm Bruce!

Here are some dishes I've made recently: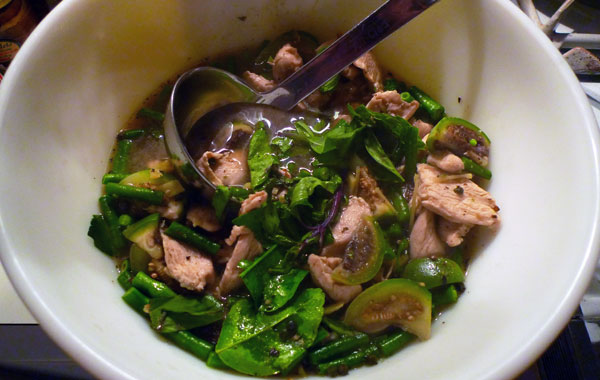 Jungle curry of chicken.
The recipe is from David Thompson. Once you've made the paste, it is one of the easiest Thai curries - because you fry it in oil rather than coconut cream. Vegetables are Thai eggplant (apple eggplant) and snake beans.
Sticky rice.
I recently got a sticky rice steamer basket and am bowled over by how easy it is to make. In general I prefer jasmine rice, for its ability to soak up the sauce, but if I remember to soak the sticky rice overnight, it's literally 15 minutes to make this. I love the little serving baskets too, as do guests.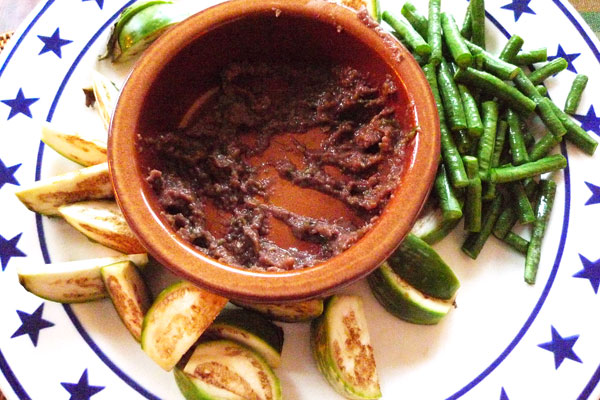 Shrimp paste nahm prik.
This is my first successful nahm prik - the first in the relishes section in Thompson. I tried the second one (the tamarind relish) once and it had virtually no takers. This is just as unappetizing looking, but it was rapidly demolished. Raw apple eggplants and snake beans for dipping.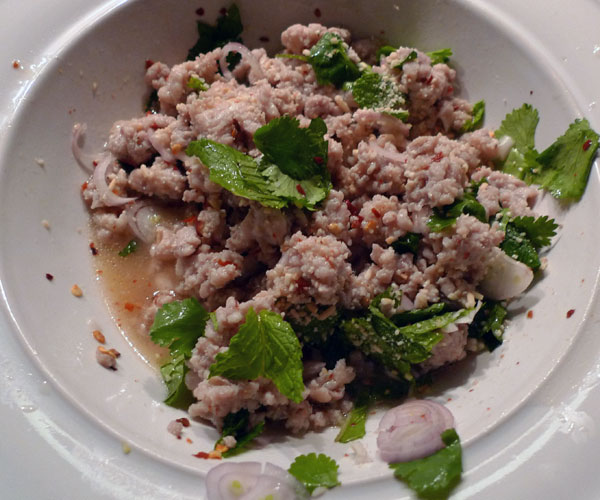 Chicken larb.
Not much to say here, probably the most popular eG Thai dish!
Seur rong hai
or
crying tiger
, a truly explosive and unusual dish that everyone loves. This is based on Soo-mei Yu's recipe. I highly, highly recommend it. The basic paste is an old-fashioned Thai mixture of green peppercorns, white peppercorns, coriander root and coriander seeds with salt, and is very versatile and can be used for many recipes.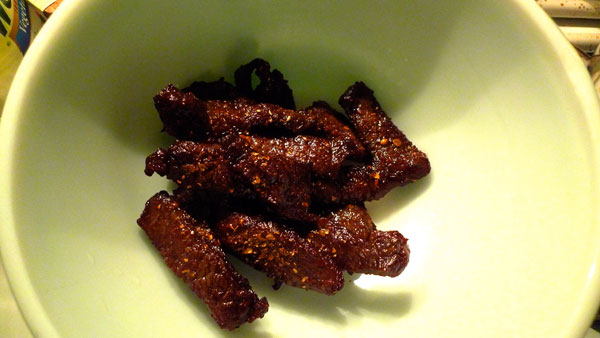 Deep fried dried beef.
A David Thompson recipe from the street food section of Thai Food. The beef sticks (round) marinate in a paste and then sun-dry (or in my case, oven-dry) for a day and then get deep-fried. They are as delectable as they look.