Ok, all you weird guys, now I really need your help and advice, if I want to serve this stuff tonight, which I'm not sure I do.
Let me backtrack and say that although I did a reasonable job of cleaning up the kitchen before I fell into bed, the morning light revealed a myriad of blood splatters that had been too small to notice last night, under the circumstances. Moving slowly (there's probably a good reason why we don't normally drink Scotch and bourbon at the same time) I methodically wiped down every single surface in the kitchen, especially the floor. I could probably be arrested for the amount of blood on the floor, if kitchen pigicide were a crime here.
Then I went to see if it had all been a bad dream. I fetched the smallest of the sausages from the fridge.
It looks pretty innocent, except for the revolting string. Bravely, I cut into it.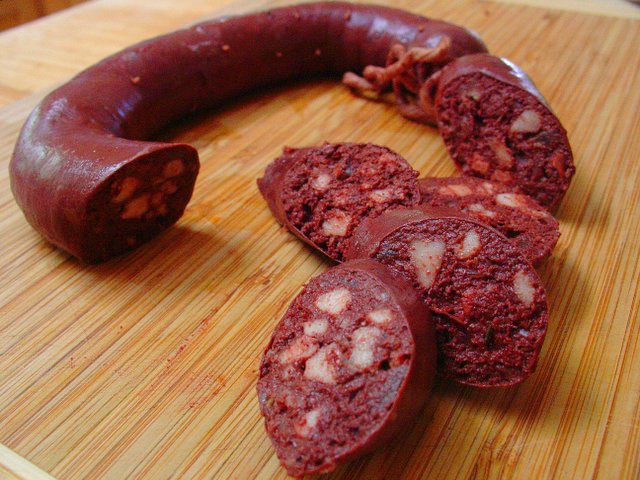 On the one hand I'm thinking "nice definition," but on the other I'm thinking about how soft and gooshy it still is. It takes a hot knife to get even a semi-clean slice. I've been thinking to give the slices a quick sear in a little duck fat.
Oh gag me, it's melting like foie, even with the lightest sear. Now I ask you, would you eat this?
Taking one for the team in a major way, I do eat it. The flavor is still good, not astounding, but good, albeit ever so faintly liverish. But the texture is relatively horrid, soft, melting, just like having a mouth full of blood and fat.
So now what? This is supposed to go on a charcuterie plate tonight, with some pork confit and the pate de campagne I made last week, and haven't cracked open yet. Please, heaven, let that at least be good!
I don't know whether some other cooking method would get the boudin to firm up more, or whether the fact that it was a frozen, coagulated blood product doomed it from the start. Please, give me your thoughts. Can this sausage be saved? Without some major transformation, it isn't going to rise above the level of a science experiment.