I got little sticking on carbon steel until I seasoned it – and now eggs stick like cement! Please help me understand what I'm doing wrong.
I recently got a carbon steel De Buyer frypan. New, with the beeswax finish it came with + one quick seasoning pass on the stovetop, I got only a little sticking; eggs were not a problem, and omelettes came out pretty good. This past weekend I finally got around to doing a real seasoning job on it, though: 4 thin coats with flaxseed oil in a 500 degree oven for an hour + 2 hour cooldown for each coat (the method advocated here: http://sherylcanter....ning-cast-iron/). When it was done I was a little puzzled to note that the seasoning coat didn't look particularly even; rather than a hard seal coat there's a lot of variation in coloring across the pan.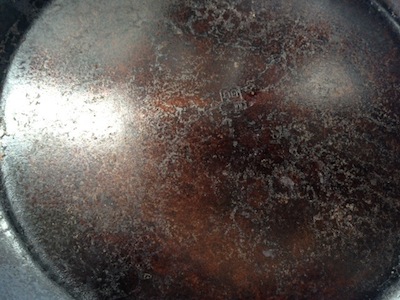 The next morning when I made eggs, as soon as they went into the pan they stuck hard – so hard that I could not scrape them off the bottom of the pan. Note that I do use oil and do preheat the pan (I add my eggs just when olive oil starts to smoke). Later, as I tried to scrub the stuck egg bottoms out of my pan, I noticed that the seasoning comes off surprisingly easily with a little scrubbing.
What am I doing wrong? Why would I get _much more_ sticking after seasoning the pan than before? I really like this pan and I'd love to figure out how to make it nonstick enough for perfect eggs and omelettes. I thought I could treat carbon steel similarly to cast iron, but it doesn't seem to be working. Any advice would be greatly appreciated!
The pan I'm using is this one: http://www.debuyer.c...p?id=778&cat=63
Thanks!