Alright folks, massive update time. I'm very sorry that I didn't get to this last night, but the journey that was supposed to be 8 hours went sort of ''planes, trains and automobiles'' on me in a very Ecuadorian way and took 12 instead (and two separate busses and a taxi), so at 10 pm when I finally arrived at the beach, all I wanted was whatever food I could lay hands on and a bed to fall into. The internet cafe was also closed. I've rested and eaten now, and with that apology let's get to it!
I decided yesterday that if I couldn't get it on the bus or at a bus stop (apart from a bagel sandwich, which I had with me), I wasn't eating it - and that means you get a tour of a quintisentially important facet of travel in Ecuador, namely, bus food.
In Ecuador every bus station has shops that look like these, which sell essentials and snacks.
I bought a Bon Yurt (pronounced Bonjour; cost: 50 cents) with Froot Loops to start off my day right. I love this stuff - it's thin sour yogurt and just enough cereal to give it a bit of crunch.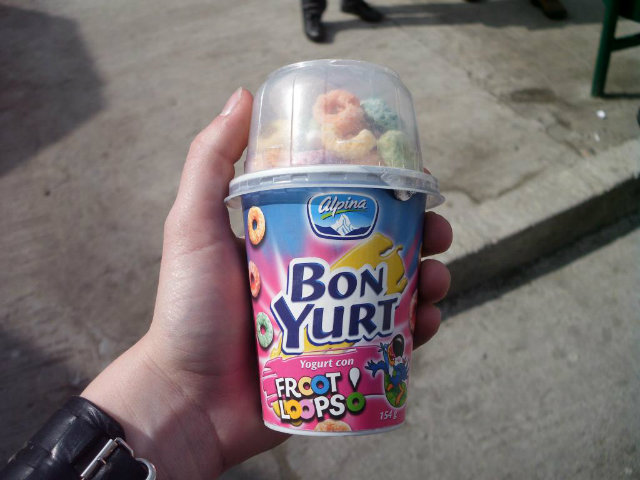 Later on, I had the bagel and cheese sandwich I'd packed for this very occasion (and you can see I was hungry, as there were only a couple of bites left when I got around to taking the picture!) and some Rizadas Picanticas, which are sort of like spicy sour cream and onion potato chips; they're my favourite flavour.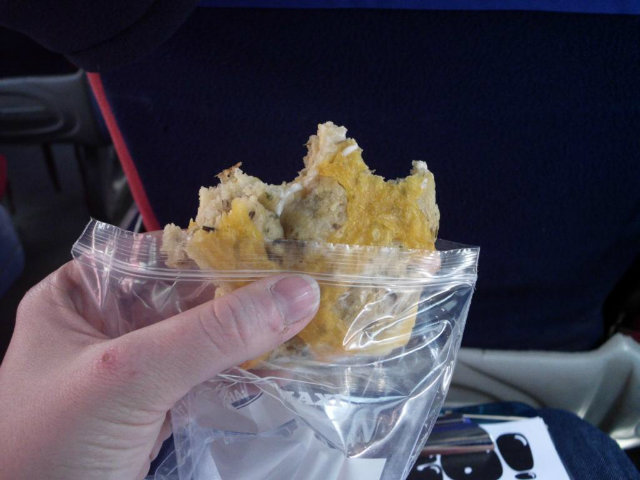 Next up were Maní Dulce and Encocado Dulce, which are sweets typical of the lower highlands around Santo Domingo de las Tsáchilas, a town that is (hypothetically!) about halfway to my destination. Due to landslides, it wasn't. We took the long detour.... Maní Dulce is fresh boiled peanuts coated in crunchy salted panela candy with sesame seeds. Encocado Dulce, on the other hand, is balls of coconut and ginger in a sort of molassesly type syrup. Those who have been to Jamaica are familiar with this sweet as a tart filling; Ecuadorians bypass the pastry and roll it into balls. Whichever way you slice it, it's delicious.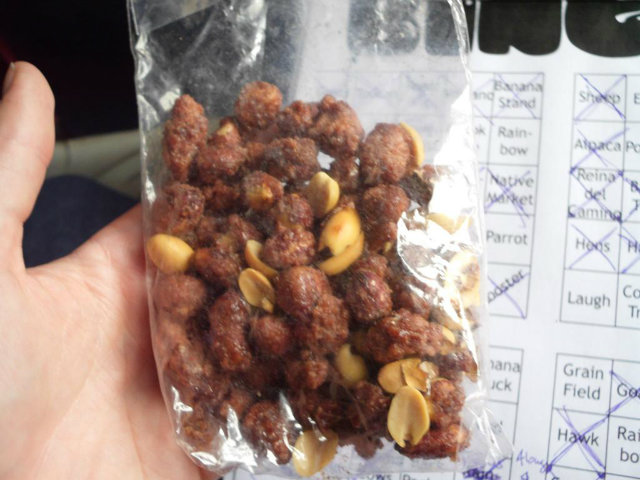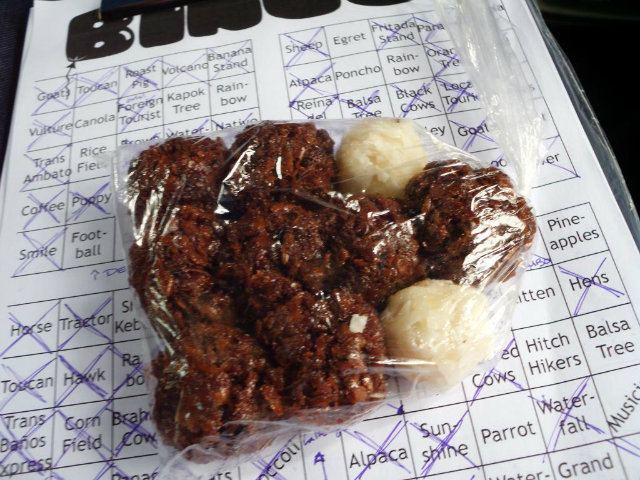 The brief lunch stop made by the bus driver was in Puerto Carmen, and that lunch consisted of a hastily grabbed Batido de Piña, some sweet oranges, and some Pan de Yuca, an intruiging tapioca-based bread with cheese. Pan de Yuca is made differently in each province; this is the first time I've ever had one with a yellowish dough. Batidos also deserve an explanation - they're fruit frapped with ice and either milk or yogurt; in this case, yogurt. Sort of like smoothies, but with extra pulp.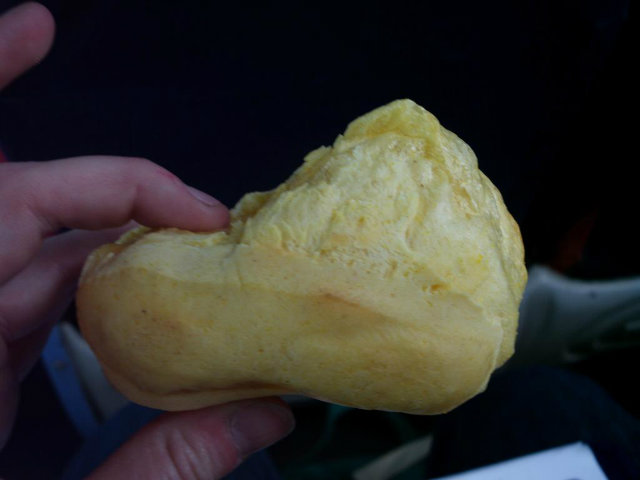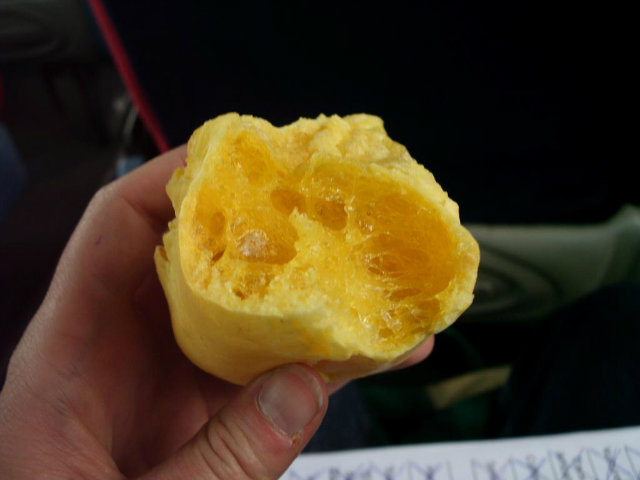 About 3 hours later, a fellow got on selling Empanadas de Verde, which have green plantain dough and in this case a pleasantly spiced chicken and mashed potato filling. Just about anything can come stuffed into an empanada shell, so it's always worthwhile to ask before you buy. These were extremely fresh, having just come out of the oil at the roadside stand. To drink, because at this point we were definitely into the coastal hills and it was 36 C in the bus, I bought a bottle of frozen tamarind juice, sort of a bus version of a slushie. Tamarind is stupendously refreshing when it's cold. This was hour 8 of the trip, and the empanada man was the last vendor to enter the bus.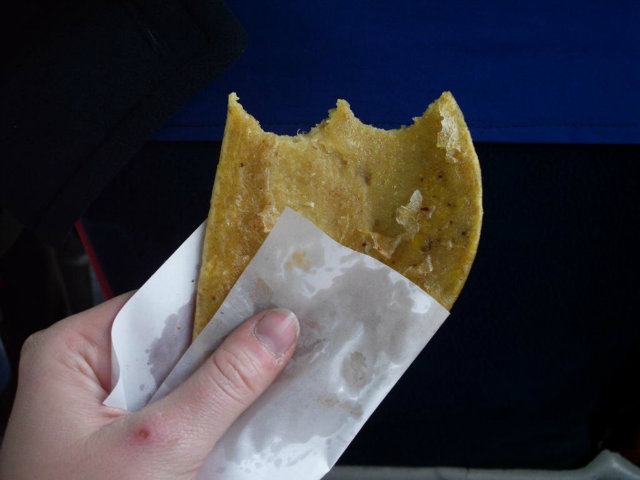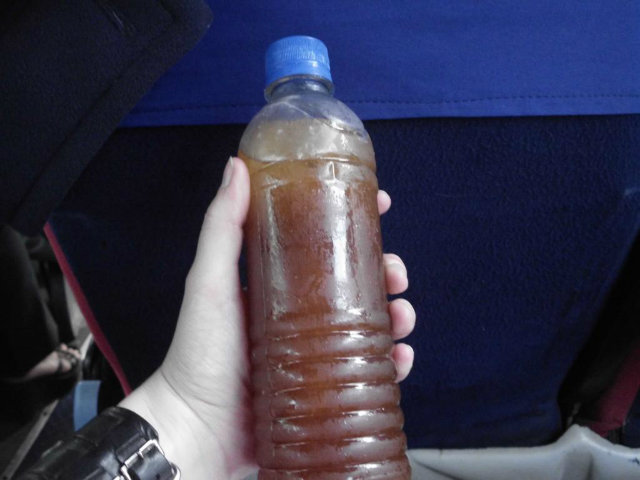 Finally, as I dragged my weary butt to the beachfront. The only remaining place with food was a burger joint, so we all got a round of cheeseburgers (and the fries were on the burger rather than the side!), a chocolate shake for me, and 1L of beer (the big bottle) split three ways for my travelling companions. Hunger is really the best seasoning - I wouldn't normally touch a burger like this with a 10 foot pole, and I'm not entirely certain what the meat was (if indeed it was meat - I'm not entirely convinced it wasn't tempeh, and I was waaaay too tired to ask) but at the time it was the best thing I had ever eaten. Mission accomplished, I returned to my hostal to find a kitten napping on my bed, debated what to do for five seconds, crawled in next to it, and passed out.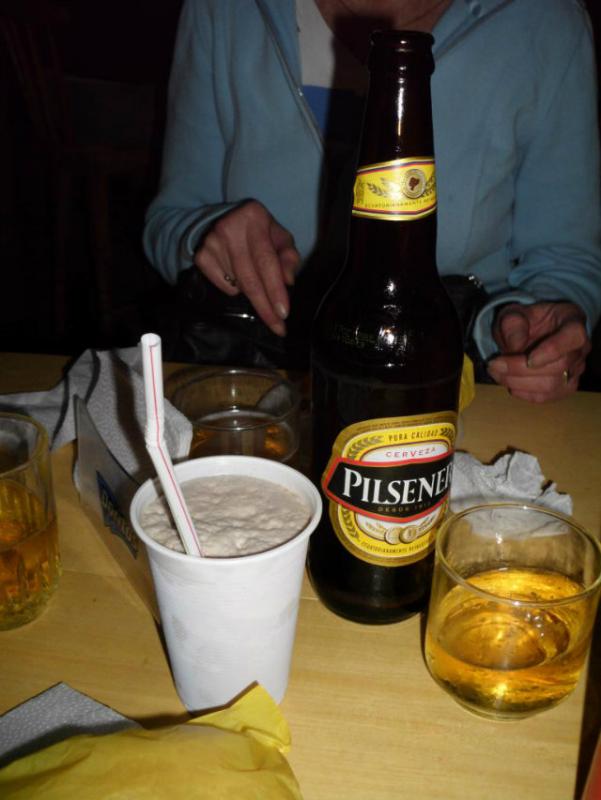 Next up: what to do in a tiny fishing village when it's 6 am and you need
coffee, right friggin' now
....