Hi there, fellow eGulleteers, and welcome to my second foodblog! As Kerry says, we're on the road this time, which means I get to show you some of the best food Ecuador has to offer. Why, you ask? Well, because we're going on a road trip to the beaches of the coastal province of Manabí, which is recognized across the country as well as in South America for its seafood dishes. We'll be based out of the little fishing village of Puerto López, about two hours south of the province's capital, Manta. Fishing in this area is all done by men in small, oar-propelled boats with handlines and small cast nets - I'll try to get up super early one morning to find out what the catch of the day is (and possibly buy something for breakfast, if they've got Pargo Lunar in the catch....) The area is also known for its Langostinos and Langostos (giant estuarial crawdads and spiny blue lobsters, respectively) and those are often sold by their fishermen from buckets. What Heidi had to say about "buy something fresh from a guy walking down the beach with a bucket" is very true of most beaches in Manabí. At the tail end of the road trip, I'll be visiting the world's largest indigenous food and craft market and will be eating a tilapia caught from a glacially-fed crater lake - round trip in fish!
I will be attempting to not eat anything twice in order to show you the immense variety available on the coast. (Meaning, if I have the encebollado you won't see me eat it again on this trip).
First off, though, a bit about the teasers.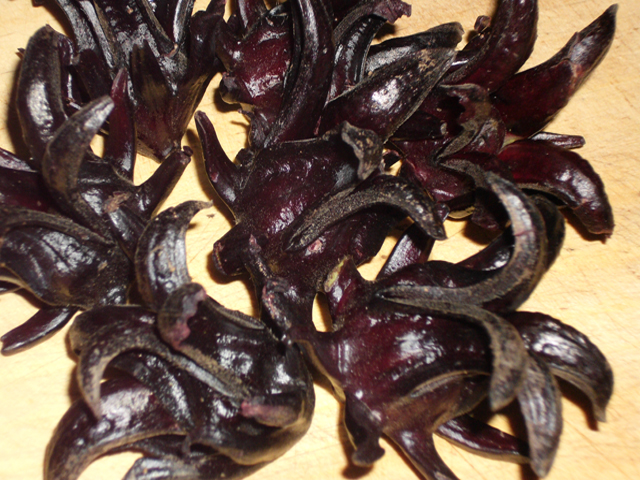 The first one was indeed Roselle / Sorrel / Flor de Jamaica, the bracts of
Hibiscus sabdariffia
- something that I have only recently started drinking but of which I am completely enamored. A friend in the Amazon has a plantation and sends me fresh bracts (which is what's shown). I base most of my summertime iced teas and whatnot on Jamaica.
Peter the Eater was quite right - it's two happy guys and a perciform fish, with a large body of water and some volcanic rocks. This photo was taken on the beach at Canoa in Manabí, and was a location teaser. Those two happy guys? They're casting simple baited handlines into the Pacific off the rocks, looking for their lunch. They called the fish they caught a "bonito" but I'm pretty sure they weren't referring to the type, but merely that it's big and beautiful (a Bonito down here is a type of mackerel and resembles a small tuna). The waters down here have an amazing variety of fish, and I'm willing to bet that what's on the line is actually a Bocachico (smallmouth striper). They were holding out for another, and didn't share, so I can't confirm that. For the curious, the volcanic rocks are a 500+ year old remnant of the last eruption of Volcan Cotopaxi, which is more than 250 km away in the Sierra - the lava hit the ocean here and gave Canoa its signature black sand beach.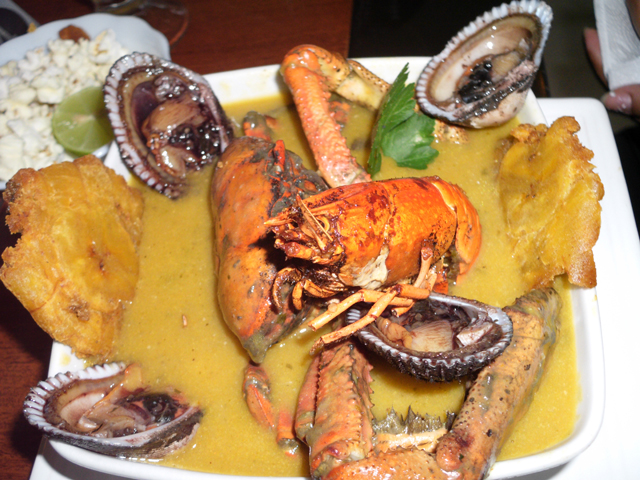 This is Encebollado de Mariscos (mixed seafood and onion soup) - and although it's a staple of Manabita cuisine, I ate this one in a restaurant in Ambato! Shown in the bowl are a small Langosto, a larger Cangrejo (crab), and some Concha (inky mangrove clams, something I have only eaten in Ecuador); for the curious, it's popcorn and lime in the background, and those are patacones floating in the bowl with the seafood. Encebollado de Mariscos has a strongly red-onion flavoured broth with hints of red curry and peanut; done well, it's spectacular.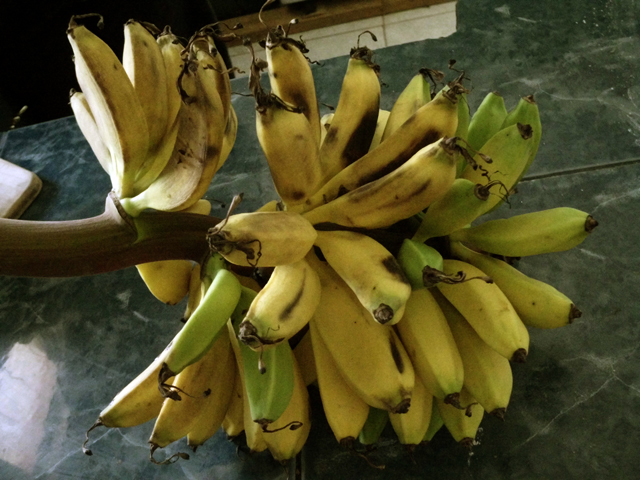 These are Limeño bananas that I grew myself, something that was thought to be impossible at my 3,000 meter altitude in the Sierra.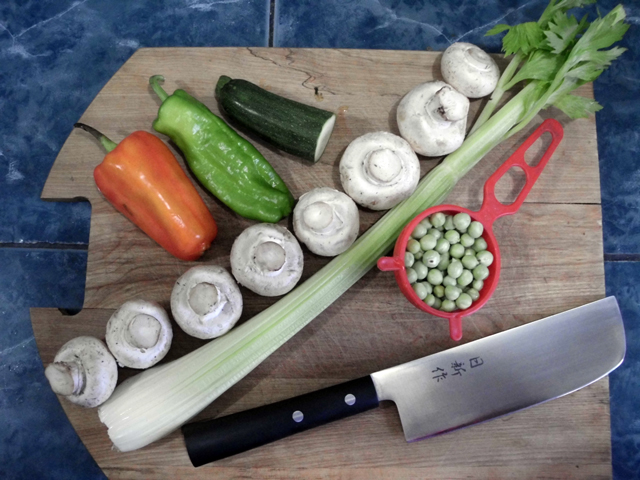 And this is the starting veg for any respectable Lazy Bastard Beef Stroganstuff or similar stovetop casserole. I thought it would give me away, since nobody else here has cobalt blue tile countertops!
I'll be back in a moment with photos of my current kitchen - I've moved since I last blogged, and I'm making quinua-herb and cheese minibagels in there today.