Rao's Penne Rigate with a tomato sauce of onion and butter and grated Parmigiano-Reggiano
Roasted chicken thighs with EVOO and cracked black pepper
It's my first foray into a "premium" dried pasta and I have to say that there is an improvement in flavor, texture, and how the sauce adheres to the pasta compared to the cheap stuff. On the other hand, I used some Italian San Marzano canned whole tomatoes and I can't say that I could tell the difference between that and Trader Joe's canned organic tomatoes. They're both great. Perhaps I need to make a side-by-side comparison. I drained the tomatoes and ran them through my recently-acquired food mill. Get thee a food mill. So useful. I used a white onion instead of yellow. It worked just fine. Here's the sauce simmering. If it looks familiar it's because I got the idea out of Sam's
Thanksgiving Week Diary
and wondered if such a simple pasta sauce could be good. Yes! Oh yeah, I blame him for the fancy copper pan too.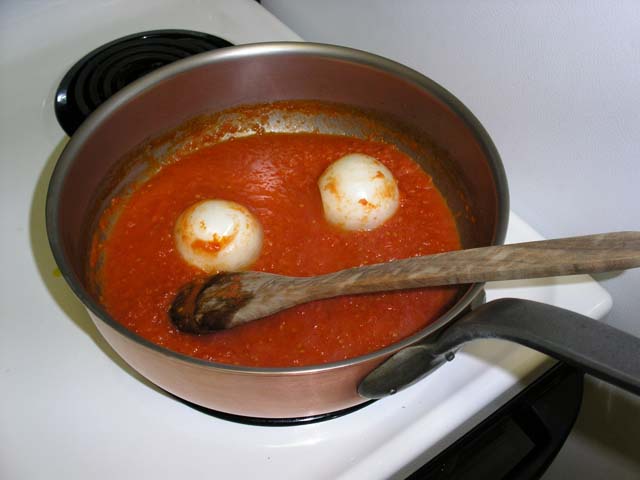 I would have added lemon to the chicken but when I realized I was out of lemons it was too late.

I usually don't care for sweets so no dessert.
(NOTE FROM MANAGEMENT: This topic is a continuation of
Dinner! 2004
)
Edited by Chris Hennes, 08 September 2012 - 09:57 AM.
Added management note.