Pocket Brunch
A rotating group of talented chefs, both amateur and professional, who enjoy getting together to cook whatever the hell they want on their day off, presumably choosing Sunday brunch as not to interfere with drinking heavily later on in the afternoon. eG members who recall Portland's "Deathmatch" series will recognize the modus operandi.
Once a month, a secret location is chosen, a menu confirmed, and paying guests are informed by email the day and time of kickoff.
This particular Pocket Brunch occured mid-August, and since I wasn't there, is grandly described in delicious detail, in a post by Deathmatch impresario, Joe Ricchio, from his popular blog, PortlandFoodComa:
http://foodcoma.tv/2.../pocket-brunch/
check it out.
The attractive photos accompanying the menu to follow, are by Katie Schier-Potocki, and are included here by permission.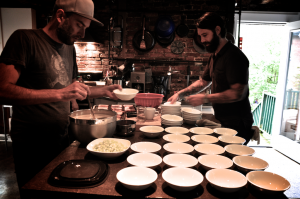 First Course:
Chilled Corn Soup with Melon Dots, Crispy Serrano Ham, and Basil Ice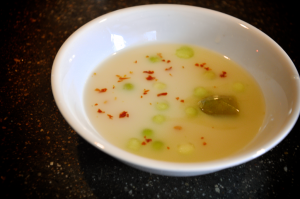 Second Course:
Broadturn Tomatoes tossed with Sheep's Milk Ricotta Salata, Basil, Mint, and Fried Lemon Panko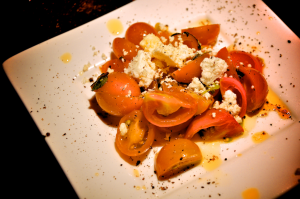 Third Course:
Pork Belly over Potato Cake, a single Quail Egg Yolk over Black Pepper Custard, Turnip & Radish Slaw, and a piece of Toast slathered with Pork Butter.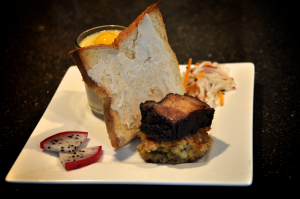 Fourth Course:
"Frog Legs Provencal." Buttermilk Fried Frog Legs with Lavender Lemonade Jelly, Garlic Chips, and a Parsley Shooter.
Fifth Course:
Long Pepper Rosettes, Walnut Panna Cotta topped with Black and Sweet Caramel Jellies, and a dash of Korean Chili Sauce
As the Autumn months approach, the panorama of ingredients will broaden deeply, so I will certainly attend one of these meals, and report in.
More information can be found on their website:
http://pocketbrunch.com/
Edited by johnnyd, 20 August 2012 - 06:45 AM.