I am surpised to find that there is very little on this forum about a very famous or infamous ingredient, TRIPE. Tripe is loved and hated across all continents, probably hated allot more than it is loved. So i thought i would start a thread dedicated to Tripe. I would love to hear from everyone what their favourite preperations of tripe are, so that we can build a catalogue for tripers.
Personally i am not fan of tripe, but to be honest, i have never given tripe a chance. I am currently on holidays in Australia with my family, and was gifted to very rare tickets to a Rugby match, VIP tickets to watch Wallabies (Australia) V's the All Blacks (New Zealand). My fathers firend who gave me these tickets is a tripe addict. In fact he and his wife are member sof a tripe club here in Sydney Australia.
The tripe club in sydney is for the tripe die hard, or tripe tragic. They regularly take over restaurants monthly where the chefs of the restaurant is to prepare Tripe for the club members, and they try all manner of preperations, chinese, french, italian, indian etc.. as well as fine dining establishements. Cost is not a factor for the tripe tragic.
So as payment for the tickets, i am preparing tripe.
My inspiration is from the classic preperation "Trippa alla Milanese", with a few twists of my own. My basic ingredients are as follows.
1.2 Kg of honeycomb beef tripe - Par cooked and bleached
2 carrots
3 sticks of celery
2 onions
5 cloves of garlic
3 tbs of red wine vinegar
1/2 glass of white wine
2 400 g tinns of chopped tomatoes.
200 grams of bacon
200 grams of smoked polish veal sausage. (any spicy or smokey sausage will do)
400 grams of canellini beans
dried red chilli to your spice level
Sage Leaves
Bay Leaves
Garnish with;
Pecorino Romano
Mint and parsley
I am also using a pressure cooker to speed things up (the worlds first microwave).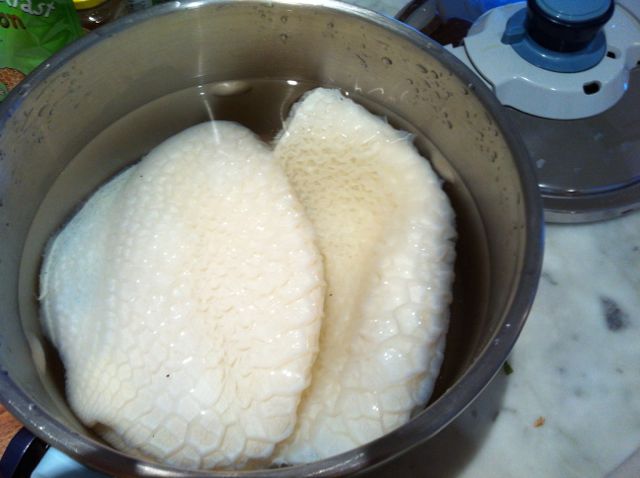 Not very appertising to look, at but i am determined to make it into a masterpiece.
I intend to get a rich tomatoey, smokey tripe and bean stew, to be mopped up with artisan sour dough bread. I am writing this pre-tripe being cooked, it is in the pressure cooker as i write this and is smelling great. So i think that the key to this much maligned ingredient is building up layers of flavour....
Fingers crossed.
Edited by Joel Hicks, 09 August 2012 - 04:44 PM.