It feels a bit strange to say 'Welcome to Denmark!', since I'm not Danish, did not grow up here, and find Danish food culture (my boyfriend, who is Danish, began laughing when I told him about wanting to reconsider traditional Danish food this week) kind of elusive. However, this is where I'm blogging from, so... welcome to Denmark!

I'm afraid that first teaser image threw people off track, although Kerry was right, it's a rape-seed field in bloom, the dominant note in the Danish landscape in late spring. I took the picture while sitting on the pillion; just leaned a bit to the side, so I could see around my boyfriend's helmet, and took the shot (that's his hand you see).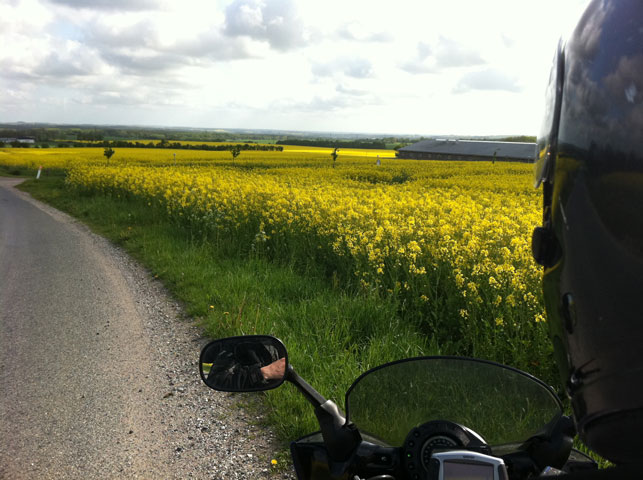 The second image is the Roosevelt Island Tramway station on the Roosevelt Island side: I was born in New York City (making me a third generation American/New Yorker), although my parents moved to Italy when I was a baby.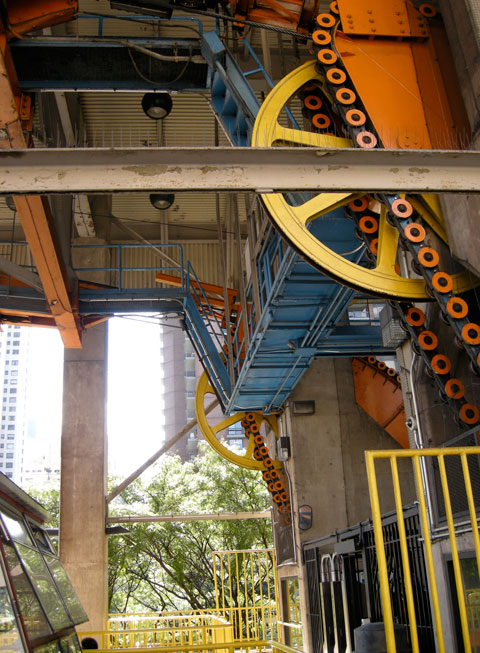 I grew up in Florence, and the Tempio Maggiore is one of my favourite buildings; we often walked around its garden, on the way to a nearby park.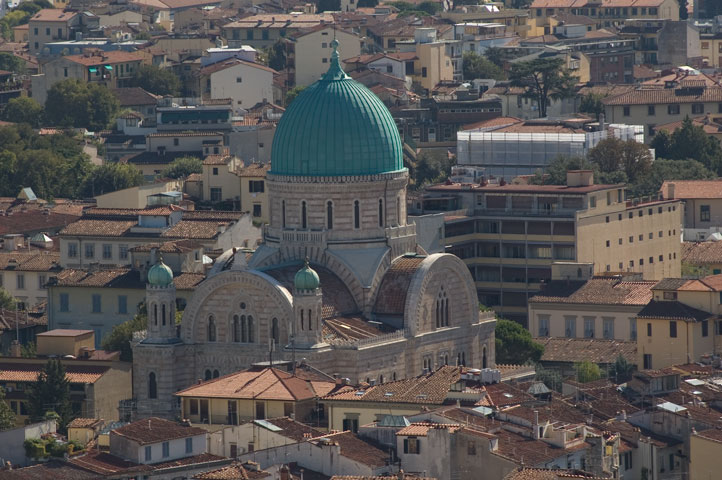 Growing up in Florence had a major effect on my food preferences, the way I shop and prepare food, and the way I feel about food (having American parents who became vegetarian and inclined to health foods affected the way I think about food).

Next image: My boyfriend gave me Modernist Cuisine for my birthday! I've only had it for a month, and I'm still in the 'Oooooh, look...' phase (although the 'Holy crap, how do I afford even the smallest pieces of necessary equipment?!' phase has begun).




That's essentially my entire collection of cook books, there. I also have a stack of Cook's Illustrated, and some small books on Tuscan and Florentine cooking, but that's pretty much it. I have a really strong aversion to things that just take up space, so I don't get a cook book unless I'm quite certain I'll really use it.

The globule on the plate is one of the more successful 'spheres' from my first effort at spherification. Mostly I got a lot of weird looking slime, but it was fun, anyway, and I learned a something. I'm thinking of giving this another go, this week.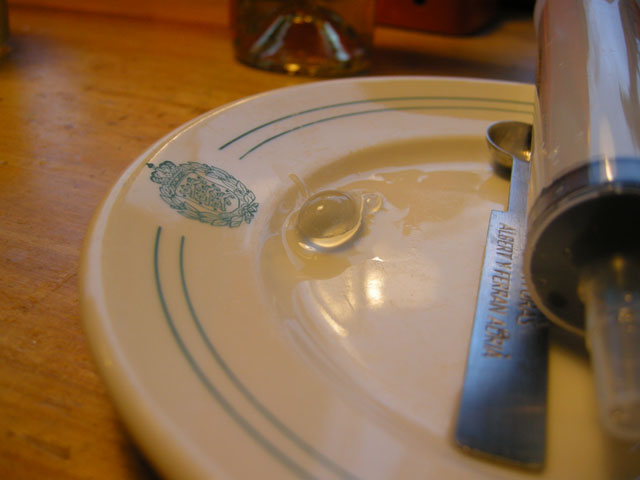 The last image is from Grenen, up in Skagen, which it is the northernmost point of Denmark. Virtually every one of the people standing in the water got someone to photograph them standing approximately where the guy nearest the horizon is, then went home to show their friends and family, and explain that they were standing in two bodies of water at the same time: the Skagerrak to the north, and the Kattegat to the south (the turbulent area is where the two bodies of water meet). The two seasons in Skagen are 'inhospitable', and 'packed to the rafters with tourists'. Where I am is a good way south of here, on the east coast.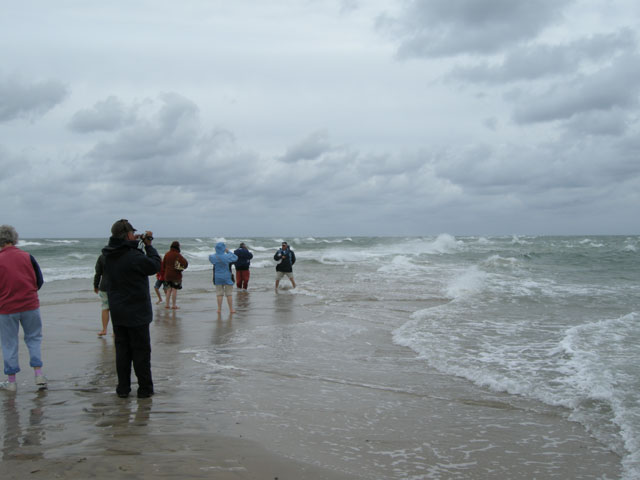 My cooking tends to have Tuscan roots (simple, lean) overlaid by a thick slab of experimental geekery (currently curtailed because the kitchen I'm using is not my own), and adapted to accommodate local ingredients/conditions, sudden whims, and a complex array of food sensitivities and preferences (mine and my boyfriend's).

So that's the background. To fill in a bit more about where I am, Denmark runs to cool, wet summers, which means that things like home grown tomatoes are still off in the future. Our plants haven't even set flowers, yet (we did start them a bit late):




We also have a couple of chili plants. One seems to be going all out with blossoms and is setting fruit, the other has not a one, which may be entirely normal.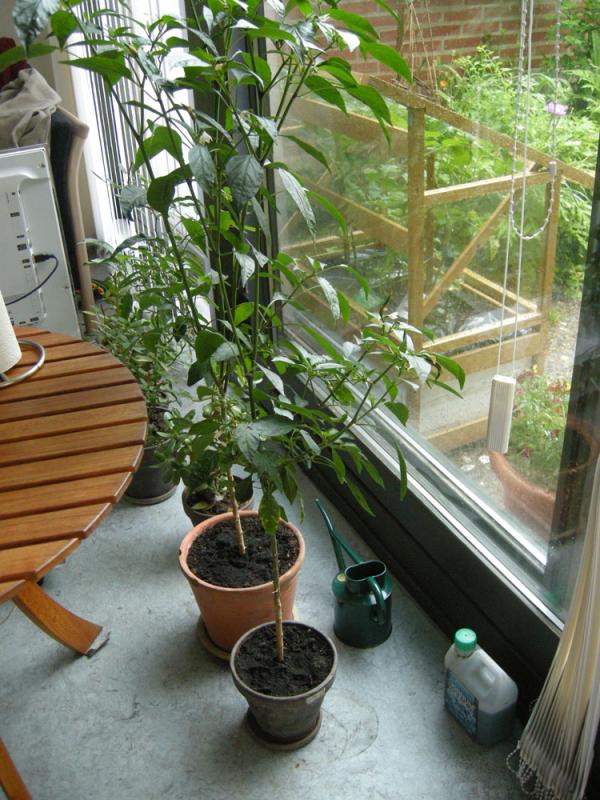 The kitchen situation here is a little unusual. We're temporarily staying with my boyfriend's parents, since we sold our flat, but are still hunting for a suitable replacement. Here's their kitchen: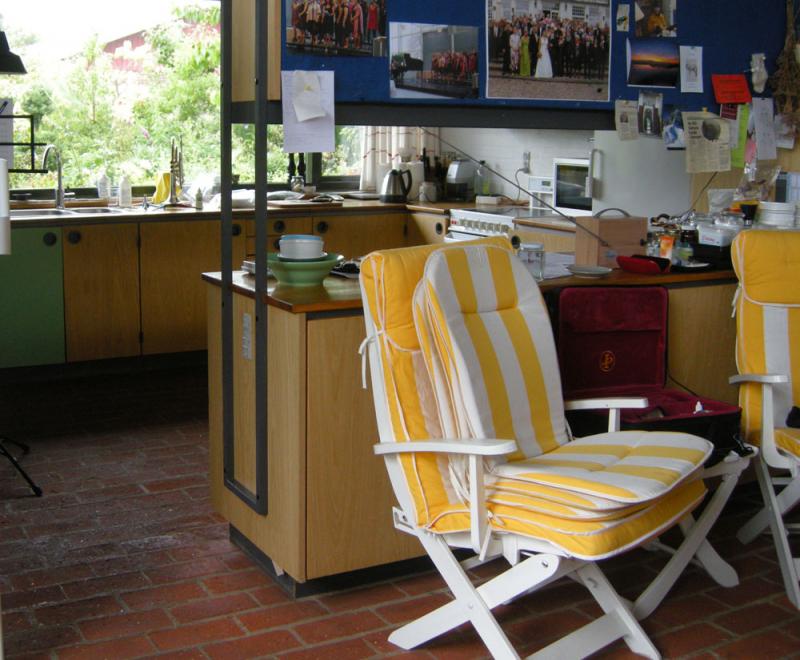 I try not to take over the kitchen, so I plan around what and when my boyfriend's parents use it. Also, I mostly use my boyfriend's parents pots, pans, and utensils, since our own kitchen is mostly in boxes, apart from the little bit I've unpacked (there just isn't room to unpack much, and packing and repacking gets old really fast).

I tried to take some shots of the inside of the cabinets where I store the things I did unpack, then realized that I wasn't able to get more than about a half metre back from them, and couldn't get a clear shot (there's the also thing with needing a flashlight to see things in there).

This setup presents a few challenges, so most of what I cook these days is not particularly ambitious. To be honest, I've let myself fall into a rut, which I'm planning on hauling myself out of, this week.

You can probably count on at least one spectacular culinary disaster (if that doesn't happen, I will happily share my images of the apple pie fiasco of this past New Year's Eve <<<shudder>>>).

If you have questions or suggestions, fire away!