Some of you may recall my posts from about a year and a half ago, about stumbling across some extraordinary pizza in Phoenixville. A local bakery was staying open on the evenings, and serving Neapolitan-style pizzas. It was an interesting story: the pizzas weren't being made by the baker, they were a labor of love of a local guy named Frank, who had walked by the bakery, noticed the wood-fired brick oven, and asked if he could make pizzas in it. It turns out the guy has some pizza-making skills!
But, just as this arrangement was building some momentum, the bakery closed. There had been just enough excitement about the pizzas that Frank, the pizza guy, had some ideas about opening his own place. I'd been keeping my eyes open, but haddn't seen any indications of anything for over a year, until a friend of mine told me that Frank had gotten a storefront on Bridge Street, just a few blocks up from the bakery where the pizza project had started. It's a great spot: right across Bridge street from Majolica and The Black Lab Bistro, across Gay street from Thai L'Elephant, so it's kind-of restaurant central for Phoenixville.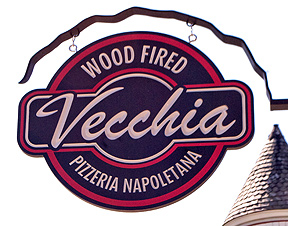 It's called
Vecchia Pizzeria Napoletana.
It's a small restaurant, dominated by a beautiful domed wood-burning oven, apparently built by some artisans from Naples, who go around building these traditional ovens. There are tables along the side, and in the back, probably room for 40-people or so, and there are even a couple of small tables out front on the sidewalk when it's nice out.
He'd only been open a day or two when I first visited, and I've heard stories from lots of these kinds of pizza places about the oven talking a while to settle in, and it taking the pizzaiolo a while to dial-in the exact timings and technique for ideal results. (Some friends and I went to Stella pizza on their first night open to the public, and sat at the counter, where we could see Chef Painter rejecting almost 50% of the pizzas, for one reason or another... )
So I'm going to refrain from making any broad pronouncements about the pizza at this early date. However, regardless of any of those issues, my first pizza at this spot was very good.
That was the Regina Margherita, made from ingredients imported from Italy: 00 flour, San Marzano Tomatoes, Mozzarella di Bufala. OK, the basil and the water probably didn't come from Italy, but everything else! The flavors and textures were excellent, and "correct" for this style: nice puffy cornicione around the edge; the center, a little soft; the edges, a bit charred, with some bubbles and lumps and craggs; only a little bit of cheese, so it doesn't get too wet; nice bright, fresh-tasting un-cooked tomato sauce.
If I had any complaints, it's that I would have liked it charred even a little darker, but that's my particular taste, and it's a valid point of debate - I'm not sure there's one proper degree of doneness, and I know some people get freaked-out by too many black spots. I'm going to wait and see how it goes as time goes by, and perhaps let them know my preference, and see what happens.
There's a very limited menu for now: the Regina Margherita, a "regular" Margherita with domestic mozzarella, a Marinara (no cheese), and a white pizza (no sauce). You can upgrade the white pizza with Mozzarella di Bufala, and you can add Soppressata, but that's it. I wouldn't be surprised if that's what the menu will be: I've been to Neapolitan-style pizza places that had permanent menus very similar to that. The famous Una Pizza Napoletana in NYC (now in San Francisco) had that basic list, except for a white pizza with cherry tomatoes on it.
So I'm very excited by this place. Of course that's amplified by it being close to where I live, so the potential for getting here easily and often increases its subjective value to me! But my early impressions are very good, and I'm hopefull that they'll only improve! I'll be very interested to hear impressions from others.
I'm not yet sure about the hours and days of operation, or even a website or Facebookpage, but I'll update when I find that out.
Edited by philadining, 16 June 2012 - 10:43 PM.