I thought about it a bit, and decided that Llapingachos (llapis for short) are probably better discussed than they are RecipeGulleted, since the recipe is less important than the technique..... These are potato pancakes, often stuffed with queso fresco, and they're the only accompaniment necessary for many pork dishes.

Llapingachos seem to be pretty much endemic to Ecuador, and are a specialty of the city in which I live, Ambato, where they form part of the "typical plate" of the city (which includes chunks of fried Ambato chorizo, strips of lechon horneado [suckling pig roasted in a wood oven], slices of avocado, a fried egg, and a mound of quick-pickled beets.)

In general, these are the ingredients (which I'm giving proporitonally, obviously you can make more or less):

5-10 lbs of Cecilia or Chola potatoes (yellow-skinned, non-waxy), peeled and cubed

1 lb of butter or fresh pork drippings

1 lb or so of queso fresco

Achiote oil

Llapis may be either a side dish or a main course, depending on how you approach them and how big you make them. The basic recipe is simple: Cecilia or Chola potatoes (yellow-skinned, non-waxy types) are skinned, boiled, and mashed with your choice of freshly-rendered pork drippings or fresh salted butter. This is set aside to stiffen up and cool (the ladies who make llapis for a living make up entire large wooden trays a day in advance). Ideally, the potato mixture should be stiff enough to form into balls and hold its shape, but soft enough to flatten the base of the ball when dropped onto a griddle.

The stuffing is normally queso fresco crumbled with a bit of green onion and cilantro, but may also be straight QF, or may be QF wrapped around a slice of chorizo. It all depends on the streetcart and the llapi lady. I have also had exemplary llapis where the QF was mixed directly in with the potatoes, and other excellent ones that are not stuffed at all.

The next step is to heat up your griddle (or your baking tray!) and get it good and greasy with achiote oil (if you don't have this, extract some achiote seeds into your favourite high smokepoint oil. The achiote is absolutely essential.) Now pick up about a handful of mashed potatoes. If you've chosen to mix the QF right into the potato masa, you can drop this onto the griddle gently. If not, pick up a smaller handful of filling, flatten the ball of potato somewhat, and stuff it in, forming the potato back into a ball when you're done, and drop it onto the griddle gently. Using your spatula, dollop a bit of achiote oil over the top of the potato balls.

This is a traditional llapingacho stall at the downtown market - you can see what I'm talking about here.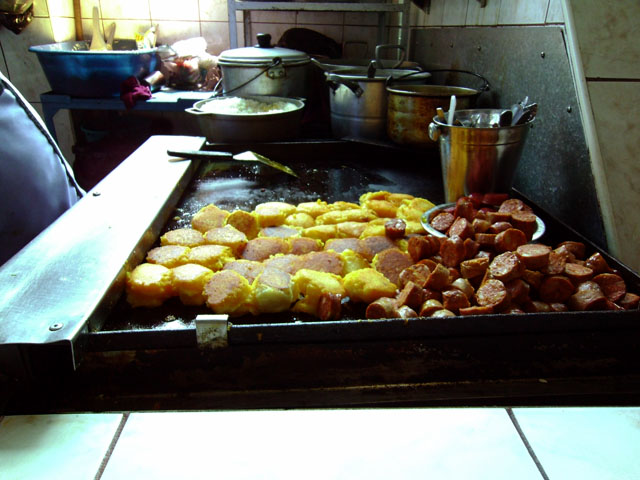 And now for the hard part. Leave it alone. Llapingachos are turned exactly once before they're served. 5-8 minutes on, and it's time to flip the llapis - do it gently, and press down just a bit to flatten them out somewhat. Then leave them alone again for 5-8 minutes more (gauge how long by how golden the tops are - if you left the llapis for 7 minutes and they're dark, give them 7 minutes more. If they were just starting to be crunchy and gold, maybe give them a bit more time.)

Obviously, these are best when hot.