Last night, a friend and I paid our first visit to the recently opened ECC, another branch of the cocktail lounge that first took Paris by storm in 2007 (following that with an ECC in London).
ECC is in the old Kush space, a lounge that I was never fortunate enough to (or, fortunate enough to never) set foot in. What's interesting is that the Paris ECC was modeled after the new wave of cocktail lounges that were opening in NYC and now NYC's ECC kind of looks like the type of lounge you might find in Paris. If you think this is confusing, it's not - our ECC is absolutely gorgeous inside, designed by the wife of one of the owner's; lots of French flea market finds, and I wish my living room looked like this. My pictures do not do it justice...
The back bar is nice too...
And the glassware, at least for now (because we all know what happens when the stems start breaking) is great...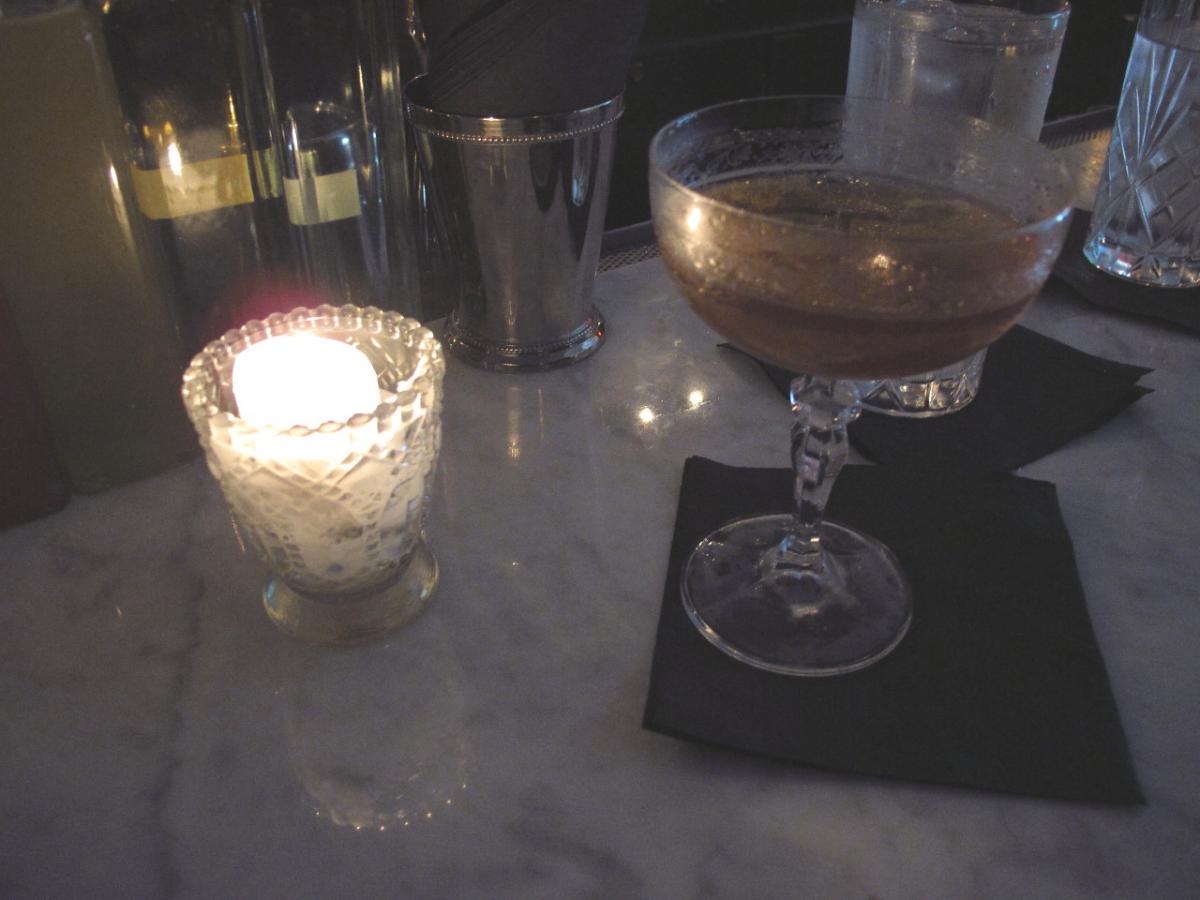 That was my first cocktail, called
Black Heart
, from Joseph Akhavan at La Conserverie in Paris, and it's made of Buffalo Trace bourbon, Cynar, Luxardo Maraschino, a touch of French Roast Coffee, Bitterman's Boston Bittahs, a Laphroaig rinse and orange oils. A real winner, balanced as can be. My drinking companion started with the
L'Americain:
artichoke infused NP Sweet Vermouth, toasted walnut infused Campari, thyme water, orange oils - all of which is carbonated and bottled and served like this...
Which will be perfect for when those kids pour in on Thursday, Friday and Saturday nights and can't hold a glass. The drink is damn good, though it probably can use, and probably will get, some more carbonation.
I followed up with a classic Manhattan, and it was nice to be asked by my bartender (Aaron, iirc) whether I wanted a 2:1 or 3:1 ratio - I'm a classicist, so my 2:1 Rittenhouse Manhattan was just how I like it. My buddy moved on to a drink called
The Artist:
Drouin Calvados, verjus, pear and apple cider shrub, Peychaud's, Didier Meuzard Ratafia, Vieux Pontarlier Absinthe and Billecart-Salmon Champagne to top it all off - wowser.
Many of the drinks are creations of the bar manager Nicolas de Soto, a Frenchman who now lives most of the time just off of Avenue B. Some of you may have seen him behind the stick occasionally at Dram - I know I had. Nicolas' drinks are pretty complex, lots of infusions, but as I said above, balanced and delicious. He'll be working the bar here some nights, and overseeing the show all the time - a true gentleman who is as nice as can be.
Okay, okay - we did have a third round; after all, we were checking the place out. By this point, the place was filling up, and Xavier was working our end of one of two bars. He's a 7-year alumnus of Daniel, and quite the pro. So, the appropriately named
The Last One
: Cardinal Mendoza Brandy, Bonal Gentiane, Cocchi Barolo Chinato and Akanono carrot Shochu. Simple, and practically an aperitif, no? And the
Curious Prescription
, a tequila/mezcal lover's dream: Pueblo Viejo Reposado, Pukhart Pear Eau-de-Vie, La Cigarerra Manzanilla Sherry, housemade salted mezcal caramel syrup, lime juice and Bittermen's Habanero bitters.
Food will be soon to come; bar snacks, and they will be supplied by
The Fat Radish
, another one of my neighborhood faves.
I expect, and have heard from Nicolas, that ECC was already packed on the weekends...and will continue to be so. Doesn't matter to me, though - I rarely go out for drinks on Friday or Saturday nights - and if we do, it'll be earlier than the throngs.
And here's a tip to all the kiddies - if you want cranberry juice in your drinks, go soon. From what I've heard, it won't be available for long and if it stays on the menu, you may be paying a pretty premium for it. Have a real cocktail.
Comp Disclosure: Had to be a drink or two in there.