Another couple of weeks passing leads to another CSA share ! Yummy ! The good news....NO COLLARDS in this box. No turnips, either. I was also getting seriously burnt out on those. The bad news....more beets. Now, I love beets as much, if not more than the next person, but I'm hitting the wall with them, too. Hopefully this is the end of 'em. The greens were nowhere near as robust as they'be been, and the roots themselves were much smaller.
This Thursday's haul was 8 beets, 5 scallions, 12 ounces of lovely, tender salad greens, a bunch of chives, 2 avocados (and man, are these GOOD avocados !), a bunch of rainbow chard, 3 cucumbers (very nice and firm, not at all watery, I had one tonight), 1 yellow and 4 green zucchini (including two I could use for a baseball bat), 2 small heads of cabbage and 2&1/2 pounds of small, but very, very tasty apples (10 of them total).
Here's the picture for the visually inclined of us: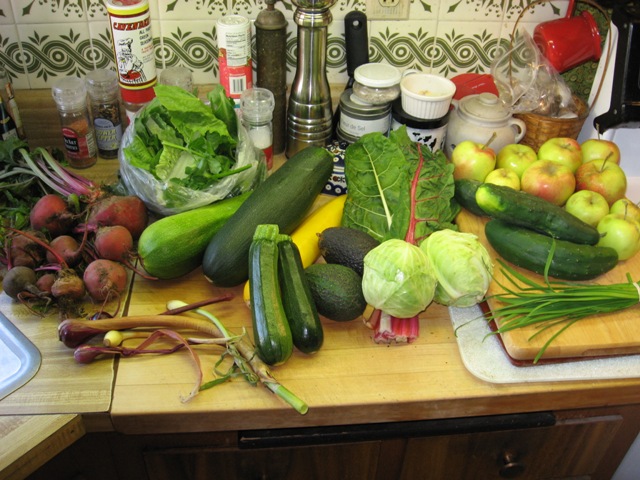 Ina Garten's cold summer borscht is on the agenda with some of those darned beets. Some of the zuke will be "fritter-ized", and I'm open to suggestion for the rest of those guys.