Welp, I finally got myself along to Momofuku Seiobo, David Chang's Sydney outpost. I've been to a few of the Momofukus in NYC and really enjoyed them, so have been looking forward to seeing what's what at the Sydney branch. Haven't seen any posts on eG about it so thought I'd share some photos.
First things first..all I can say is that they must have thrown a hell of alot of money at him to open in a casino foodcourt! That said, the restaurant feels intimate, sleek and comfortable and quite private from the foodcourt madness. 30ish seats, most of them at a bar wrapped around the kitchen so the chefs pass you your food directly..perfect for food geeks such as I.
The format here is a 14 course degustation for AUD$175, with matching wine and sake pairings at $95 for the full lot of $65 for a shortened version. Non-alcoholic types can also have a matching juice course for $55, which I thought was interesting.
We went for the full beverage course and it was pretty sensational.
Course list: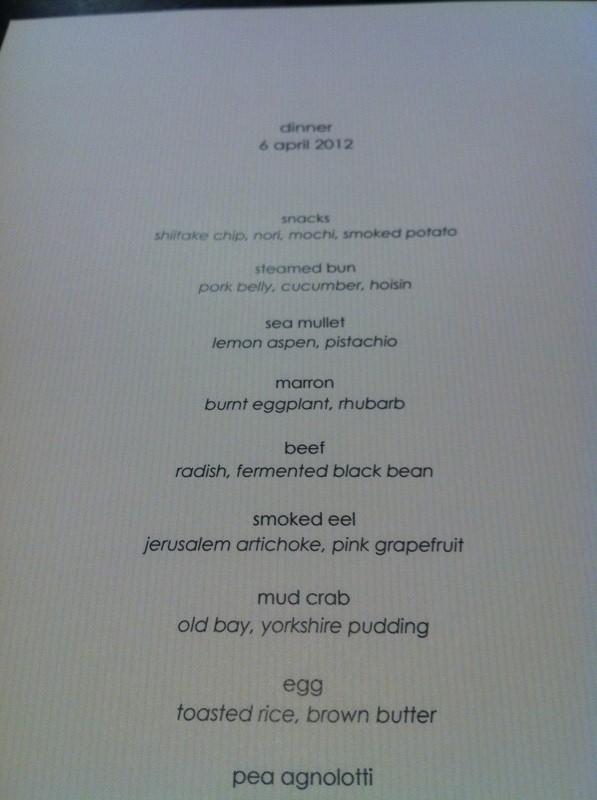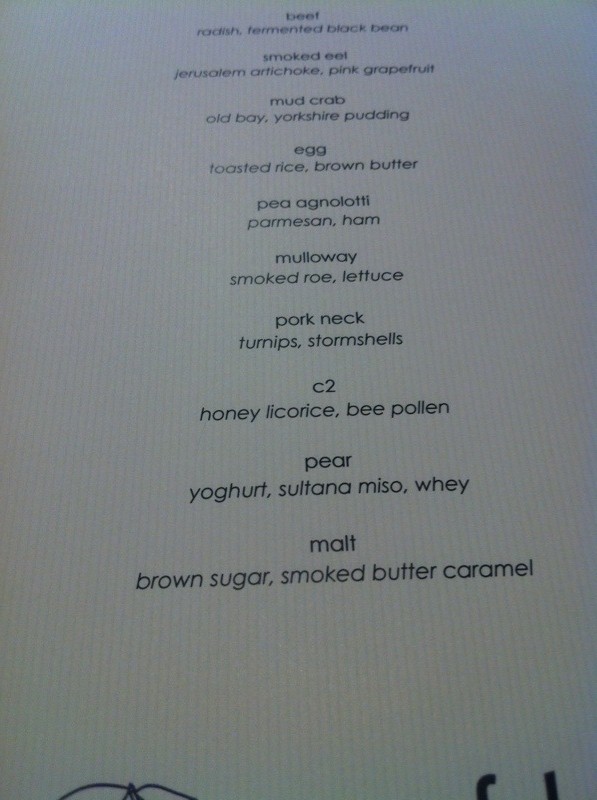 Snacky things to start, with some junmai sake; mochi, rice krispies with soy paste, shiitake crisps and these amazingly delicious smoked potato crisps filled with apple puree:
The famous pork buns, with sriracha. The pork was good, but the buns themselves were a little mealy.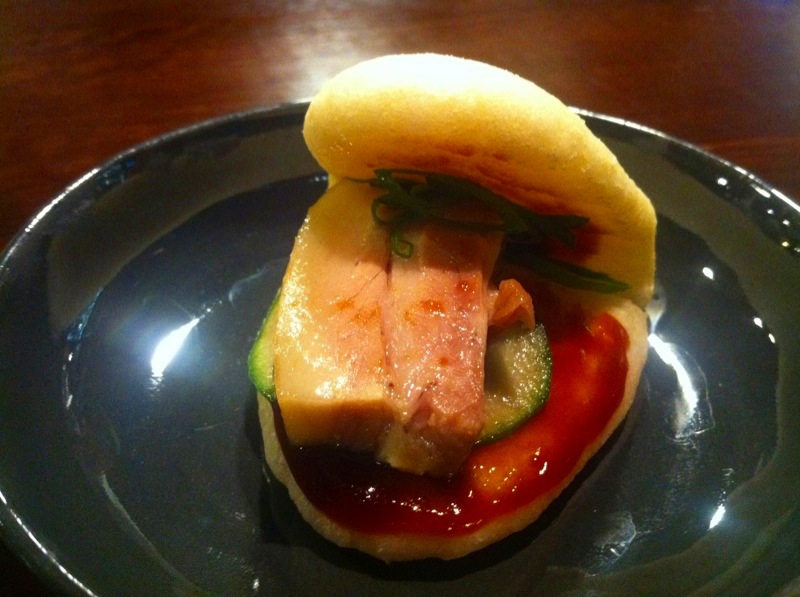 Crudo of sea mullet with pistachios, pisctachio oil, pomelo and lemon aspen. Lovely and fresh: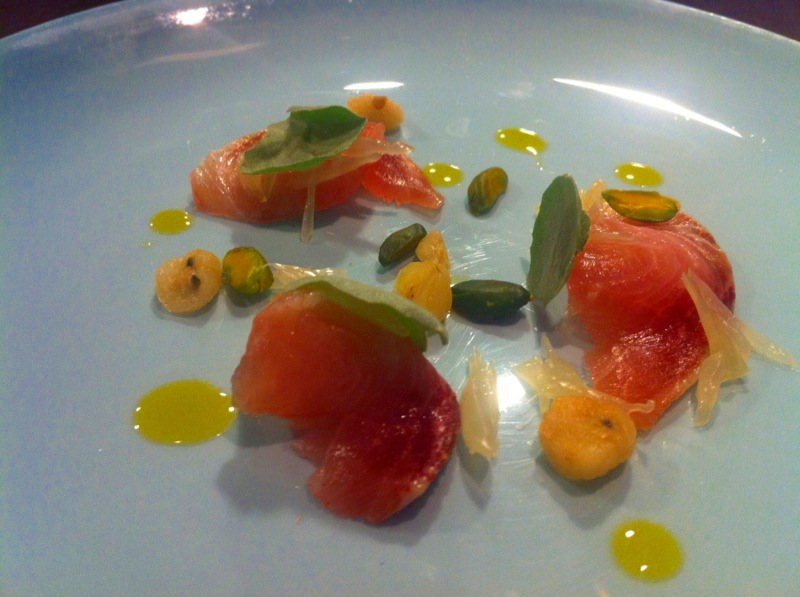 Marron with burnt eggplant and rhubarb, a West Australian type of crayfish. I loooove marron, the flesh is so sweet and unctuous, so I enjoyed this but thought the burnt eggplant was a little too strong for it. I think this was the dish we were served a beautiful red rice sake with; Ine Mankai. It was almost a dessert wine and I loved it..must track some down.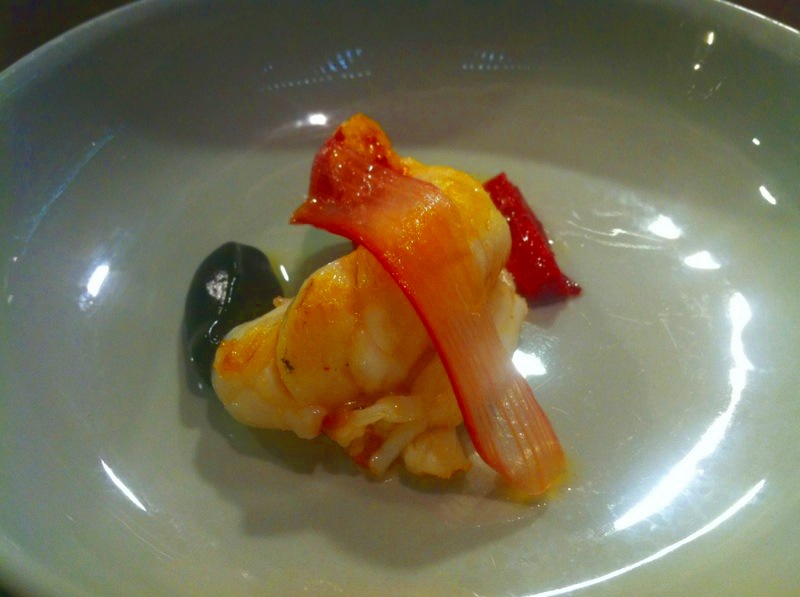 Wagyu with fermented black bean, radish and burnt watermelon oil. This dish I just found odd..again, the burnt taste didn't really go with anything else, and the dressing was a little grainy. Boyfriend hoovered it up though, on the basis of it being wagyu: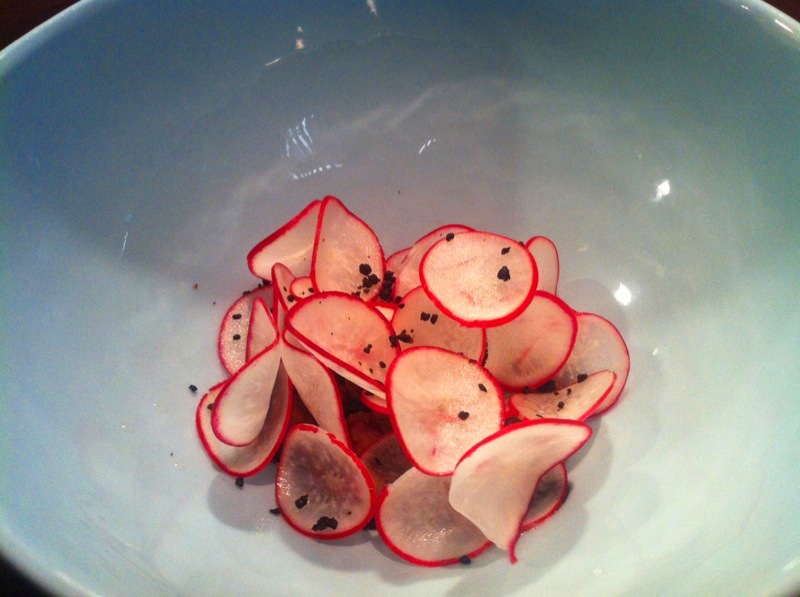 This dish was spectacular, one of my favourites..jerusalem artichokes, smoked eel, grapfruit and eel broth. Delicious. Completely lost track of the beverage pairings by this point..operator error.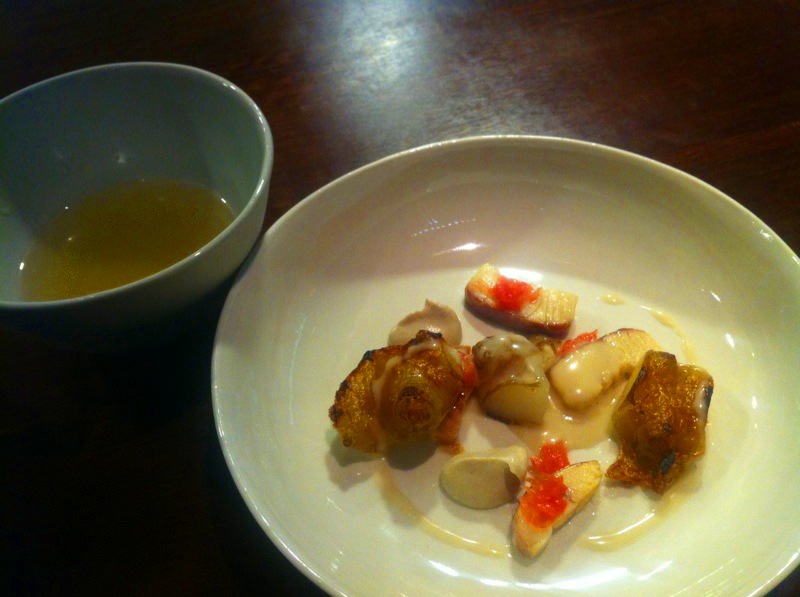 Mud crab and with yorkshire pudding. Another winner, especially when you cut the pudding in half, pile the crab on and make it a sandwich. Delicious.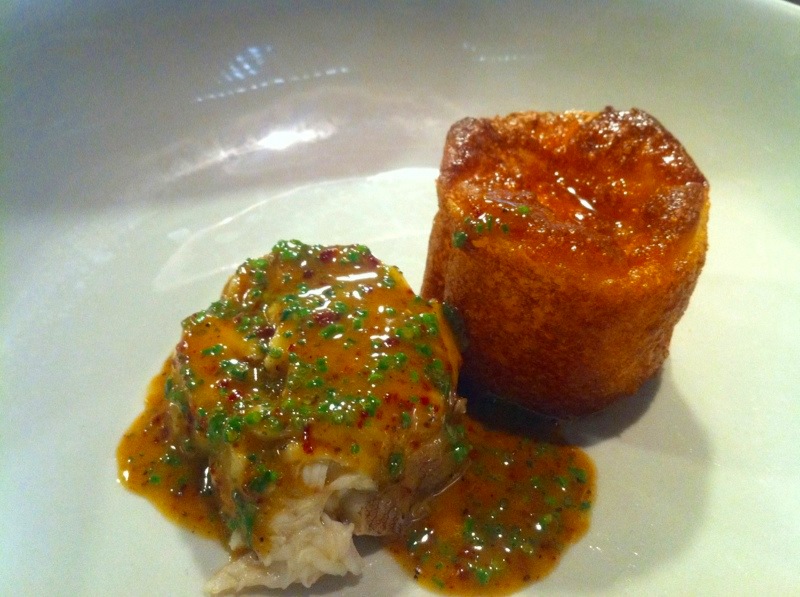 Slow cooked egg, green tea, toasted rice and brown butter. Very nice too, though based on the description, I was expecting a whole egg rather than a custard. I think we were served the Pyramid Valley pinot blanc with this; I was too busy Shazaming the very eclectic music to test my boyfriend's encyclopaedic knowledge of all things punk, grunge and blues. He was right every time!
Pea ravioli with serrano ham, pea pods and parmesan and chilli foam. I could have eaten a trough of this; by far my favourite dish of the night, which surprised me as I tend to prefer Asian rather than European flavours. Such a joy to eat:
A couple of kitchen action shots, for my Thermomix/Vitamix/Robocoupe envy: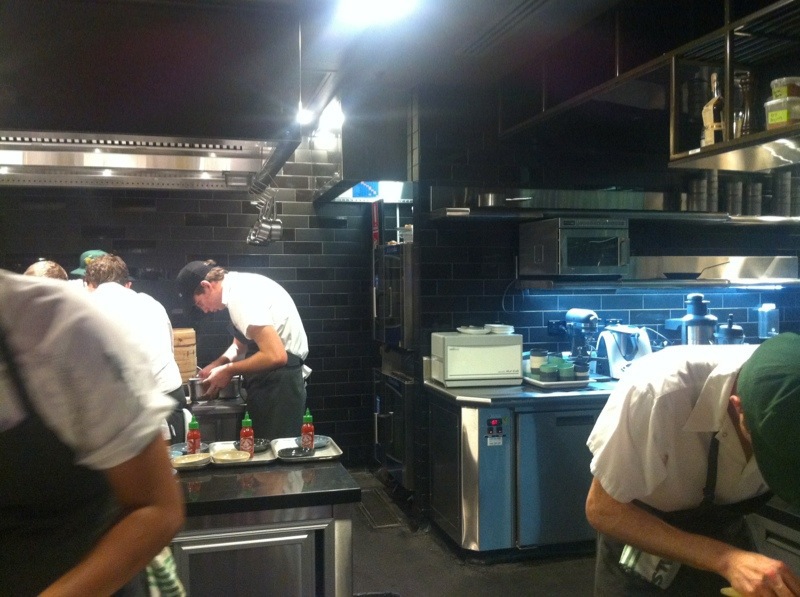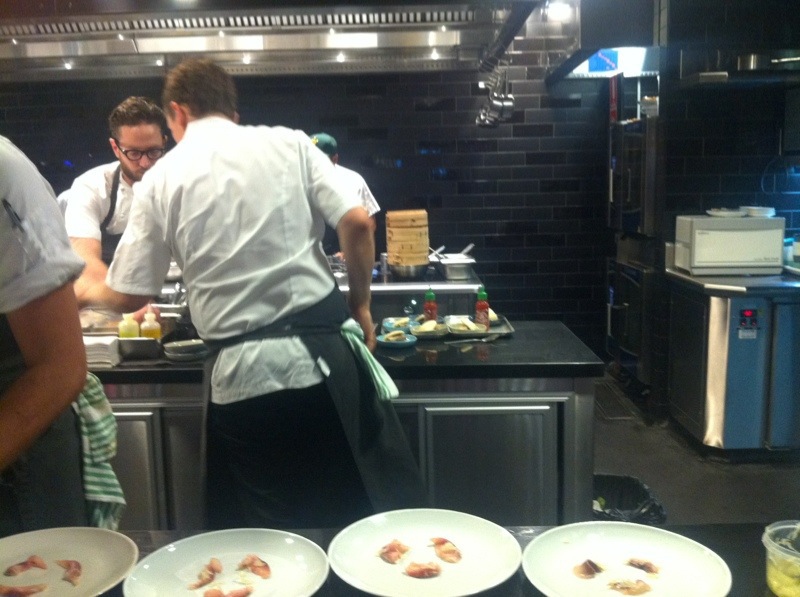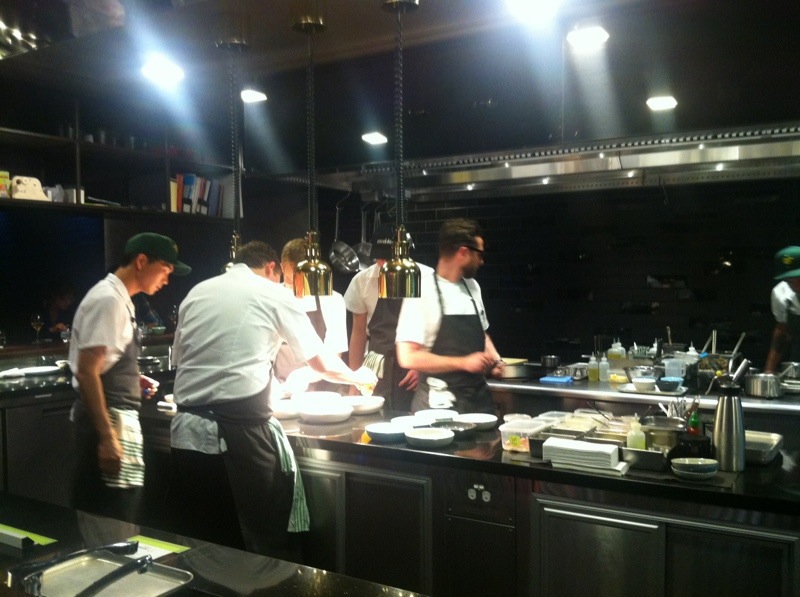 Mulloway with grilled lettuce, smoked cod roe and what I think were parmesan crumbles:
Slow cooked pork neck with pickled turnips and clams. Nice but not spectacular, though I did like the knife that came with it: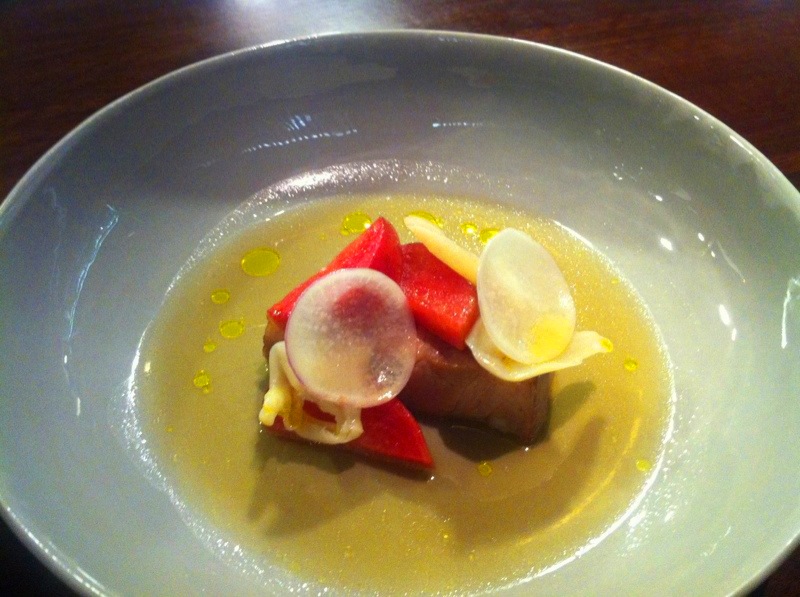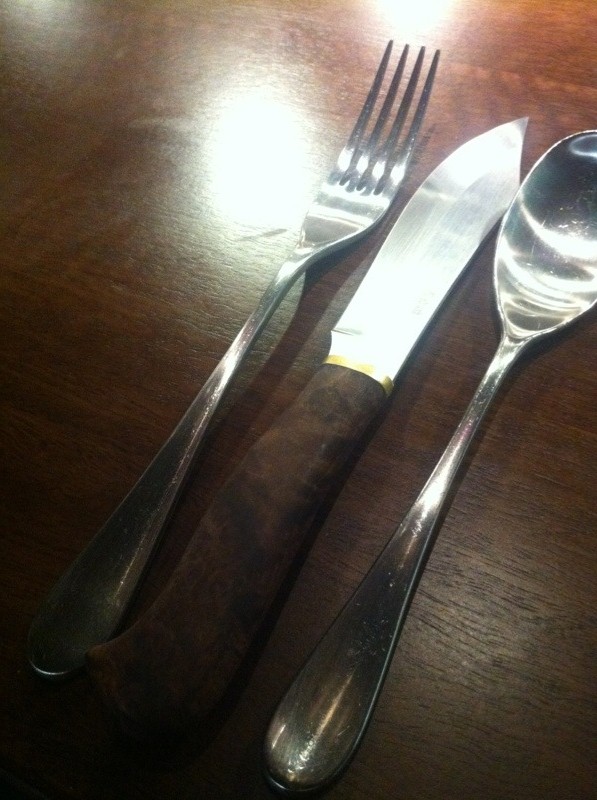 This was a very interesting dish - bee pollen, honey licorice and shaved cheddar. Surprisingly nice.
And caramelised pears, sultana miso, yoghurt meringe and whey powder. I think we were back on sake at this point, quite a dry one.
Last dessert course; malt ice cream with muscovado crumble and smoked butter caramel. Served with the richest, most luscious Pedro Ximenez sherry..practically groaning with delight at this point: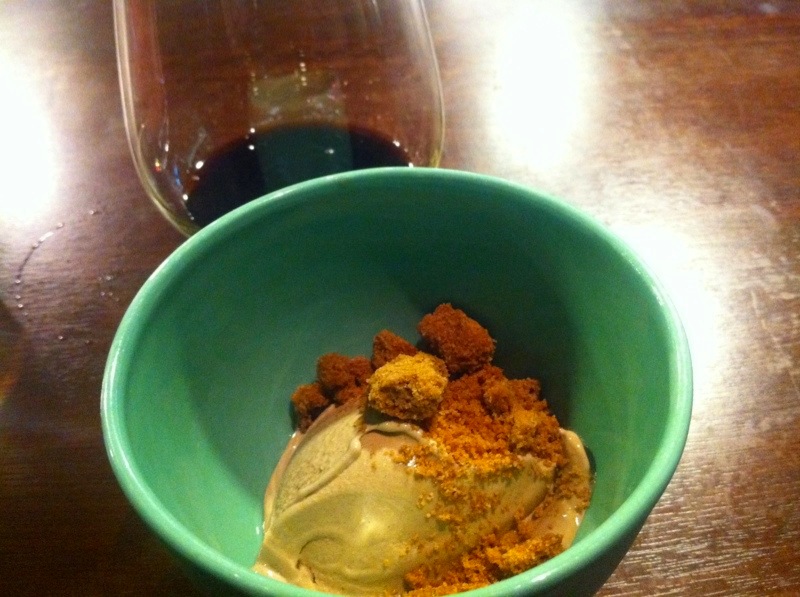 And petit fours of slow cooked pork shoulder! To be eaten with the hands, I really loved finishing up on this note; pork to finish, why the hell not?
I really enjoyed this night. Loved chatting to the staff (the sommelier was most interested in our Shazam-off) and watching busy professional food men (yeah, all men) do things busily and professionally to food. The food itself didn't absolutely blow me away but there are some pretty new tastes and ideas there for Sydney and that's a pretty good thing.
Edited by rarerollingobject, 06 April 2012 - 05:47 PM.